When I tried Beautiful Textures Leave-in Conditioner months ago, I had such good results that I ran back to my favorite beauty supply store like a mad woman and scooped up the whole product line in eager anticipation of equally good results. Crazy? Who? Me? The leave-in was such a success that it is now my staple, so naturally I placed my bets on the other items in the collection without even trying them. This included  Beautiful Textures Moisture Butter Whipped Curl Crème (looong title).
Fortunately, this butter crème, which I'll refer to as BTB for Beautiful Textures Butter, meets my expectations … provided that I use it just for braid-outs. BTB is marketed as being for mixed textured girls, which you can argue includes all textured tresses. Hmmm … Still on the fence about how I feel about this, but let me break down some of its elements for you.
 Price  – Cha Ching or Minor Ding?
You can exhale curlie, this one won't break the bank. An 8 oz jar of this butter crème only cost me approximately $6. That's it!
 Ingredients – Powerful Potions
Okay this list is loooong. It includes a mixture of natural and chemical compounds. BTB is marketed as being enriched in aloe vera (my curly mane loves this, as you know), coconut oil (love!), soy (for hair?? Allllrrrrighty then.) argan oil (the latest oil of the month), shea butter, and mango butter. The full shabang includes: Aqua, Olea Europaea Fruit Oil/Olive Oil, Glycine Soja Oil/Soybean Oil, Caprylic/Capric Triglycerides, Behentrimonium Methosulfate, PEG 75 Lanolin, Cetearyl Alcohol, Ceteareth 20, Cetyl Alcohol, Argania Spinosa Nut Oil/Argan Oil, Cocos Nucifera Oil/Coconut Oil, Butyrospermum Parkii Fruit/Shea Butter, Mangifera Indica Seed Butter/Mango Butter, Rosmarinus Officinalis Leaf Extract/Rosemary Extract, Dimethicone, Aloe Barbadensis Leaf Extract/Aloe Vera, Phenyl Trimethicone, Panax Ginseng Root Extract/Ginseng Extract, Polysorbate 20, Imidazolidinyl Urea, DMDM Hydantoin, CI 15985/Yellow 6, Parfum/ Fragrance, Benzyl Benzoate, Benzyl Salicylate, Coumarin, d-Limonene, Hexyl Cinnamal, Lyral, Methyl Ionone Gamma.
Scent – Mmmm or Grrrr?
BTB smells a lot like mangos … which I love! Very delish.
Moisture & Feel – The Goodies
Off-white, peachy in color, this butter has a very light consistency. It is oily and will coat your fingers, but hello! It's a butter! 😉 Unlike some other products, it does not leave a tacky feeling. On my hair, this does leave a moisturized albeit oily coating. I tend to apply a lot of it, so watch out for the oily build up. In fact, I had to warn a friend, who was admiring my tresses, before she dove her fingers into my hair. She was surprised by the feeling to say the least! This is where you'll need to decide between the appearance and feeling of your curly mane. Can't we just have it all?!
Application – Getting The Look
According to the packaging, you should use this to "refresh and hydrate your mixed textured hair every day." It goes on to say that "Moisture Butter helps maximize the styling options of mixed textured hair by helping achieve softer, more defined curls, healthier looking elongated coils, or simply silky-smooth hydrated hair."
I tried to use this butter for a wash and go. Hey, I was feeling experimental! However, I didn't like the oil slick it produced. The best way to use this product is for braid- and twist-outs, as indicated on the package. Sometimes it does help to read directions! While you can use this on your first day braid-outs, I get the best results using this on the second day. Stay with me here.
First Day
I do my typical braid-out with aloe vera gel (AVG) and use this butter lightly over it. As an alternative, you can just layer oils (I prefer Dabur Vatika Oil) over your AVG braid-out, as I usually do, and skip BTB. Still with me? If not, read my review of AVG for detailed instructions.
Second Day
This is where BTB works its magic. I spritz sections of my hair with water, apply a little bit of this butter, and re-braid my hair. In the morning, I do my typical process. I un-braid my hair and briefly blast it with a blow dryer. During this time, I separate my strands and fluff my hair. The blow dryer warms up the butter in my hair. I believe that this enhances my look as well as the penetration of BTB's butters and oil into my hair.
Third Day
I repeat the process I used on the second day. After this day, I wash my hair because my scalp gets product build up from this butter, and my hair is oilier than desired.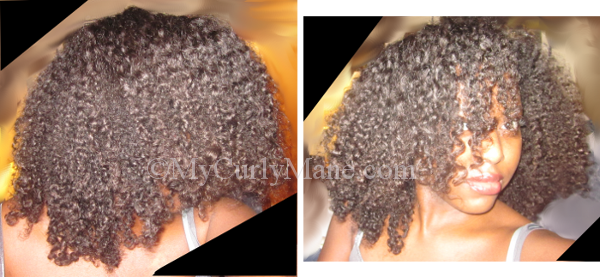 Look – Thumbs Up or Down?
On the first day, my AVG + oil/AVG + BTB combo produces curly waves. In comparison, BTB produces thicker, even more defined waves on the second and third day. Both braid-outs create an elongated style, but the look and thickness differs. My hair is also lighter looking and feeling on the first day, since it is not yet weighed down by the butter. It becomes fuller looking on the second and third day with BTB. I love big hair!
As I mentioned before, I always wash my curly mane after the third day due to the build up and oiliness. My hair also starts to look a bit dirty … whether you're seeking this look or not is up to you!
All in all, this product has now been initiated into my routine. Braid-outs are my preferred protective style this winter, and this butter is working. I give it thumbs up, as I love the results. However, I am leaving myself room to play and explore other butters. I'll report back.
You can purchase this at your local beauty supply store or click here.
Do you give Beautiful Textures Moisture Butter Whipped Curl Crème thumbs up or down? Shout it out below. If you know of other butters that are working for you, share and share alike!
© 2012 – 2013, mycurlymane.com. All rights reserved.

Copyright secured by Digiprove © 2012-2013
Related posts: