Hello Curlies! I know. I know. It's been a long, long time since I've posted information to My Curly Mane! My hiatus was much longer than anticipated. I've had a ton of personal changes (wedding, move, and more) that took me away from writing, but I am hoping to resurrect this blog this year. I'll include a more detailed post on my M.I.A. status for those of you who are scratching your heads.
For others who are wondering what's new in this neck of the woods, I'll cut to the chase and present to you this video courtesy of Chime Edwards AKA Haircrush. Yes, this is the same YouTuber with the endlessly long tresses with the fitting former name. She did some digging on the history of black hair and came up with the following video. I hope all is accurate. It would be nice to view a more detailed list of her sources.
I found this video informative, sad, and very interesting, particularly as black hairstyles seem to be coming full circle. Watching this, you realize that "it's not just hair!" There's a lot of history involved in all of our curly manes. Tune in and let me know your thoughts!
Once upon a time, when I was a littler girl, I dreamed of looking like a doll. Better yet, I wished that my dolls looked like me, so I could enter the land of make believe and live vicariously through them. However, given the doll options during that time, chances were sliiiimm.
Nowadays, young ladies (and some of us girls who remain Toys "R" Us kids,) can actually have their dreams brought to reality! There are a couple of fashion dolls out there that are done up with natural hair! These dollies have real-like curls and waves and look just like us! … or better yet, what some of us "Barbie girls" hope we'll look like when we grow up 😉
In case you're seeking a great present for some lucky, young girl (yourself included!), here's the breakdown on a few, hot natural hair dolls on the market:
Barbie Girl With Curls
In 2011, fashion designer Byron Lars created a line of edgy and stylish dolls for Barbie Collector. These dolls killed it with their clothes (Lars doesn't get enough fashion cred), and particularly, with their hair. From TWAs to afro puffs, these dolls must be seen to be believed. Many are sold out, but I want them all! I still get giddy when walking down the Barbie aisle in toy stores. If these dolls were on the shelf, it would be dangerous!
Most, if not all the Barbies in this line, are sold out. Sigh. However, you can still check them out online. I posted the image above of Byron Lars' Sugar™ Barbie® doll. Yep, stunning. It's just one out of many natural-haired catwalk queens in the collection. Check out the other dolls.
Custom Curls
If you're seeking a wider variety of Barbie-esk, natural-haired dolls, then Karen Byrd has got you covered with Natural Girls United! Byrd has cleverly created a line of custom ethnic dolls with locks, twists, and huge 'fros. You'll be impressed by the variety of styles and colors in both hair and skin tone. These dolls are also quite stylish.
Of course, it came as no surprise that Byrd has a long wait list for her dolls. Tempted to jot down my own name! Oh, and in case you missed it, check out the Ken-like dolls with dreads. Really cool and cute! See all the options from Karen Byrd's Natural Girls United!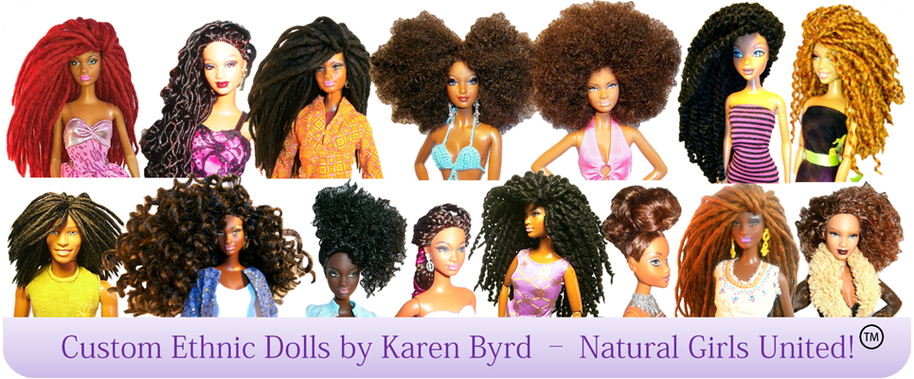 DIY Method
Still haven't found the doll of your dreams? Funds are a bit tight? No need to fear. There are DIY methods to give any doll naturally curly hair. Thank heavens for you crafty folks out there!
Kristl, the blogger behind How To Play With Barbies, has created step-by-step instructions on how to make what she calls a "rotini or halo hair." It's a genius method that allows you to really get experimental making over doll's hair from straight to curly. The final result is seen below. Yes, that doll had straight hair the morning before–ha!
Discover how you can remix a doll's hair at How To Play With Barbies or read the post Kristl wrote for Beads, Braid, & Beyond (super cute blog).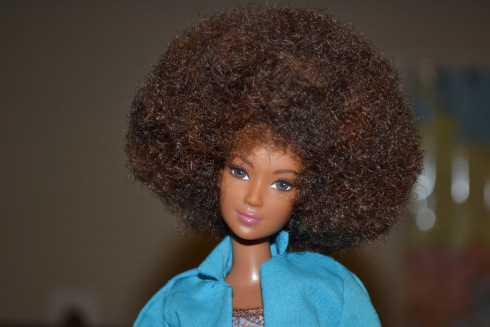 Getting Wiggy With It
Now, if you ODed your doll's makeover, or you had a dolly hair cut go wrong, there's hope for you. Just like in real life … your doll can sport a natural hair wig! Yes, you heard right. There are wigs for Barbies, courtesy of Tabloach at Etsy. Take a moment to let that process.
I think it's both a clever yet funny idea. Why not? I have at least two old Barbies that were locked away because of some causality I caused to their hair. If only these wigs were available then. Check out the before and after image, and you be the judge. Smart!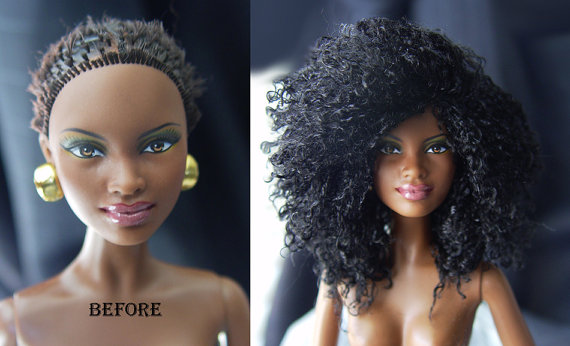 Social commentaries and concerns about Barbies aside, these dolls are helping to diversify the dolls that are out there. What do you think about these natural-haired dolls? Giving you life?
I know what you're thinking. Where have you been??!! Sorry guys. Yes, I have been MIA, but it's been a hectic month filled with lots of life juggling. You know how it goes. Unfortunately, blogging took a hit … but I'm back! And I've got news for you.
Before I break the news, let me take you back to last summer. I was styling my hair, when I noticed … a long, glowing, silvery white strand among the mass of dark tendrils. It was my first gray hair! Gasp! Yes, I had a mini panic attack. I backed up from the mirror, remembered to breathe, and returned to the mirror to double-check. I shook my head in disbelief. There it was!
I don't know why I was as stunned as I was. You see, I had a heads up a few months prior … when I got my first gray eyebrow hair! Yeeeesss! I-am-transfooorrrming. AH!
Well, recently, I calmed down and made up my mind that I would be that 80-year-old woman with long, curly gray hair. Just as I came to terms with … growing up (gulp!), in came breaking news this week … well, breaking news for us!
There's new research out that may raise hairs and a few questions. A joint group of researchers at Germany's Institute for Pigmentary Disorders at E.M. Arndt University of Greifswald and the UK's Centre for Skin Sciences at the University of Bradford have simultaneously come across a potential cure for gray hair and the skin disease vitiligo, which removes pigment from the skin, according to the Federation of American Societies for Experimental Biology .
Medical Daily states that gray hair is caused by an accumulation of hydrogen peroxide in the roots of hair follicles, causing oxidative stress. The same condition occurs in vitiligo, causing depigmentation in the skin and eyelashes (and eyebrows??).
"The idea that loss of pigmentation in the hair and skin are related is extremely interesting on a basic science level," says Joshua Zeichner, M.D., director of cosmetic and clinical research at Mount Sinai Medical Center's department of dermatology in an interview with Yahoo! Shine. "The traditional treatment of gray hair with hair dye is cosmetic and doesn't get to the root of the problem. A treatment that prevents or reverses the underlying graying process would revolutionize our approach to hair care."
Oh, yes it would! No need to schedule time to mix your brew of L'oréal or Féria, apply it to your hair, and wait for the magic to happen. No more hair dye and henna stained sinks and tiles. No need to spend money for that go-to colorist to return your hair to its natural hue. Where hair is concerned, this possible solution apparently turns back the hand of time. Curlies would have the option of forever maintaining their natural hair color, changing their color out of preference (not necessity), or simply going gray. Options. Options. Which one will you choose?
On a side note, for true vitiligo sufferers, I'm sure there are many who will be relieved by the news. I'm also sure this will raise new claims and accusations of skin bleaching … uh, huh. There are many bubbling up on the net, but I digress.
Now that there is possibly a cure for graying, will you run for the solution once it's available to the masses … perhaps in another decade or so?! Chime in below or vote. 

Loading ...
After the hustle and bustle of a crazy work week, I like to kicked back and crack open the latest issue of any fashion magazine. I just need my fashion fix! This time, it was the November issue of Vogue. Did you see it? Do you know where I'm going with this? Well, in case you missed it, I've gotcha covered. 😉
There was a reoccurring theme that I noticed in the fashion bible's pages—curls! Okay, that was an easy one. 😉 True to New York's Fall Fashion Week, curls popped up in a couple of places beneath Vogue's covers. Here's the low down:
There was a spread in which a fair skinned model worked throwback, circa 1950's dresses and frizzed out hair. It is the same look as if you're on day 4 of your natural hair, and your curls are in their frizzed out, froey state. The model looked sophisticated and feminine. Her hair worked with the easy, breezy tone of the spread.
Similarly, there was a lengthy profile of former model and legendary fashion editor Grace Coddington. The feature included a professional photograph of Coddington aka "The Cod" with what appears to be her naturally curly hair in a frizzy state (seen below with a flower in hair). While the focus of the article was Coddington's mark on the fashion industry (she is the person who inspired supermodel Twiggy's decorative eyelashes), her frizzy haired pic left a mark on me. Her photo once again demonstrated the effortlessly chic way in which natural hair can bring out a woman's beauty.
Finally, for my highly textured ladies, there was a photo of singer Solange Knowles wearing an ahhh-mazing yellow dress and her hair in a natural state. I know. I know. Solange is known to wear wigs (I'm almost certain this one was among her collection), and there wasn't a diversity of models with a range of curls shown in the mag.
Here's the thing. At the very, very least, some sort of texture is being spotlighted and shown to accent high fashion and ready to wear looks. Why is this important? The more that textured hair–particularly afro textured hair–is re-introduced and accepted in the media, fashion, etc., hopefully the less stigma that will get associated with it. Perhaps we can move away from seeing natural hair as risky or solely statement making and more as it being our curly manes in its natural state.
What do you think about fall's 'fros and fashions?
FYI-For my fashion and photo lovers or just those who love flipping through the pages of Vogue and dreaming, check out the documentary In Vogue: The Editor's Eyes, which chronicles the magazine's 120 years.
On the NBC sitcom, Community, actress and comedian Yvette Nicole Brown plays Shirley Bennett, a recently divorced mother of three who attends Greendale Community College. While Brown is a celeb and Bennett is a sassy student, they have a single, glaring commonality—natural hair! Thank you to the writers for allowing Brown's character to sport a curly mane (faux or no)! Thank you Yvette for embracing your textured tresses!
When I heard that Yvette Nicole Brown was going to be featured on the Wendy Williams Show a few weeks ago, I tuned in to check out her hair … of course! To my delight, Wendy sparked a conversation about the topic. Yeesssss! Score! Cool points for Wendy. Here's how it went:
Wendy Williams: The last time I saw you, it was all natural hair. And I told you, as soon as you start doing a whole lot of TV, and events, and stuff, wigs make it easy. So now what are we doing?
Yvette Nicole Brown: She (apparent reference to stylist) told me to keep some hair in a bag. Now this front is mine. A little bit of mine is springing out everywhere. But this [majority of hair] is somebody else's. I don't even know. I don't know whose, and I don't care. I just want to personally thank her.
Wendy went on to mention Yvette's best friend and actress, Sherri Shepherd, who is also a devote wig wearer. In the interview, Wendy seemed clearly team magic hair. Okay. Correction. She is a wig lover with some pretty impressive styles and wigs that she even names. You may have already heard all about her wig head, Shakeetha. LOL! It all makes me thiiiissss close (brings thumb and pointer extremely close together) to wanting to test drive wigs … maybe … just once. This also brings me to the topic of women with natural hair wearing faux hair, specifically wigs.
Yvette Nicole has beautiful natural hair, and to preserve it while undergoing frequent changes for appearances, she wears wigs. Natural hair just won't hold up to the entertainment industry's many styling demands. For instance, going from straight to wavy and back again in a 48 hour period.
For us every day ladies, our hair may not have rigorous demands, so a wig may not be a necessity … or is it? Looking back at the times spent straightening my hair and perfecting my natural look for professional occasions, I wonder if it would have been better for my hair if I just wore wigs. I've never done so and enjoy styling my hair, so I'll continue to work with what I have for now. Just remember curlies, even if you are a wiggy, you still need to give gentle care to your natural hair.
Are you a wiggy by day, natural by night? Let us know why you've been pulling a quick change and how you maintain your natural hair while wearing wigs.
The authentic self is the soul made visible." ~ Sarah Ban Breathnach
Award-winning actress Viola Davis legendarily shocked curlies and non curly headed girls alike when she revealed her beautiful, natural hair during this year's Oscars. It was a moment that seemly set Hollywood on fire, with several celebs whipping off their wigs, taking out weaves, and putting down flat irons to reveal their curly manes. Let's count them up. There's been Raven Symone, Tamera Mowry, Angela Simmons, and recently The Big O–Oprah, among the bunch.
This week, Miss Davis stunned us once more by showcasing her curly mane during the red carpet premiere of her new film, Won't Back Down. Like her film's title, Viola is unapologetic when it comes to her hair. On Anderson Live with Anderson Cooper, she discussed her natural hair and struggles with the Hollywood beauty beasts.
"For me, I felt like every time I put on a wig, I was apologizing for who I was, being a dark-skinned woman with very curly hair. I felt like I was hiding it," says Davis.
Her statements are sad but not new. Historically, in the African-American community, women are taught to hate their hair due to deep-rooted issues dating back to slavery. This negativity festers in families and/or community members. As Viola stated, "there's not enough time to explain the hair issues" … well, except here at My Curly Mane!
This history, which spans across different lands and cultures, may come as no surprise to you, but the shocker is that we've just gotten to the point where celebrities are also supporting the cause, allowing women to know that there is no shame in having naturally curly hair. The kinks, fluff, coils, poof, and all the other variations of our hair is amazing. It's also appreciated when these celebrities don't just jump on the bandwagon, but instead, they are willing to address their own issues and the pressures to maintain the images forced upon them. This is beyond just wearing magic hair and wigs for fun or a preferred style. This is about hating your natural hair and those of others and finally coming into self acceptance.
For Viola, she felt as if she wasn't being authentic by hiding her hair. It sounds as if there was a certain amount of shame associated with it, which many women face. Making this step towards self acceptance on a global platform like the Oscars or any red carpet takes a lot of chutzpah! For myself, I rode the roller coaster ride of hair acceptance before choosing the road less traveled. That path is always the hardest, whether it's about your hair or simply being authentic to your beliefs, just being yourself.
Do you recall a time when you weren't being your authentic self? Have you ever hid your hair in shame?
Get This Look
Viola's hair is tightly curly in one of my fave colors–red. If you have natural hair, you can mirror this look by doing a wash and go. Literally, wash and let your fro go … unless you need assistance through a few products and quick tricks. As always, you can apply a leave-in conditioner and styler to wet hair, twisting your curls into neat formations with your fingers. Once dry, you can leave as is, or gently separate and tug on your hair for more volume.

I think there is beauty in everything. What 'normal' people would perceive as ugly, I can usually see something of beauty in it."
~ Alexander McQueen
Strut. Strut. Pop. Twirl. Werk it like a supermodel, girl! New York Fashion Week 2012 has come to a close, with style forecasters predicting that ladies will don color, sparkle, and prints for the fall season. Yet, there's another overlooked trend that caught my attention. I'm sure you've probably guessed it. Yes, my friend. We have curls!
Our catwalk curls are courtesy of skilled designers Mark Badgley and James Mischka, the team behind Badgley Mischka. According to the designers, their show was inspired by the 1920s German Impressionist film, Metropolis. I've never seen this movie, but I noted the throwback details (fur collars) blended with modern accents (cut out details of each dress). Naturally, I applaud them for using purple and blue tones (Glad they got the memo! 😉 ) along with the gilded and rose-colored fabrics. The slightly Gothic makeup—I adore.
Now, I know you're questioning where curls factor into this piece. Well, they were everywhere! Each model took the stage with short, textured hair that perfectly framed their faces. The 'dos were light, fluffy, and airy looking, hinting at a romantic feel. It reminded me of previous shows by Brit designer Vivienne Westwood (love her work), who's no stranger to highlighting curly hair or taking any risks for that matter. For Badgley Mischka, textured tresses amplified their regal, feminine looks.
If your hair already looks like this, you're in luck … and fashionably on point! If not, you can mirror this look by volumizing your hair with an afro pik, or lightly separating your curls by hand. Frizz is your friend for this look, so feel free to play. If you have shorter locks, you have an advantage, as you can easily fluff your hair (through a pik or by hand) to frame your face. For tighter curls, try roller setting, braid-outs, or twists-outs to duplicate this texture. Don't forget to add a side part.
While I am happy to see curls on the runway, I have to pose a few questions. Do you think that Badgley Mischka's fall line should have included a diversity of models, sporting a variety of curls? Do you think the simple presence of textured hair on the catwalk is enough, since they were capturing a period, and we should count it as a win for all of our curly manes? Please share your thoughts and don't forget this season's trends. You better werk!
If you follow My Curly Mane on Twitter, you'll know that every Friday I dish out some #FunkyFridayMusic for the week. It's eclectic, serene, and sometimes just plain funky music to do your 'do and celebrate the weekend. Below is a video I shared a few weeks ago. You may have already seen it a few years ago (and bopped along like a Muppet). If not, you must! It's the perfect song to cheer yourself up on bad hair days and to help kid curlies learn self love and to embrace their naturally curly hair … (more after the video)
The song was created by Joey Mazzarino, the head writer and a puppeteer at Sesame Street. Mazzarino adopted his daughter, Segi, from Ethiopia. He noticed that she began to speak negatively about her hair after playing with her long, straight-haired, blonde Barbie dolls. Oh, Barbie why do you do this to us??! It's not only Barbie. It's the cartoons, toys, and commercials young girls are exposed to. Unfortunately, there aren't too many images reenforcing the notion that their natural hair is beautiful, which is why we need more positive messages as is done through this video.
Thank you Joey Mazzarino and the team at Sesame Street! Now, I not only know how to count like "The Count," but I also know that I "don't need a trip to the beauty shop because I love what I've got on top." Say like like in the video: I really, really, really love my haaaaiiiiirrrr!"
From TV to magazines, it's hard not to keep up with the Kardashians since they are just about everywhere, particularly the family's star, Kim. Recently, Kim K. publicized her experimental hair style in which she channeled Supreme du jour Diana Ross circa the 1970s. Donning big, curly hair and lots of makeup, Kim Kardashian struck a few diva-esk poses.
In describing the look, Kim says that she and her glam squad "went for a fun, crazy look." Let's listen to this again. It was a "fun, crazy look." Even celeb reporters have covered this story by highlighting Kim's "wild" look. Call me captain over analytical, but is it true that full, natural hair is also a crazy look? Let's rewind here and clarify.
I love Kim's makeup in the pics, which is for most purposes too dramatic for day wear but perfect for this shoot. I'm honing in on her hair, which I adore. That same 'do is quintessential Diana Ross back in her heyday, and she was herald for it. Today, as women are embracing their naturally curly hair once more, I have to pause and ask, "Is natural hair a wild, crazy look?"
Natural hair is big and can even reach the same lengths and volume in real life that Kim possessed with her magic hair. Does this mean that this same look is fun and crazy when it's for kicks and not as the actual look coming from your head? Is it only acceptable when being experimental?
I'm only drawing this correlation because of the many hair commercials that you and I have seen. How many times have you heard products—mousses, gels, sprays, serums, and chemical concoctions—aimed at "fixing frizz" and "taming wild hair?" This is of course followed by models of all ethnicities celebrating the results of their straightened locks instead of their "frizzy" curly hair. We even have a host of salons that cater to cuts that tame curly hair, helping to reduce the bulk.
This brings me back to my initial question. Is curly hair equivalent to wild hair? Hmmm. Perhaps, depending on your comfort with natural hair. As a naturally curly gal my whole life, I'm quick to say that my curly mane is … my hair. It is what it is, and I am who I am. Yes, it's big. As it flops and swirls in the wind, it can look a bit free spirited. However, it isn't something that necessarily needs taming or fixing. There's no need to beat it into submission through products or other methods … or is that exactly what us curly girls do on our quest for products that work for us?
Whether you consider it naturally wild or not, naturally curly manes can roar. Its beauty commands attention by nature. To gain it, the curls will often volumize itself. For those of you with quieter manes, there are techniques you can use to turn up the volume (see my post on using an afro pik).
If having naturally curly hair is living on the wild side, ladies it's time to channel your inner Miss Ross. Bend over, shake, fluff, or pic your mane. Go big or go home! 😉
The summer Olympic games have been the "hairiest" one by far, with fire storms whirling around African-American women's heads (please see my previous post for details). Whether worn naturally curly, weaved, or permed, hair has taken center stage, unfortunately overshadowing the performances of many world-class athletes. Among those gaining attention for their manes is tennis ace Serena Williams.
Let me forewarn you, I don't want to take away from Serena's Olympic gold medal achievements. In fact, I want to explain to you the importance of her winning look, namely the hairstyle she sported as she won this year's games.
Regardless of your opinions about Serena's tresses, we can thank her for:
Inspiring women everywhere to be physically strong
Placing the spotlight on natural hair … Simmer down curlies! Yes, I know that Serena's was magically enhanced. More on this later!
From Physical To Spiritual Strength
Put down those Cheetos!! Yes, you heard me. I know you're munching on them right now at your desk or on the couch … I know because that's what I would have been doing if I hadn't changed my diet a few months ago! Apparently, Serena would be right there with us.
She says, "I've actually never liked sports, and I never understood how I became an athlete. I don't like working out; I don't like anything physical. If it involves sitting down or shopping, I'm excellent at it."
Despite her challenges with being active, Serena remains committed to her passion. This dedication made her an all-star, and her body is legend! You don't need to become a professional athlete, but you can become physically stronger (and maybe even have guns like Serena). Why? Working out not only gives you bodily strength, but it also leads to emotional, mental, and spiritual vitality. You can credit this to the endorphins that are released or just the time spent in solitude.
If you like to meditate or pray, this is a great time to just breathe … literally. As a former runner, there have been numerous times in which I enjoyed moving and meditating, sorting through my life in my head. I'm taken into a zone where I feel as if I am more connected to the Universe and myself (hippie alert!), and everything will be okay. Seriously, you should try it, even if it means walking for just 15 minutes during your day.
Lights, Camera, … Natural Hair!
In addition to her form, Serena has helped to shine a light on natural hair … even if it's not her own. Hear me out. I know that there have been colorful comments on Twitter regarding Miss Williams' tendrils, but I think that Serena/her stylist has done a good job of capturing the overall look.
Her hair wasn't styled in an over-the-top way. It looked pretty accurate. It was big. It was voluminous. It bounced as she moved. It blew freely in the wind … just like our curly manes. To me, her faux natural look (Pause. Think about that for minute. Funny!) was the equivalent of Meryl Streep playing Julia Childs. Not exactly the same but definitely Oscar worthy. You can feel free to disagree with me on this one.
In the meanwhile, you can get this look with your natural (or faux) hair by using a sweatband and hair tie/band. I prefer to use a scrunchie instead of a hair band since it doesn't misshape curls or leave dents in straightened locks once removed.
You can find sweatbands in an assortment of colors and materials, from nylon to polyester, but I prefer the ones made out of terrycloth. This material definitely absorbs sweat, is easy to use, and can help preserve your edges when they're straightened. Just remember to stretch out the sweatband before using it since some brands are a bit snug at initial use and can stress tender edges.
Sweatbands are available at beauty supply stores or online for no more than $2. Can't beat that! If you really want to bring back the '80s or pretend to be a pro like Serena, pair a bright colored sweatband with matching wrist bands
. It's fun and functional!
Whether you are walking, running, or oming it out, just get moving. And don't forget your sweat- and wristbands!