Hello Curlies! I know. I know. It's been a long, long time since I've posted information to My Curly Mane! My hiatus was much longer than anticipated. I've had a ton of personal changes (wedding, move, and more) that took me away from writing, but I am hoping to resurrect this blog this year. I'll include a more detailed post on my M.I.A. status for those of you who are scratching your heads.
For others who are wondering what's new in this neck of the woods, I'll cut to the chase and present to you this video courtesy of Chime Edwards AKA Haircrush. Yes, this is the same YouTuber with the endlessly long tresses with the fitting former name. She did some digging on the history of black hair and came up with the following video. I hope all is accurate. It would be nice to view a more detailed list of her sources.
I found this video informative, sad, and very interesting, particularly as black hairstyles seem to be coming full circle. Watching this, you realize that "it's not just hair!" There's a lot of history involved in all of our curly manes. Tune in and let me know your thoughts!
Hey Curlies! After a waaaaayyyy too long hiatus, My Curly Mane is back! Yes, just in time for the New Year. I want to start 2014 on a good foot by updating this blog more frequently and bringing you more of what you love. Soooo sorry to keep you hanging!
What Had Happened Was …
Now what exactly happened, you ask? Well, (takes a deep breath; raises right hand; and promises to tell the truth, the whole truth, and nothing but the truth) I had to focus more on the ever-moving pieces in my life. I hate to make excuses, but a few new projects came my way, which required my full attention. I found myself having minimal time and energy to write, although I had tons of new hair products to review and ideas brewing in the brain. By the time I knew it, months blew by, and we're now bumping up against a new year. Bad news bears.
BTW–I don't know how I forgot to mention this when I first uploaded this post. I was sick for nearly a month! I had the flu, which wiped me out for two weeks. I'm still battling a lingering and annoying cough. Hate being sick! That was definitely a time suck.
I apologize again for being MIA! The good news? As I mentioned, I've got new news coming your way in 2014, so stay tuned (yes, again)! This is my New Year's resolution for you.
Looking Back
As for my curly mane, my natural hair goal remains the same–to have waist-length tresses. So far, I'm in good shape, although I have been sporting straightened locks these last few months. Gasp, ya say! Well, that's what happens when you're not around to pull me away from my straightening addiction. 🙁 I must admit that I have had some control in the process. I only used minimal heat on my hair and even deep treated it a few times following this style. I found myself experimenting with the traditional comb-chase method of straightening, a departure from my usual straightening technique with a Sonicglide. More on this as well as my length check in an upcoming post.
Looking back on 2013, we missed a very, very important milestone … My Curly Mane turned one year old!!! Yes, it's been a little over a year since our baby made its debut. Thank you for your support!! I'm so happy that you are reading this blog and hope that it has helped you to make strides in your hair journey. This keeps me motivated. I kept my promise for 2013 and spruced up the look of this blog. Now, I promise to keep the tips and other bits flowing for 2014. More on the belated celebratory affairs soon!
What We Learned
We learned so many lessons this year. Last winter, we learned how to winter proof our poof, a tip I urge you to use again this season. This includes sporting satin-lined hats (still sporting the one I got from Etsy last year–love!), conducting regular scalp massages, and loading up on leave-in conditioner.
In fact, we put two of my beloved leave-in conditioners to the test in another epic product battle and discovered just how important these products are in improving our hair's condition. Stylistically, we discovered that we absolutely love ballerina buns (no, not because of those incessant Hot Buns commercials). While personally/spiritually, we promised to ignore "Negative Nancies." Stay far, far away from them in 2014!
You & Me in 2014
This upcoming year is ours! Let's go in roaring like a lion. Together, let's work on achieving the next step in our hair goal, while being an even better version of ourselves. We're proudly rocking our curly manes, going big or going home, and sticking our fingers in our ears to shut out all naysayers and soul suckers. This is our plan, in case you missed the memo. 😉
Before you dive into the New Year, don't forget to snag my new eBook. Please subscribe to get your free copy of this guide! Hopefully, it will serve as a blueprint throughout your journey.
Kick-off Style
I plan to have a low-key celebration with my BF and friends to ring in 2014, so the look of the day will be simple and naturally free flowing curls as seen in the image above. How are you styling your hair?? Don't know? Check out the creative looks below from a few ladies that I think got it right. Let me know if you decide to do the same. I wish you many blessings for the New Year!!
Side Puff,  Heatless Hair Style (try subbing the ribbon for a little bling … or a blingy ribbon!)

Glittery Smokey Eye Tutorial & DIY Short Marley Twists (Skip to 3:28 for the hair tutorial)
You can wake up to your higher self … You don't have to run from life your whole life. You can really live and you can change, and you can be an agent of change." ~ Laura Dern as Amy Jellicoe in Enlightened
I have another show in which I'm adding to My Curly Mane's "Fab Fave For You" list. … Yes, I just invented that one! This list contains a few of my favorite things that I hope are helpful for your spiritual journey or for someone you know. My first entry is HBO's series, Enlightened. I'm hooked on its lessons of the week, hippy trippy vibe, and the Cali-cool essence of its wavy-haired main character, Amy Jellicoe, played by Laura Dern. The seasoned actress co-created the show with Mike White, who writes each episode and also stars in the show.
Let me fill you in without spoilers. It's good. I promise! The series begins with a straight-haired, 40-year-old Amy Jellicoe working as a manager at a leading mega company, Abaddonn Industries. Amy soon experiences a dramatic (and entertaining) personal breakdown that causes her to evolve and become literally enlightened after staying at a holistic treatment center. She becomes the meditative, philosophical, textured-haired, self-help guru in pursuit of being an "agent of change." As Amy says in one episode, "It's a beautiful thing to have a little hope for the world." Amy more than just evolves; she become truly happy.
Ironically, I found another similar find about a week ago. It was on a rainy day, after a few minutes hunting for something good on Netflix, that I decided to watch the documentary Happy. Blame it on the sulky weather, but this doc seemed to be right on the money … and it is! Happy highlights real-life stories of several people around the world who have identified themselves as being truly content despite their apparently rough circumstances. One of these examples that stuck out to me was how a rickshaw driver in India who has just the basic necessities in life was happy in comparison to a population of financially successful, Japanese businessmen who are literally, sadly working themselves to death.
Quick fact for you: Researchers found that extrinsic pleasures like extreme wealth lead to temporary happiness versus the long-term satisfaction that comes from internal rewards like being authentic to oneself, bonding with others, and giving back to the earth. Basically, it's proven that letting your hair down and being more like Amy is really what makes us happy.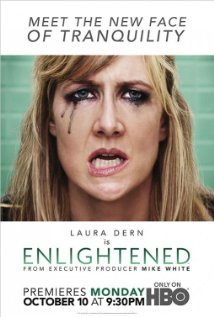 It reminds me of how I felt in the beginning of my career versus now. In the beginning (yes, there was a heaven and an Earth … but I digress! :)) I would dress like my older co-workers in an effort to gain acceptance and to be taken seriously. This consisted of wearing oversized business suits, having my hair "tamed" and pulled back into a tight ponytail, and keeping very, very silent. I thought obedience and basically mimicking others' appearance would make me successful. What I really found was that my clothes made me physically and emotionally imprisoned. I was also terribly unhappy using so much energy trying to please others. This discomfort also affected my performance. Remember what I said about trying to fit into a mold created for you … or one in which you've unwittingly created!
In time, with self-reflection and prayer, I learned to just be myself. I soon discovered that it was okay to dress with a little more flair, paint those nails, and free my mane! It was okay to have different opinions and politely express them. It was acceptable to be different, to be me. This didn't make me any less competent. It was up to me to show this and be that example to others. I also discovered that I was happiest doing more of the things that truly made me happy like being out in the sun, drawing, writing, and helping others embrace their hair and spiritual journey (of course!). These are simple solutions with big results. It's about being your own version of Amy and really finding happiness. Happy, happy! Joy, joy!
What makes you happy? Name one thing, anything! Yes, butter pecan ice cream counts!
UPDATED: Just as I was about to post this, I did a fact-checking search and discovered that HBO has discontinued Enlightened!! What?! This show was amazing and so well written! Ah! See what happens when you have a show with meaning. I have to say that I also haven't heard HBO plugging the show as hard as it does with Girls. Sigh. What's that you say? Turn it into a reality show and it would resuscitate? Oh, oh, oh. Say it isn't so! We can't go that route with this one.
Well, let's cue the violins and play the sad music. Throw up the in memoriam sign. While this show has dearly departed, please catch its two seasons and reflect on how you can make positive changes in the world … like bringing this show back. Ha! Are Were you also hooked on Enlightened?
Love is always bestowed as a gift – freely, willingly and without expectation. We don't love to be loved; we love to love." ~ Leo Buscaglia
Does this sound familiar? You big chopped or grew it out. Either way, you finally learned to embrace your curly mane. Heart racing with excitement, you couldn't wait to explore the infinite possibilities that lay ahead on your head. Suddenly, along the way, you hit a bump in the road. You found yourself getting frustrated with knots, dry hair, and breakage. The level of joy you once had at the beginning of your adventure dips and dives into frustration, and you nearly forget the love you once had for your natural hair.
Like personal bonds, the relationship we have with our curls can hit a rut, causing us to forget what we once cherished. Take a seat. I'm going to share with you some timely tips on loving your natural hair. Hope you had a Happy Valentine's Hair Day!
Keep Committed
Let's face it. Sometimes the latest styles don't come out as expected, and we can't seem to give our hair just what it needs. There are challenges that come with being natural, but let's not forget that similar challenges exist for relaxed or straightened hair. The grass isn't always greener. The secret is to stay committed. Don't give up on your curls and waves. Instead, give yourself time to figure out and rediscover your hair. Hang in there.
Communication Is Key
I say this time and time and time again. *Spins head round and round* Communication is critical! You have to take time to listen and look closely at your curls in order to identify its needs. Whether it basks in your latest conditioner by snuggling curling up tightly or rejects a styler by splitting ends, your hair will let you know! If you pay attention to the signs and gently address your hair's concerns, it will reward you in return.
'Do Dates
Friday nights or Saturday mornings may be prime time for tuning into Housewives … or heck, being a real-life housewife, but you can also use that time to give your hair a little TLC. Set aside at least 30 minutes of "me-time," to explore the many ways to care for your curls. Try a new style; test a product; or indulge in a deep treatment. By experimenting and setting aside playtime, you will take your curls to the next level.
Fight Fair
Are you roughing-up your hair with harsh combs, brushes, and scraggly nails? If so, stoooooop! Never abuse your hair. You will always get better results by handling your hair with kid gloves aka treating it like it's your first and only pair of Manolos. The gentler the care, the sweeter the results will be.  Have patience.
Cherish Curls
Stop commanding your hair to pop and twirl like the next one. Remember that your curly mane is unique. It isn't fair for you to demand it to look or behave like anyone else's. Look back at why you originally decided to embrace your tresses and how happy it can make you feel. Keep your "mane" love in the forefront.
We all go through ups and downs throughout our relationship with our hair. You just have to remember that it's all a part of the course and worth it in the end. Got some more tips? Share them below.
I don't need negative people trying to bring me down; life is too good right now. I just wanna enjoy the moment." ~ Author unfortunately unknown … perhaps our inner voice.
"Did you see Soandso's hair?!" a certain someone says. She stands right in front of the entrance to your office/cubicle/dorm room/workspace and blocks you from fleeing. She's ready to spew the latest bad news, and you're on her list of targets. She'll go on a rant with no sign of letting up. She is Negative Nancy, and this soul sucker will bring you doooowwwn!
Negative Nancy doesn't give any thought to the fact that you're desperately working against a deadline, eyes glued to your computer screen and fingers panging against your keyboard. Instead, she seizes the moment to vent about all things wrong with the world—down to your hair.
"You can't get ahead with an afro! What was SoandSo thinking? Completely ratchet." She looks at your fabulous, natural hair, touches her thinning tresses, then softens the blow. "I mean. It only looks good on some people." Second blow.
You politely nod and turn back to your computer, but Negative Nancy is relentless. She isn't done yet and won't be for a very long time. "Not like it matters anyways. This ship is sinking. It's not the same working here, and It'll never be like it used to be. Did you hear about …" From there, she begins pouring from her pot of negativity, and all you can do is sit back and watch your Zen drown.
Does this scenario ring true to you? Have you been subjected to a drive-by from a Negative Nancy? If you haven't, then you're fortunate. Unfortunately, Negative Nancies are evvveeerrrywhere. In case you're scratching your head, let me help you to identify them.
Who Are These People? (insert Seinfeld's voice)
Negative Nancies are constant naysayers. They are the tsk-tsking, it'll-never-happen preachers. They just can't see the pot of gold at the end of the rainbow. Even if they fess up to seeing gold, they'll quickly find something wrong with it.
They often don't realize their faults because negative vibes have pierced into their whole being. It is a part of them. Often, Negative Nancies are unhappy or sadly jealous, so they vent. Unfortunately, this venting comes in the form of complaints and projected thoughts onto others. Sounds familiar now?
What Happens When You Meet Them?
Since they are in a constant state of doubt, Negative Nancies will rob you of positivity. You will often feel exhausted after conversing with them. Your once joyful spirit will become blue, and it will be difficult to hone in and regain focus on your work. With prolonged exposure, you may find yourself even … transforming into them!
What Can You Do?
Ruuuunnnn! I'm not kidding. Run for the Himalayas! Run for your life! Run like Forrest! By all means, run! Okay, so realistically, you may not want to cause that much of a scene. Good ol' Nancy has already done this for you. Instead, don't engage in her talk. I know this will be tough. If you're like me, you're used to being polite and courteous. You'll listen for hours, just to find your soul depleted.
Instead try to:
1. Listen. As I mentioned, some people just need to vent or be understood. I believe that each one of us gets brought into the other's life for a reason. Maybe this person needs the consoling that you can provide. That doesn't mean that you become his/her therapist! Instead, hear this person out for a minute. Just a minute!
2. KISS (Keep It Simple For Soul Suckers) – Okay, that's not quite what that stands for, but you know what I mean. Maintain brief conversations with negative people. The longer you engage, the worse the situation will be for you. Try to steer the conversation towards a sunshiny lane and keep the trip short.
3. Become Positive Polly. Try deflecting negatives with positives. This is not necessarily a tit for tat, ping-ponging scenario. Instead, after Negative Nancy has announced her problem of the week, remind her that everything will be okay. She may not want to hear it, but hopefully she will listen. It may just make a slight difference in her perspective. She may not tell you this, but it can be helpful.
A friend demonstrated this to me years ago. Whenever I started stressing about work or school, my friend, Positive Polly, would simply say with a smile, "Everything will be okay." At first, I looked passed it and continued yakking, but I soon realized that she frequently said it. Polly was so comfortable in her view, that I felt relieved hearing it. Guess what? I had transformed into Negative Nancy!! I didn't even realize it until I paid attention to someone else's positivity.
Life gives us enough ups and downs. Why contribute to the drama?? I hope that these tips will come in handy the next time you're confronted by you know who. Just remember, when all else fails … ruuunnnn!!
If you have a tip for addressing soul suckers, please share them below.
Grab your whistles and horns! A new year is coming! It turns out that the Mayans may have gotten a thing or two incorrect (thank goodness!) because 2013 is nearly here. Phew! This new year, I'd like to take you and my curly mane to a higher level. Yes, I'd like us to end 2013 having made some significant advances. What kind of advances, you say?
First let's look back at this year. Ah, 2012, the time in which we first met. In case you don't already know, My Curly Mane is 6 months old! Our baby girl is growing, and with that, I must turn to you. Thank you for stopping by and reading! I truly appreciate the support and enjoy helping you with your hair goals. If you have questions or suggestions, feel free to let me know. I appreciate any and all thoughts.
This blog has allowed me to focus more on my curly mane, literally. If you read about my recent length check, you'll notice that the extra care I've taken to moisturize my hair and keep straightening to a minimum has paid off. I've seen an increase in my hair's health (springiness) and length. If you're seeking either or both goals, I want to help you make strides and/or achieve your goal in 2013.
You & Me In 2013
I'm asking you to please implement at least one tip from this blog or my newsletter (you'll receive this by subscribing) each month. Please abide by this lesson for at least one week and report back to me. Remember, it's only by taking action and making changes to your routine that you will see improvements in your hair. Trust me. I know it's hard, but by finally taking action, I started My Curly Mane. Oh, and yes. I thought that was crazy too, but here we are making our way. I challenge you to take action and get your hair ready in 2013, so you can proudly werk your mane come 2014. Make me proud!
Aside from your mane, I'm putting out a call for hair stories and additional advice. I truly believe that each one teaches one, and I am inviting you to share your hair stories, tips, and life lessons. Pass on a good word or two. It never hurts. 🙂
My Curly Mane Outlook
I will continue to share my colorful take on hair and life right here on this blog. I may play around with the look and feel of this site, depending on your feedback. I already made a tweak or two. Did you notice? I will continue to share tips, reviews, and news on natural hair. However, there may be a few surprises or two. I'll leave it at this, as I have a few ideas brewing. No need to worry. I will continue to steer the course smoothly, with your feedback, of course.
Best Wishes
I wish you and your family lots of love and happiness in the new year. I pray that you will continue to embrace your mane as well as the manes of others, speak kindly, learn to treat others and yourself with care (let's spoil ourselves more as a certain someone did this holiday season … who, me?), and seize all opportunities that come your way. Whether you're celebrating with a group or alone on your couch, cheers! Dust off your shoulders. It's time for new beginnings. Happy New Year!!
Attention dear friends. Recently I celebrated my birthday! Yes, curlies. My curly mane and I are literally older … and hopefully wiser! To celebrate this milestone (no, I won't reveal the numbers as yet … gulp!), I straightened my mane! Believe it or not; I actually departed from curls to sport straightened locks. First, I wanted to mix it up for a few, celebratory days. Second, I wanted to conduct a length check.
You see. For about a year, I swore that my hair wasn't budging past near mid-back/bra-strap length, but I now know that my hair needs less direct heat aka flat ironing in order for it to thrive. At the start of the summer, I made a commitment to reduce the amount of time in which I'd straighten my hair and experiment more with my natural hair. In doing so, my hair has gotten even healthier than before and longer!
That being said, it was time to straighten my hair the safer way—roller settting and then lightly flat ironing. Here are a few steps (as well as grown lady tips!) in which you can follow to capture this look.
Tools:
Clarifying or Moisturizing Shampoo
Conditioner
Leave-in conditioner (I use Silicon Mix Intensive Leave in Hair Shine and Conditioner since the silicones it contains help to trap moisture into the hair and prevent frizz )
Oil (I love my Vatika Oil mix)
Regular tooth comb (not wide or fine, just right and easy to use)
Snap-on, hard, magnetic rollers aka rolos 🙂 You can also use flexi rods if this is easier.
Soft rollers covered in satin
Spray Bottle (fill with water)
Hard hat dryer (I have a Pibbs but Belson Elite Ionic Tourmaline Rollabout Dryer works well)
Setting lotion = optional. I don't use it, but if you want more hold then use this.
Heat protectant spray (always recommended, but I tend to skip this in favor of an oil or butter)
Flat iron (I use a Maxiglide)
Steps
Start with a clean slate. Wash and condition your curly mane as you normally do. I like to clarify my hair, so it is completely clear of other products, particularly those that work with my natural curls but not with straight tresses.
Apply leave-in conditioner. I tend to add a lot of product to the ends of my hair, since I will be using a flat iron, and I don't want to dry out my ends. Calling all bandits! Split ends will rob you of length retention.
Keep hard rollers (for drying under the hard hat) at your side, and section your hair from the back to the front of your head. Create sections at the appropriate size of each hard roller. If your section is too large for the roller, your hair will take much longer to dry.
Comb out each section of hair, spritz to keep it moist, and roll it with a roller. Apply tension to your hair as you roll, so your hair is as straight as possible. If you want more hold, spritz setting lotion onto the hair as you roll it. Warning: I am absolutely the worst at roller setting! If you're in this club, it's okay. You want to focus on getting the hair smooth and simply roll it as close to the scalp as possible. When you flat iron, it will work out the kinks. I also do not create neat rows. I haven't gotten this down, so I roll my hair in the same sections I use for braid outs.
After roller setting your entire head of hair, sit under a hard hat dryer for at least 30 minutes. Please gauge this according to your hair length and drying needs. Your hair must be completely dry to avoid frizz.
Undo your rollers. You'll notice that your roots may still be poofy. Ah, our curly manes win again! Once again this is okay. See my photo. My hair length may not be as kinky curly as it was originally, but my roots are still poofy. Once again, no need to fret.
Apply oil all over your hair. This works as a heat protectant and adds sheen.
Dust off your flat iron. My Maxiglide felt a little foreign in my hands. It took me a minute to remember how to use it! Anyhoo, grab your flat iron and straightened your hair, working in small sections from the back to the front of your head. I apply a minimal amount of heat needed to straighten it. I also like to bump (curl) the ends for body.
That's it! You now have straight hair!
Optional: Do you want beachy, bouncy curls? If so, as you flat iron each section, roll it with a soft, satin roller. Leave the soft rollers in your hair for at least an hour. When removed, you will have large, curls and waves.
Runway Styling & Nighttime Maintenance

While I like to have straight hair for the first day. Each day afterwards, I like to rock that Victoria's Secret-esk, beachy look. Lol! This protects my ends and doesn't require flat irons to maintain the look. To capture this look, I begin by oiling my entire hair, particularly the ends, each night. Afterwards, I use the soft, satin rollers to roll my hair. I apply a satin cap over the rollers for extra protection and to keep the positioning of the rollers. Off to bed you go! In the morning, remove all and voilá! Repeat each night for a hot look and simple, safe upkeep.
Grown Lady Lessons
As I mentioned prior, the clock is ticking and tocking. Sigh. You may have guessed it. I am one of those gals who hit a birthday and had a bit of the blues followed by the highs of all the lessons learned. I am blessed to blow out another candle, and in doing so, want to share a few lessons with you. As always, each one teach one.
On Hair (of course!) …
Slow and steady wins the race. Chances are you will not figure out your hair overnight … and that's okay! I'm still discovering my hair's capabilities.
The best manes are the result of gentle care and healthy hair. These tips are underrated but produce the best results. Healthy hair that's treated kindly will always look good.
It's okay to keep the same style until you master your hair and other looks. Don't feel pressured to have the same results as other curlies. Focus on your own progress. Remember #1: slow and steady wins the race!
On Life …
It's okay to be different. It's everyone else's problem if you do not fit into a mold. Seize the opportunity to enlighten them. If they don't get it, keep it moving!
Not everyone will like you. Ugh! "But why?" you say. "I am so kind and God-fearing." Sadly, even the best of us will get shunned or bullied once in our lives. I know. It isn't right. It's just human nature. You just have to remember to be above it. Once again, it's their problem. Keep it moving!
There's nothing better than being kind to yourself. Woooah there, lioness! Go easy. Don't put so much pressure on yourself. Even if you believe you haven't accomplished as much as you'd like to by your age, note the many lessons learned (I hope!), adventures undertaken (even the minis), and plain ol' fashioned growing up that you've done. Be kind to yourself. You deserve it. If you've had a b'day or you're approaching one, happy you day to you!
I think it's good for a person to spend time alone. It gives them an opportunity to discover who they are and to figure out why they are always alone." ~ Amy Sedaris

Greta Garbo, screen siren of the '30s, famously sported pant suits and trademark finger waves. This leading lady strode into a room and easily drew attention, which is ironic because she has historically been credited with often saying, "I just want to be alone."
This brings up the topic of "me time." Time is truly a precious gem. With our lives moving in warped speed, it may appear as if there just isn't enough time to get things done … or to do nothing at all. That fluid time to dip and do, that "me time," is becoming more and more of a necessity.
For introverts, like myself … waaaait! Time out! Let's not confuse this with shy people. Nuh, uh. Introverts are people who need time for self reflection. This is how they refuel. This is also opposed to our sparkling extroverts, who need social interactions to process their experience with the world. Neither one is better than the other. It's just different ways in which we navigate our journey.
Back to my point. For introverts, like myself, "me time" is necessary. Even if you're not an introvert, this is the time needed to engage in hobbies like cleaning, cooking, knitting, and of course, blogging. Heck, you can just sit around and watch TV, catch a movie, daydream, and play in your curly mane. Yes, my curly friend. If you're lucky to have a little "me time," try some of the tips I've shared here.
As Audrey Hepburn said, "I have to be alone very often. I'd be quite happy if I spent from Saturday night until Monday morning alone in my apartment. That's how I refuel." Just don't forget to get back out into the world. Don't get lost curlie!
In my journey thus far, there have been times when I had to study or go shopping alone. At first, I kicked rocks and complained about my friends' busy schedules. Soon, I embraced that time, as it forced me to learn about myself. I had to turn inward and make my own decisions, steer my own course. It's such a key lesson for young women, as we often fall for group think or what so and so says. Sometimes that "me time" is just what answers questions and opens the door to spiritual awakening. Okay, I won't go too far into hippie mode!
For the busy mamas out there, "me time" is a hot commodity with kids running around and possibly also a hubby to tend to. If and when you can seize it, I applaud you! For my ladies with time on your hands, please use it well. Take some time to look within, have fun, and relax for a minute. Carpe diem!
We cannot change the cards we are dealt, just how we play the hand." ~ Randy Pausch
Photo credit: DG Jones

Two weeks ago, I attended two funerals for two young friends under the age of 34. Both gentlemen passed away suddenly and left behind many broken hearts and dear friends. They lived completely different lives but left the same lesson—life is about choices.
You've heard the clichéd expression that life is a rollercoaster. Life gives you lemons. Life is like a box of chocolates, and on and on. Well, it's true. Life truly is an unpredictable journey. One minute we're caught up in work drama, the latest hair style, and laughing about reality TV. The next minute, the stop sign flashes red, and we're facing life-changing challenges, all based on the cards we're dealt.
You may have different beliefs, and that's fine. In the crazy little world within my head, I picture angels—wise, cunning beings that are either good or bad–surrounded around a card table. One plucks a card and deals your faith. We can either choose to push through obstacles (with lots of prayers) or fall, arms outstretched, into a path of destruction.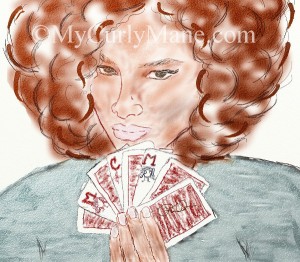 Our choices aren't always perfect, but our best bet would be to think about what we want to leave behind. Yes, this is the Oprah moment. Seriously, this lesson was driven home the moment after I left one of the funerals. I strolled away with my SO (significant other) in hand and smiled. This was the very first time I've ever felt happy after a funeral. I felt good because of the mark this young man left. It was evident by the words that were spoken of him and attendance of young boys in which he coached and hundreds of friends and family members who all spoke well of him. In the brief time that I knew him, I already knew that he was a good person. How many people can you say that about?
It's all about these moments, your legacy. Make the best choices that you can while you're given the opportunity and time to do so. Roll the dice when you need to. Fold or pass whenever you feel it's right. Do not cheat. Keep a poker face when needed rather than being overpowered by emotions. Play by some rules while breaking others. Know it's okay to lose and celebrate winning. Most of all, don't just be … live.
Don't put a limit on anything. The more you dream, the further you get."
~ Michael Phelps, Men's Swimming (Kudos to those who dare to dream!)
This past weekend, it happened to me once again.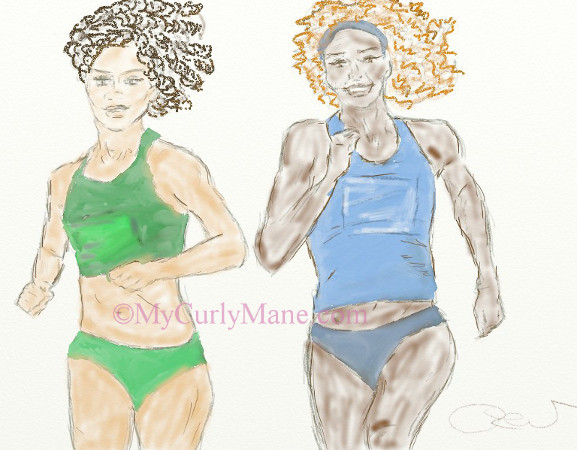 It being me, jumping up and down and cheering at the top of my lungs. It being me, talking smack to naysayers. It being me, completely (and maybe a bit psychotically!) sucked into the tube watching the Olympics.
While I am in constant awe of these athletes' superhero/heroine physiques and abilities, their words of wisdom and examples have left an even bigger impression on me. Forbes magazine captured a few winning quotes from our skilled competitors. One of my favorites is the quote included at the top of this post.
Given what I've seen from our athletes thus far, I'm adding to the list a few of the lessons that I've learned through their actions. They are:
Use your talents to the best of your ability. These athletes didn't get to this epic point in their careers just by luck. They used their God-given skills and obviously worked hard to perfect them.
Own up to your mistakes.  Although she won the gold medal in the team and all-around gymnastics competitions, Gabby Douglas wasn't able to take home a third medal (as if she needed a third one!). "I made a little mistake, but I'm human," she said. It can't be easy to have the world watch you make a mistake (waves hands in front of face like wrestler John Cena, saying, "You can't see me!"). If that weren't enough, Gabby bravely fessed up to that mistake, so we can all move on from it. Lesson learned.
When you fall down (on your butt, heck even on your face as a few gymnasts have done), get back up. This is another tough one. Yesterday, McKayla Maroney, a Team U.S.A. gymnast, fell on her tush while landing from a vault. I gasped in horror as I watched Maroney hit the ground, knowing that her dream of a gold medal was unlikely. England's Princess Kate and fellow Team U.S.A. gymnasts were supporting Maroney from the stands in what was assumed to be an easy win. Still, the young gymnast showed grace as she left the apparatus and accepted a silver medal instead. "I didn't really deserve to win a gold medal if I fall on my butt," Maroney said. She is yet another example of the point above.
Congratulate others on their achievements. Oscar Pistorius, from South Africa, ran the 400m in track as the first double amputee to compete in the able-bodied Olympics. Although he didn't qualify for the finals, Pistorius won the admiration of his fellow athletes. In fact, after winning the semifinals against Pistorius, Kirani James of Grenada, exchanged name tags and hugged Pistorius to show his respect. Am I the only sap who's been tearing up during these games?
Winning is fun, but the journey more interesting. Just ask 17-year-old swimmer Missy Franklin. She won 5 Olympics medals (4 of them gold) but turned down sponsorships, so she could continue swimming for her high school team. Although fully aware that she may be at her peak performance level, Franklin would rather take the risk in order to enjoy her youth. Hats off to the young, wise, and brave!
Have you been inspired by any of our Olympians? Please share the lessons that you've learned.