Love is always bestowed as a gift – freely, willingly and without expectation. We don't love to be loved; we love to love." ~ Leo Buscaglia
Does this sound familiar? You big chopped or grew it out. Either way, you finally learned to embrace your curly mane. Heart racing with excitement, you couldn't wait to explore the infinite possibilities that lay ahead on your head. Suddenly, along the way, you hit a bump in the road. You found yourself getting frustrated with knots, dry hair, and breakage. The level of joy you once had at the beginning of your adventure dips and dives into frustration, and you nearly forget the love you once had for your hair.
Like personal bonds, the relationship we have with our curls can hit a rut, causing us to forget what we once cherished. Take a seat. I'm going to share with you some timely tips on loving your natural hair. Hope you had a Happy Valentine's Hair Day!
Keep Committed
Let's face it. Sometimes the latest styles don't come out as expected, and we can't seem to give our hair just what it needs. There are challenges that come with being natural, but let's not forget that similar challenges exist for relaxed or straightened hair. The grass isn't always greener. The secret is to stay committed. Don't give up on your curls and waves. Instead, give yourself time to figure out and rediscover your hair. Hang in there.
Communication Is Key
I say this time and time and time again. *Spins head round and round* Communication is critical! You have to take time to listen and look closely at your curls in order to identify its needs. Whether it basks in your latest conditioner by snuggling curling up tightly or rejects a styler by splitting ends, your hair will let you know! If you pay attention to the signs and gently address your hair's concerns, it will reward you in return.
'Do Dates
Friday nights or Saturday mornings may be prime time for tuning into Housewives … or heck, being a real-life housewife, but you can also use that time to give your hair a little TLC. Set aside at least 30 minutes of "me-time," to explore the many ways to care for your curls. Try a new style; test a product; or indulge in a deep treatment. By experimenting and setting aside playtime, you will take your curls to the next level.
Fight Fair
Are you roughing-up your hair with harsh combs, brushes, and scraggly nails? If so, stoooooop! Never abuse your hair. You will always get better results by handling your hair with kid gloves aka treating it like it's your first and only pair of Manolos. The gentler the care, the sweeter the results will be.  Have patience.
Cherish Curls
Stop commanding your hair to pop and twirl like the next one. Remember that your curly mane is unique. It isn't fair for you to demand it to look or behave like anyone else's. Look back at why you originally decided to embrace your tresses and how happy it can make you feel. Keep your "mane" love in the forefront.
We all go through ups and downs throughout our relationship with our hair. You just have to remember that it's all a part of the course and worth it in the end. Got some more tips? Share them below.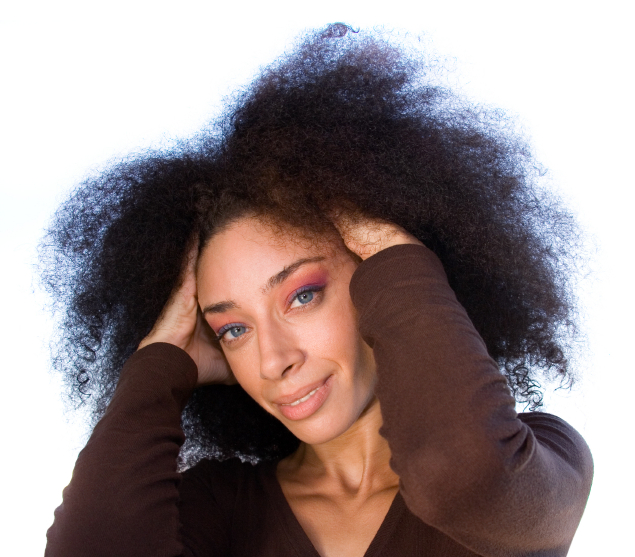 Your toes will curl up tighter than a house landing on the Wicked Witch of the West. Your eyes will sloooowly roll to the back of your head. "What's this crazy curlie talking about now?" you ask. Scalp massages!
Come back. Don't walk away. Trust me! You may just want to consider adding scalp massages to your hair ritual. Scalp massages open up the blood vessels in your head, increasing the flow of blood to the hair follicles. This increased flow strengthens your roots and helps your hair to grow. Yes, you heard correctly. Want long locks that you can whip back and forth? Try regular scalp massages.¹
Oh, but wait. There's more! Scalp massages not only feel good, but they have physical benefits as well. According to the National Center for Complementary and Alternative Medicine, the act of soothing your scalp can increase production of endorphins and serotonin, thereby putting you in a relaxed mood. It also reduces muscle tension, helping to relieve pain brought on from migraines.²
Are you now sold? Here are some tips you can use to enhance your results.
1.    Add oil. You already know that I swear by the use of oils for natural hair. In my previous post on winter-proofing your poof, I mentioned that oiling your scalp can prevent dandruff. Did you know that regular scalp massages using oil can increase the strength of your roots, making your curls less prone to breakage?¹ Oh, yes, it does. For greater penetration, try warming the oil before applying it to your scalp.
2.    Use your fingertips … not nails. I've mentioned this before, and I'll say it again. I've been guilty of using my nails to wash my scalp … but they're short. I promise! When kneading your scalp, use your fingertips to ensure that you do not damage your hair follicles. You don't want to end up losing hairs!
3.    Use tools. If you want to ramp up the tingly sensation, use a Tangle Teezer or scalp massager. Those pins and prongs can hit just the right acupressure points to make Calgon take you away! Remember that one?
Ah ha! Caught ya! I see your fingers creeping to your scalp. Before you begin dozing off from relaxation, let me know if you indulge in regular scalp massages.
[sources: Livestrong¹ ,  Mayo Clinic² ]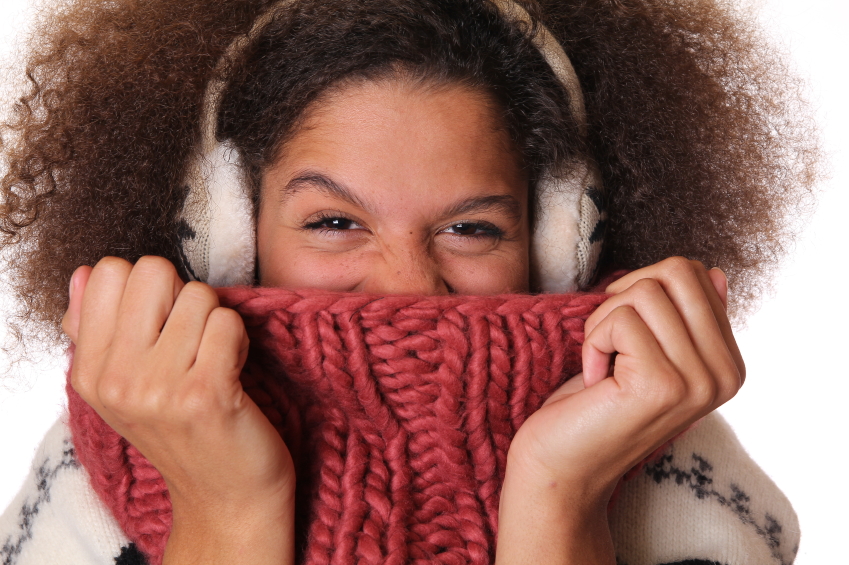 For the last week, boxes of tissues have become my best friend along with good ol' Robitussin and chicken noodle soup. Yes, I've been hit by a baaad cold … and thankfully not the flu! You too? This winter has been up and down, which is why you not only need to care for your body, but you also need to give added TLC to your curly mane.  During these colder months, your hair will be on an endless quest for moisture. Let me point you in the right direction (musters up strength to raise pointer finger and lead the charge)! Here are a couple of ways in which you can winter-proof your poof.
"I'm itchy and dry. I can't stop flaking," says Your Scalp.
If your scalp is suffering, apply tea tree oil directly onto it daily. You can also warm the oil before massaging it onto your scalp. According to the Mayo Clinic, tea tree oil "comes from the leaves of the Australian tea tree (Melaleuca alternifolia) and has been used for centuries as an antiseptic, antibiotic, and antifungal agent. It's now included in a number of shampoos found in natural foods stores."
According to WebMD, the Aboriginal people in Australia have used tea tree oil as a topical scalp treatment for centuries. Centuries?! Something tells me that they're onto something! Just be careful, as tea tree oil may cause allergic reactions.
Bonus: Got leftover oil? You can use it to treat toenail fungus. Yes, ladies. Let's get it together for the summer.

In addition to tea tree oil, you should adjust your shampoo by either:
Replacing it with a moisturizing shampoo (if you aren't already using one)
Adding a bit of oil to your shampoo. I recommend adding jojoba, coconut, Vatika, and/or tea tree oil. Click here to read my post on the benefits of oils for natural hair and how to use them.
Cutting down or stop shampooing altogether. Instead, just use conditioner to wash your hair aka co-washing.
"I'm so thirsty; I may just break off and die," says Your Curly Mane.
Condition. Condition. Condition! I can't stress enough the importance of using conditioner during the winter. Traditional conditioner and leave-in conditioner will fortify your strands and prevent them from breaking. Your hair will need this more than ever, so use a conditioner/leave-in each time you wash your hair. Don't forget to apply extra conditioner to the ends of your hair to prevent them from splitting. These old timers are easily weakened by winter weather, so give 'em a little lovin'.
Seal The Deal. All of your conditioning will be in vain if you don't seal in your hair's moisture with oil. It's hard enough for sebum (natural oils from your scalp that moisturize your hair) to travel down your hair, so you'll need to add oils instead. Just note that if you do get second, third, fourth, etc. day hair, you may need to rehydrate your curls by spritzing with water/a water mix and sealing your strands yet again. Sealing will also help smooth your hair's cuticles, reducing frizz.
Try A Protective Style. This is the perfect season to try to perfect your braid-outs and twist-outs. Protective styles are just as they are called. They help keep strands and delicate ends protected at night or all day, depending on the style.
Top It Off With A Satin-lined Hat. Any hat will help protect your hair from harsh winds, but satin-lined hats will protect your hair, help retain moisture, and secure your style! It's a win-win all around! If you're seeking a satin-lined hat for your curly mane, check out my review of Threadmill hats.
"I'm thirsty and have flakes. What's a curl to do?" asks Your Curly Mane & Scalp.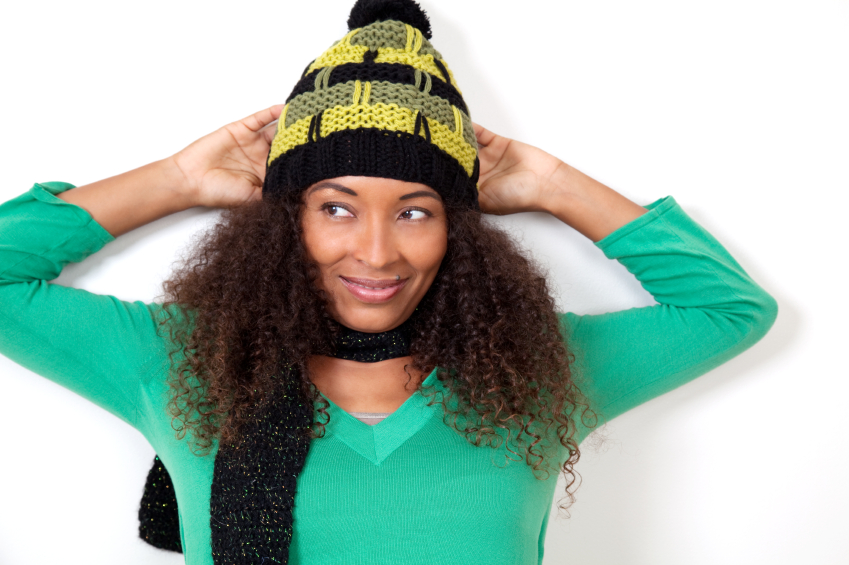 Get thee regular deep conditioning treatments! Your best bet is to make your own concoction that includes a combination of your favorite conditioner (nourishment) and oils (softens and protects) as a basis. I suggest:
For an extra boost, add any of the following to your mix:
Honey – Retains moisture (It is a humectant) and adds shine
Eggs – Adds protein and nourishes your hair
Banana – Aids in hydration
Avocado – Truly deep conditions. "It's high in vitamins B and E, which work at the cellular level to protect and strengthen hair," according to LIVESTRONG.
Mayo (eggs, vinegar, and oil) – Moisturizes hair
Shea Butter – Moisturizes hair
Tapping into your inner mixtress, apply the deep conditioner to your hair and cover it with a plastic cap. Leave this on for at least 30 minutes. For greater hydration, sit under a hooded dryer or apply a heat cap for at least 30 minutes.
"I've found a thing or two, and now I'm passing it on to you," says My Curly Mane.
This winter, I've been wearing my hair in wash and gos the majority of the time … although I thought I would do more braid-outs. Although I'm doing more wash and gos, my hair is actually washed every 3-4 days. I'm also co-washing much more often. In addition, when I use a moisturizing shampoo, I only apply this to my scalp. This routine has been helping to keep my hair moisturized. So far. So good.
How are you winter-proofing your poof? Drop a tip or two below … and don't forget to bundle up!
I've got color; yes, I do! I've got color; how about you?!
I just love hair color. I think it's a great way to accent our curls, particularly in the form of highlights. Warning! As much as I love coloring my hair, it was one of the evil culprits that caused damage. Sit back and relax for a quick recap!
History Lesson
Years ago, I would embark on weekly adventures with color, changing my hair from red to blond and back again. That was until my curly mane had enough. It drop-kicked my bottles of developer and dyes and played dead on my head … well, hair is naturally dead (ha!), but this was something entirely different. Over processing my hair through bleach and dyes left it in a limp state.
Just when I began to rehab my curls, I once again decided to get color in the form of highlights. I figured this would be less damaging, particularly since I was seeking the help of a professional stylist. Mistake! The hairdresser, who between breaks of nibbling on her lunch, over processed the front, left section of my hair. This area stopped curling as well, not to mention it was completely colored instead of highlighted! Needless to say, these and other experiences made me walk away from hair coloring.
Still, I just can't help drooling over other curlies' expert highlights. It makes me pause and briefly consider another bout with dyes. Fortunately, natural hair blogger Curly Nikki recently flagged a sneaky way in which we can get faux hair color by using cream eye shadow. Boing! That's the sound of your head rattling. I know. I know. You must be thinking that us natural ladies have lost it again. Here comes another crazy concoction or method of styling. No, actually this one is quick and easy. It's also a fun way to mix up your look.
Tools:
Your curly mane, of course! – My hair was styled in a wash and go.
10 minutes max
Instructions
I literally dug my fingers into this creamy eye shadow (frowning and naysaying along the way), and randomly smoothed it down my strands, twirling it around my finger. I concentrate more of the product on the hairs around my face. I had to use a generous amount since it wasn't initially apparent on my dark hair. You'll need to wash and scrub this from your hands and nails. Not too bad, but it can be a little messy.
Appearance
The eye shadow gave my hair a slight shimmer and gold highlights! I was pleasantly surprised. Although the shadow itself is marketed as lasting 24 hours, hence its name as a tattoo, this faded out of my hair throughout the night.
When I woke up in the morning, it was gone! I had to check my pics to remember that I applied it! The only evidence is slight traces of shimmer. This worked perfectly for styling my hair (and eyes) before I headed out to a reggae concert. I think the rocker look is perfect for heading out on the town, but it may be too much for conservative office environments. The choice is yours.
If you give this look a go, please comment and share pics below! You can also view this post and join the conversation over at Curly Nikki.
Attention dear friends. Recently I celebrated my birthday! Yes, curlies. My curly mane and I are literally older … and hopefully wiser! To celebrate this milestone (no, I won't reveal the numbers as yet … gulp!), I straightened my mane! Believe it or not; I actually departed from curls to sport straightened locks. First, I wanted to mix it up for a few, celebratory days. Second, I wanted to conduct a length check.
You see. For about a year, I swore that my hair wasn't budging past near mid-back/bra-strap length, but I now know that my hair needs less direct heat aka flat ironing in order for it to thrive. At the start of the summer, I made a commitment to reduce the amount of time in which I'd straighten my hair and experiment more with my natural hair. In doing so, my hair has gotten even healthier than before and longer!
That being said, it was time to straighten my hair the safer way—roller settting and then lightly flat ironing. Here are a few steps (as well as grown lady tips!) in which you can follow to capture this look.
Tools:
Clarifying or Moisturizing Shampoo
Conditioner
Leave-in conditioner (I use Silicon Mix Intensive Leave in Hair Shine and Conditioner since the silicones it contains help to trap moisture into the hair and prevent frizz )
Oil (I love my Vatika Oil mix)
Regular tooth comb (not wide or fine, just right and easy to use)
Snap-on, hard, magnetic rollers aka rolos You can also use flexi rods if this is easier.
Soft rollers covered in satin
Spray Bottle (fill with water)
Hard hat dryer (I have a Pibbs but Belson Elite Ionic Tourmaline Rollabout Dryer works well)
Setting lotion = optional. I don't use it, but if you want more hold then use this.
Heat protectant spray (always recommended, but I tend to skip this in favor of an oil or butter)
Flat iron (I use a Maxiglide)
Steps
Start with a clean slate. Wash and condition your curly mane as you normally do. I like to clarify my hair, so it is completely clear of other products, particularly those that work with my natural curls but not with straight tresses.
Apply leave-in conditioner. I tend to add a lot of product to the ends of my hair, since I will be using a flat iron, and I don't want to dry out my ends. Calling all bandits! Split ends will rob you of length retention.
Keep hard rollers (for drying under the hard hat) at your side, and section your hair from the back to the front of your head. Create sections at the appropriate size of each hard roller. If your section is too large for the roller, your hair will take much longer to dry.
Comb out each section of hair, spritz to keep it moist, and roll it with a roller. Apply tension to your hair as you roll, so your hair is as straight as possible. If you want more hold, spritz setting lotion onto the hair as you roll it. Warning: I am absolutely the worst at roller setting! If you're in this club, it's okay. You want to focus on getting the hair smooth and simply roll it as close to the scalp as possible. When you flat iron, it will work out the kinks. I also do not create neat rows. I haven't gotten this down, so I roll my hair in the same sections I use for braid outs.
After roller setting your entire head of hair, sit under a hard hat dryer for at least 30 minutes. Please gauge this according to your hair length and drying needs. Your hair must be completely dry to avoid frizz.
Undo your rollers. You'll notice that your roots may still be poofy. Ah, our curly manes win again! Once again this is okay. See my photo. My hair length may not be as kinky curly as it was originally, but my roots are still poofy. Once again, no need to fret.
Apply oil all over your hair. This works as a heat protectant and adds sheen.
Dust off your flat iron. My Maxiglide felt a little foreign in my hands. It took me a minute to remember how to use it! Anyhoo, grab your flat iron and straightened your hair, working in small sections from the back to the front of your head. I apply a minimal amount of heat needed to straighten it. I also like to bump (curl) the ends for body.
That's it! You now have straight hair!
Optional: Do you want beachy, bouncy curls? If so, as you flat iron each section, roll it with a soft, satin roller. Leave the soft rollers in your hair for at least an hour. When removed, you will have large, curls and waves.
Runway Styling & Nighttime Maintenance

While I like to have straight hair for the first day. Each day afterwards, I like to rock that Victoria's Secret-esk, beachy look. Lol! This protects my ends and doesn't require flat irons to maintain the look. To capture this look, I begin by oiling my entire hair, particularly the ends, each night. Afterwards, I use the soft, satin rollers to roll my hair. I apply a satin cap over the rollers for extra protection and to keep the positioning of the rollers. Off to bed you go! In the morning, remove all and voilá! Repeat each night for a hot look and simple, safe upkeep.
Grown Lady Lessons
As I mentioned prior, the clock is ticking and tocking. Sigh. You may have guessed it. I am one of those gals who hit a birthday and had a bit of the blues followed by the highs of all the lessons learned. I am blessed to blow out another candle, and in doing so, want to share a few lessons with you. As always, each one teach one.
On Hair (of course!) …
Slow and steady wins the race. Chances are you will not figure out your hair overnight … and that's okay! I'm still discovering my hair's capabilities.
The best manes are the result of gentle care and healthy hair. These tips are underrated but produce the best results. Healthy hair that's treated kindly will always look good.
It's okay to keep the same style until you master your hair and other looks. Don't feel pressured to have the same results as other curlies. Focus on your own progress. Remember #1: slow and steady wins the race!
On Life …
It's okay to be different. It's everyone else's problem if you do not fit into a mold. Seize the opportunity to enlighten them. If they don't get it, keep it moving!
Not everyone will like you. Ugh! "But why?" you say. "I am so kind and God-fearing." Sadly, even the best of us will get shunned or bullied once in our lives. I know. It isn't right. It's just human nature. You just have to remember to be above it. Once again, it's their problem. Keep it moving!
There's nothing better than being kind to yourself. Woooah there, lioness! Go easy. Don't put so much pressure on yourself. Even if you believe you haven't accomplished as much as you'd like to by your age, note the many lessons learned (I hope!), adventures undertaken (even the minis), and plain ol' fashioned growing up that you've done. Be kind to yourself. You deserve it. If you've had a b'day or you're approaching one, happy you day to you!
May it be a light to you in dark places, when all other lights go out."
~ J.R.R. Tolkien, The Fellowship of the Ring
Before she even arrived, Hurricane Sandy was called the perfect storm. Perhaps this is because she was perfectly disastrous. On the east coast, Miss Sandy uprooted many trees, destroyed homes, cars, streets, and left many without electricity, including myself. Our lifestyle definitely went back to basics. With work still a possibility the next day, I needed to have my hair somewhat presentable in the event that I was called into the office. This required a much needed washing of my hair … without hot water!
Those of us with easy access to clean, hot water are veeerrrry lucky. I remember my first experience as a child visiting family in Jamaica and experiencing the culture shock … of my own culture! At that time many places in Jamaica did not have hot water running through the pipes. Today, here in the states, Sandy has contaminated water supplies and left many without access to power and ultimately clean, warm water. I extend my prayers to all whom have been affected by this travesty.
In the sake of actual necessity and much needed levity, let me share some hair care tips in the event that you're left without warm water and for some reason or another need to wash your hair. This is simple and maybe common sense, but sometimes, you're thrown off when comforts are removed. We're gonna take this back Little House on the Prairie-style!

Tools:
Kettle
Large Pot
Sink or Bathtub (to wash hair in)
Water (seriously, you'll need this)
Gas/electric or solely gas burning stove (seriously!)
Preferred Moisturizing Shampoo – skip if you're doing the conditioner only/Curly Girl Method. I used Crème of Nature Argan Oil Moisture and Shine Shampoo.
Preferred Conditioner – My staple is Herbal Essences Hello Hydration Moisturizing Conditioner.
Steps:
Pre-poo – Before washing my hair, I applied conditioner onto it, since I recently straightened my curly mane and wanted to restore its moisture balance. You can do this too if you simply want to ensure that your shampoo doesn't completely strip your hair from oils. I left the conditioner in for about 10 minutes.
Heat water in a kettle – Gauge the amount based on your curly mane's needs.
Place large pot aside, where you can easily grab and use it. You will pour water from the pot onto your hair—not straight from the kettle! Hey, some curlies need a slower pace and heads up. I'm not mad at you!
Transfer some of the heated water into your pot. You'll want to leave some water for additional rinsing of your hair.
Shampoo hair in a sink or bathtub.
Add cold water to the pot with hot water. The temperature should be comfortable for pouring onto your hair.
Pour warmed water from the pot onto your hair.
Condition your hair.
Transfer more hot water from kettle to the pot and add cold water.
Pour warmed water from the pot onto your hair.
Work in this manner (combining water from the kettle and cold water from your sink into the pot) until your hair is clarified. Simple!
Styling:
You can proceed with a wash and go. However, I knew that I wouldn't be able to stretch and style my hair using a blow dryer (no electricity), as I typically do. If you have time on your hands, here's what you can do—Braid-outs!
Check out my post on how to get stretched results with Fruit of the Earth 100% Aloe Vera Gel. Of course, you'll have to skip the steps in which a blow dryer is used. I used aloe vera gel on the first day and Beautiful Textures Moisture Butter Whipped Curl Creme to re-braid my hair on the second day. Details on this butter will be shared in an upcoming post.
I re-braided my hair at night until our hot water returned, saving water and electricity, while gaining time needed to tend to my family. That's it! Simple lifestyle, easy hair care, many blessings.
I have a confession to make (stands up and addresses all curlies): I am obsessed with long curly hair! (lets out a sigh of relief). Believe me. I don't think long hair is any better than short hair or teeny weeny afros (TWAs). I just find myself ogling lengthy, bountiful curls. My weakness for length fuels my hair goal—to achieve waist length hair.
Before achieving my current length, I've made several errors and had many hiccups along the way. Now that I know how to care for and maintain my curly mane (and am constantly learning and sharing this information with you), I know that I can achieve this goal. Come back again, and I'll update you on my progress. For now, let's talk about a few pesky items that often get in the way of our hair's health and growth.
SHEDDING
While this doesn't get in the way of hair growing, it should be explained and distinguished from the items that do. Hairnistas say that everyone's hair grows at different rates, and the average rate is a half inch per month. They also say that you'll lose about 100 shed hairs per day. How do you know what are shed hairs? They're the strands with the white bulbs at the end. These bulbs literally come out of the root, as the hair has reaches the end of its days. There is nothing to worry about unless shedding is excessive aka you've created a carpet made of hair! If you do experience extra shedding, you may want to see a doctor/dermatologist about whether this is linked to an illness or an imbalance in hormones and/or stress.
BREAKAGE
Now that you know how to identify shed hairs, let's separate this from hair loss due to breakage. If your strands are missing a bulb, this is typically hair that has bid adieu because of breakage. These strands, which are typically shorter in length, are damaged by a variety of reasons. They include:
1. Heat – Ah, the gift and the curse. While I like to use blow dryers to speed up my styling time, please refrain from blow frying your hair to death. This includes burning your hair with flat irons and pressing combs.
2. Harsh Chemicals/Perms – Our hair is very delicate and prone to breakage from anything that loosens up the follicles. Hair color and lye, the active ingredient in relaxers, can be dangerous culprits. According to LIVESTRONG.COM, "Lye, or sodium hydroxide, penetrates the hair shaft and breaks down some of its structure, effectively loosening its natural curl. Thus, chemical relaxers' real function is to damage your hair and make it weaker. This process can't be reversed." Yikes!
3. Tight Ponytails and Braids – Yes, they're cute when done right. However, when styled too tightly (and you can see skin pulling at your crown), you've done did it now! Your hair can be literally pulled and tugged from the roots or become broken.
4. Roughing It Up – If you're a curlie who thinks thrashing and hacking her hair with a comb and brush will tame it, stop right there! This excessively harsh treatment will cause your hair to break.
5. Over Moisturizing – Too much moisture can actually be a bad thing. Yes, believe it or not. It can cause limp, noodle-like tresses that are prone to breakage. Please read more about this in my post on how to moisturize natural hair.
6. Too Much Protein – This can cause your hair to dry out due to the lack of moisture. As you should know, dry hair leads to ____(fill in the blank).

7. Product Build up – Product that piles high on our strands leave little room for the good stuff (moisture) to get into our tresses. When this happens, guess what's the result? Seeing a theme here?
SPLIT ENDS
When your ends fray, there is little to no solution to fixing it. There are products that claim to moisturize those older ends to prevent the split from worsening. You can also moisturize your ends to prevent splitting, but ultimately, split ends need to be trimmed away. Time for them to literally split!
Now that you know what damaged hair looks like and how it's caused, please pay close attention to your curly mane. Even if you're not seeking length, these tips will help your hair's health. Be kind to your curls. Mend all splits or cut them off for good, so you can positively progress in your hair journey.
About a month ago, I embarked on my usual shopping trip to CVS, which included a mini hair haul–of course! Family-sized bottle of Hello Hydration—check!  Latest hair accessory—check! However, this time I spotted the infamous Tangle Teezer. I've heard about this detangling brush/comb for a long while now but passed on trying it due to poor relations with the Denman Brush.
A little backstory: Years ago, I tried using the Denman D3 and the modified version of the Denman D3 (with rows removed), since many curlies were having great results. At first I fell in love with the way it clumped my hair, but I soon experienced A LOT of hair removal. Granted, my hair was still rehabbing and recovering from heat damage at the time. Still, it was too much hair loss for comfort.
After discussions at hair forums, I picked up the Denman D41, which has wider spaced bristles and is designed for afro textured hair. This worked much better, but I still lost a lot of hair, so I put it down. If you decide to try a Denman, I recommend the D41 or D31. For me, I'll revisit this brush a little later.
No more teasing. Back to the Tangle Teezer! I stared at it, pondered what our relationship would amount to, gave it the side eye, and then … jumped in! This could either turn into a great love affair, or it can crash and burn. The only way to find out was to try. With curiosity holding onto this cat, I experimented for about two weeks and discovered five ways in which you can use the Tangle Teezer … or your Denman brush (both produced identical results on my curly mane). Oh, and as you may notice below, a little alliteration never hurt anyone!
1. Shed Shredder – Occasionally, my hair will have periods in which it will shed more than usual. This is accompanied by shed hair that catches my healthy strands, snags it, wrestles, produces knots … and has me in a fit! You too? Calm down curlie! While this requires gentle finger work and sometimes the assistance of scissors (sigh). Don't rip those hairs out of your head!
Try This: Hop into the shower and apply a generous amount of conditioner to your hair. Detangle your hair with a wide tooth comb, beginning at the back of your head. I use a comb first because on its own, these bristles are a little rough on my delicate tresses. Your hair may be a little more gangsta and can stand up to all brushes on its own. The only way to find out is to experiment, as always.
When done, whip out the Tangle Teezer (try not to drop this little thing, like I do!) and detangle again. I advise that you gently work your way up your strands, as opposed to brushing your hair from the scalp downwards. This method will aid in removing shed hairs. Just remember to use lots of conditioner.
2.Scalp Survivor – I usually sleep on getting my nails done and focus on my hair instead, but I recently began exploring the wonderful world of gel nail polish. I like to preserve my polish to save money and the style. Hey, a gal's gotta be thrifty! This is when I really like to use the Tangle Teezer instead of my nails to cleanse my scalp. Here's what you can do. In the shower, as you're applying shampoo (optional) and/or conditioner to your hair, take your brush and massage your scalp in circular motions. The Tangle Teezer will do the job of cleaning your scalp, without the assistance of nails. I know. I know. You're supposed to use your fingertips to wash your scalp, but I haven't quite weaned myself off of my nails!
3. Dope Detangler – As mentioned above, you can begin the detangling process by using a wide tooth comb first. For some curly girls with tighter textures, like my sister, these brushes work wonders on their own. The Tangle Teezer can tremendously help to simplify this process.
4. Curl Clumper – For some ladies, curls are optional. They prefer poofier, undefined styles. If you like this look, skip this tip. For curl seekers, the Tangle Teezer is your friend. This brush makes curls clump and pop. Unfortunately, it also makes my hair shrriiiink! You can combat this by stretching your hair, using a blow dryer.
5. Style Supporter – As you're applying products onto your hair, use the Tangle Teezer to aid in the application and removal of excess product. This brush also smooths tresses, which is perfect when doing braid-outs or twist-outs. How so? The Tangle Teezer produces sleeker strands, which helps with manipulating and shaping your hair into styles.
As mentioned, the Tangle Teezer and/or Denman D41 Volumizing Brush
don't have to be used solely for brushing. They can come in handy in other ways. It just may take some play time before you find a technique that works for you.
Are you using a Tangle Teezer or Denman? How are you using it and what have been your results?
 Judge each day not by the harvest you reap but by the seeds you plant."
~  Robert Louis Stevenson
It shapes many curlies' experience with their natural hair. With it, curls retain length and a beautiful, springy mane is formed (aahh). Without it, those same strands will become thirsty and brittle, leading to breakage (gasp!). It is moisture, and it is the essential to naturally curly hair health.
I've spoken to many frustrated ladies whose curl quest has been less than stellar due to their hair's dryness. Others have completely abandoned ship, fleeing back to flat irons, pressing combs, and perms. Stop in your tracks! Put down that creamy crack!
Remember patience is a must when it comes to natural hair, and your hair will reward you once you take the time to find the techniques that work for you. Here are a few ways in which you can infuse moisture into your curly mane:
Start With A Clean Slate
First things first. Make sure that you clarify your hair with a moisturizing shampoo (like Creme of Nature Detangling Ultra Moisturizing Conditioning Shampoo) or baking soda. If you don't have a curl-friendly shampoo, use 1/2 shampoo and 1/2 conditioner to wash your hair. Also remember to avoid shampooing your hair often throughout the week (approximately 3 days work for me). You want to remove products that have built up onto your hair without completely and continuously stripping away your natural oils, which are necessary for keeping hair supple. More on this later.
No Gizmo, Water Is Your Friend
With freshly pressed tresses, you must avoid contact with water, or your hair will revert to its curly state. While natural, water is a curlies' best friend. It is nature's moisturizer, so seek water-based products, particularly leave-in conditioners. Just don't forget to seal. See details below.
Seal The Deal
Once you moisturize your hair, you must seal this in with either an oil or butter. Oils/butters will coat and trap, not create, moisture within your strands. They also add sheen, de-stiffen hard products, and nourish hair. I layer my hair in sections, using either of the following as successful combinations: moisturizer (with a leave-in conditioner like Beautiful Textures Tangle Taming Leave-in Conditioner) + oil (Vatika, avacado, or coconut oil) + styler (product that styles hair such Miss Jessie's Quick Curls) OR layer a moisturizer + styler + oil.
Try Kind Stylers
Watch out for stylers that strip your hair of moisture, particularly products that contain mineral oil and/or silicone. Both products coat rather than absorb into the hair shaft and form a barrier that can either seal in moisture or prevent it from entering into the hair. Some curlies have had varied results with these two.
Other stylers may also contain humectants like aloe vera gel, honey, or glycerin. By design, humectants cause water retention and will draw moisture into or out of the hair depending on humidity levels. This is particularly helpful during the summer months, as these ingredients will help draw moisture from the atmosphere into dry hair. Be cautious during the winter months, as these same humectants may draw moisture out from your hair and into the dryer atmosphere.
Deep Treatment
Deep conditioning under a hooded dryer or steaming curls weekly for 30 minute sessions can rejuvenate curls. You can also coat your hair in conditioners and cover it with a plastic cap for a few hours. Both techniques helped me to rehab my heat damaged curls.
Freshen Up
Fill a spray bottle with water or water and glycerin (a humectant). Spritz your hair throughout the day, as needed. I've tried this method but soon gave up the practice because:
1. I always had flat, wet hair, which I didn't like. I prefer predictable, dry looks.
2. This was difficult to carry off in an office environment. It was a bit too high maintenance to continuously monitor and spritz throughout the day.
3. It made me look like I was rocking some Soul Glo! Whomp whomp. Unless your goal is to capture the Jheri Curled look, go light with the spritzing.
While it didn't work for me, don't let this discourage you. Remember everyone's hair differs, and your curly mane may love this approach.
Easy Does It
Waaaiiit fooor iiiit … If you overdo the above mentioned tips, your hair will become over moisturized, resulting in soggy, noodle-like hair that's excessively elastic to the point of breakage. Over moisturized hair needs protein to reverse this problem. Try a protein-based deep treatment like ApHogee and stylers like protein-rich Eco Styler Gel to revive your curls.
Yes, yes, this is indeed tricky and requires balance, but I recommend that you try any of these steps and report back. If you've got additional tips, come on in; the water is fine! Share your secrets!
The net is bubbling up with information on caring for naturally curly hair. Woo hoo! While there are more resources at our fingertips, it also makes it a bit more difficult to find simple, basic information on caring for our curly manes. I don't want to confuse you even more, particularly you newbies out there.
Instead, I'm going to break down for you a few essential items that every curly girl needs in her stash. For my easy, breezy minimalist gals, this one's up your alley! The tools below are listed in the order in which they're most likely used.
1. Moisturizing & Clarifying Shampoo / Sulfate Free Shampoo
If you are using products (mainly stylers) that contain mineral oil or non-water soluble silicones, you will need to use a shampoo to clarify your hair. Mineral oil and silicones can trap moisture within your strands or prevent it from entering your hair shaft. They tend to build up onto your hair and are best removed with shampoos.
Typically, shampoos contain sodium lauryl sulfate, a detergent that creates a foamy lather and strips hair of its natural oils.  Frequent shampooing dries out our curly manes, making them susceptible to breakage. Unless your hair is naturally oily, please shampoo minimally. Your best bet is to purchase a shampoo that is also moisturizing.
If you're following Lorraine Massey's Curly Girl Method (Curly Girl: The Handbook
) aka the noo poo (no shampoo)/co-washing (conditioner washing) method, there may be times in which your hair is over moisturized. Yep, would you believe that one? Hair that is holding too much moisture will be limp. If you fall under this category, use a sulfate free shampoo to clarify and help wake up your strands. Just an aside, a protein treatment may help as well.
Recommendations:
Sulfate-free: Miss Jessie's Crème De La Curl
Cleansing Crème and Creme of Nature Moisture & Shine Shampoo with Argan Oil
Moisturizing: Creme of Nature Detangling Ultra Moisturizing Conditioning Shampoo and Dabur Vatika Moisturizing Shampoo with Sweet Almond
2. Moisturizing Conditioner
This is a must, especially if you use shampoo. Conditioners help to restore the moisture that shampoos take away. Not to mention, they add necessary slip for detangling tresses. In addition, conditioners can be left in your hair as a styler. This is known as Teri LaFlesh's Tightly Curly Method. While I haven't had success with this method, it may prove positive for you.
Recommendation: Herbal Essence's Hello Hydration

3. Leave-in Conditioner
Another must have! Leave-ins are crucial to many, if not most, curly girls. When used under your styler and sealed with oil (unless your styler contains enough oils), leave-ins keep curly hair moisturized. It also adds definition and reduces frizz.
You can use a regular conditioner as a leave-in, just beware that some conditioners react to stylers and cause white balls to appear on one's hair. Not all products play together nicely.

Recommendations: I have recently switched from using Avanti Silicon Mix and swear by Beautiful Textures Tangle Taming Leave-in Conditioner
. This product is amazing!! Check out my product review.
4. Wide Tooth Comb/Detangling Brush
Unless you're seeking a wickedly neat part, leave your fine tooth combs in the back of your draw. Our tresses need wide tooth combs to easily glide their way through our hair. They are extremely helpful when paired with a moisturizing conditioner to detangle hair in the shower. Some curlies prefer to use a Denman brush or Tangle Teezer. This is particularly helpful if you're using the Tightly Curly Method mentioned above. I prefer wide-tooth combs, as I'm one of those curlies who get serious shrinkage and lose a lot hair from brushes.
5. Oil and/or Butter
Your curly mane may work well with butter, oil … or both! Either one will seal moisture into your hair strands, literally making your hair feel like butta! This should be included as a step in your wash and go (see my 10 steps for wash and gos). You can also use oil or butter as a heat protectant when straightening your hair. In addition (yes, there's more!), they can be used nightly to seal in moisture into your hair or help to soften and revive your look in the morning.
Recommendations: Dabur Vatika Coconut Hair Oil
, Jojoba Oil, Coconut Oil, Olive Oil, and Almond Oil
6. Styler
Not every girl needs a styler, but this curlie does. Stylers are products that literally help to style your hair. They increase definition, can freeze curls, and can reduce shrinkage. Stylers prevent my hair from completely transforming into a cotton ball. If this is your desired look, then skip it.
Recommendations: Fruit of the Earth 100% Aloe Vera Gel
, III Sisters of Nature Curly Whip Pudding, Eco Styler Gel, Miss Jessie's Quick Curls, Hair Rules Kinky Curling Cream
, and Fantasia IC Olive Oil Style Gel
7. Hair Clips
They aid in styling your hair or can be used as part of your finished looked. Hair clips section your hair as your work through your head. They are particularly helpful as your hair grows longer. It's either that or invest in more hands!
8. Spray Bottle
Water is nature's moisturizer. It is a curly girls' best friend. At some point in your regiment, you'll need a spray bottle to help douse your hair as you style it. If you're into rewetting your hair throughout the day, a spray bottle will ease the process.
9. Satin or Silk Pillowcase/ Scarf/Sleeping Cap
Another must! You can read my information on Nighttime Routines & Sexy Sleeping For Naturals for more details on satin materials. Please note that satin and silk materials do not absorb the moisture in your hair (unlike cotton), preventing your hair from drying out and breaking. Not to mention, it will save you from "bed head."
10. Camera
This is a must for chronicling your curls. Documenting your hair journey through photos or videos will help you to keep track of your routine and hair health. Aside from badgering your friends, how else will you know what's working for you?
Once you have these items, you're pretty much set to go. Of course, if you are seeking additional styling aids, there are tons of other tools (hair dryers, flat irons, etc.) and products in which you can add to your arsenal. Don't worry. I'll keep you posted!