While I was MIA (see newest post on Forecasting 2014), there have been a lot of natural hair news going around … as usual! In case you missed the September 2013 issue of O Magazine, sit back, relax, and let me catch you up. The Big O (love calling her that) treated us to her "Hair Extravagaaaanza!" Okay, so I added the extra flair with the pronunciation, but Oprah really did make a splash with this issue.
The orange-hued cover set the tone for the magazine's circus-themed feature. Oprah, looking subliminally feline, is decked out in an orange dress topped off by the biggest, most majestic mane I've ever laid eyes on. Her afro took up the bulk of the cover. Did you see it? Trust me. It was hard to miss. Check out the images torn from my copy.
Within the covers, Oprah explains that she was wearing a 3.5 pound afro wig she's named "Wild Thang." Fun! Kudos to Gayle King who likened the faux natural look to The Lion King. LOL!
The Queen of All Media also confessed to wearing wigs while taping her renowned talk show in order to give her hair a break. Yep, you can't blame her for wanting to protect her tresses. Back in the day (yes, I took it there), supermodel Gail O'Neill had the most drool-worthy natural hair that I ever saw. As time progressed and her career took off, I noticed that her enviously long locks started to lose its luster and length. I'm assuming here that the ever changing fashion and beauty game just wasn't kind to Gale's hair. I'm sure Oprah experienced similar issues.
While "Wild Thang" was spotlighted on the cover, Oprah's real hair was once again revealed in the back of the magazine. Her self-described "untouched-by-any-hands-other-than-my-own real hair" is set loose. The appearance is similar to a blown out 'fro. Although Oprah says it's au naturel, her longtime hairstylist Andre Walker explains that "she has very little relaxer in her hair now, so we've been exploring her natural texture, twisting or braiding then setting it free!" Cue the debate on whether or not a mild relaxer constitutes natural hair. I say … nay, but to each their own!
Nevertheless, I love the artistic layout of this issue, which committed to the circus motif. O Magazine was spot-on in recommending Hello Hydration Conditioner for thick and coarse hair. The writer(s) also provided similar tips that us hair bloggers have been preaching day in and out, such as finding a great gel and conditioning often. Makes me wonder if O's research department has been visiting the blogosphere. Hmmm.
I wish they could have mentioned other styling options like puddings, but I'm sure the breakdown would be too dense. After all, the magazine was highlighting a diverse array of hair types, with only a few pages dedicate to natural hair. Plus, that's why you come here, so I can break it all down for ya!
Overall, the September O Magazine was worth the read, including the article on how Oprah prepped for her role in Lee Daniels' The Butler. Missed it? Check out my images, visit O Magazine's website, or head over to your local library (remember those? Sigh.) for a copy. Sound off below!
The best protection any woman can have… is courage." ~Elizabeth Cady Stanton
For the past few months, I have been basking in the yummy warmth that summer presents. You could easily find me stretched out (in a quiet, bug free zone!), with my arms and legs extended wide. When my eyes are closed, a simple smile spreads across my face in the utter delight that the good Lord has given me light … literally!
I lay there lingering while the sun's rays penetrate my bones. I feel my toes, legs, arms, and face grow warm. I freely surrender to the sun, and listen closely to the sound of my body inhaling and exhaling.
I thank God, the father, son, holy spirit, Allah, universe, and all for the summer and these utter sweet moments. To put it simply, I. Love. Summer.
However, somewhere in all that basking and sun worshiping, I lost my mojo! Yes, I went through a hair funk from May through June. I just couldn't lift a finger to do another twist, rake and smooth another product through my hair, or experiment with more than a handful of products. Sorry,  I know I slow rolled and let you down (hangs head in shame). You see, I just went through an easy, breezy period where I was beyond wash and go's. I wanted to pull it back into a pony, braid the length, smooth the hairline with gel, and go-go-gadget! Aaaand that's just what I did.
When I initially made the switch, I had a lot of people taking double takes. My own mother even asked (somewhat sadly), "Where'd all the hair go?" Now if you're familiar with natural hair, you'll know that it shrinks and reduces volume in its curly state. That's what happened to me. When I turned around, I revealed my braid … and relieved my mother's worries.
While snatching and gelling my hair into a pony, it encouraged me to explore the wonderful world of makeup, since the focus was already on me serving face. I enjoyed it, but I have to admit, come July, I wanted my curls back. I returned to wash and go's, and recently, I've been sporting braid-outs.
I really do believe that the time I spent wearing my hair in a ponytail really helped my hair, namely because it is a protective style. It kept my hair and ends protected since they were neatly tucked into a braid and secured from friction and tugging. By the time I was ready to release the kraken, my curly mane was all sorts of popping and curling thanks to aloe vera gel (AVG).
To recap, here's a quick and dirty breakdown of my summer routine, thus far. Oh, and by the way … drum roll! I think I may have reached waist length! Okay, okay, a few strands are hitting my waist, but the majority is at under boob length. I know you can't tell by these pics. Ah, natural hair! When the weather cools, I'll straighten it and share my length check to give you an accurate account. Here's my routine so far:
May and June = braided ponytail with As I Am leave-in conditioner and hair slicked down with aloe vera gel
July = wash and go with aloe vera gel (I gave Eco Styler Gel a pause since AVG was working so well with As I Am)
August = braid-outs with As I Am's Twist Defining Cream. Review to come!
Have you been feeling experimental this summer, or have you simplified your routine? Caught in a rut? Spill the beans below!
After the hustle and bustle of a crazy work week, I like to kicked back and crack open the latest issue of any fashion magazine. I just need my fashion fix! This time, it was the November issue of Vogue. Did you see it? Do you know where I'm going with this? Well, in case you missed it, I've gotcha covered. 😉
There was a reoccurring theme that I noticed in the fashion bible's pages—curls! Okay, that was an easy one. 😉 True to New York's Fall Fashion Week, curls popped up in a couple of places beneath Vogue's covers. Here's the low down:
There was a spread in which a fair skinned model worked throwback, circa 1950's dresses and frizzed out hair. It is the same look as if you're on day 4 of your natural hair, and your curls are in their frizzed out, froey state. The model looked sophisticated and feminine. Her hair worked with the easy, breezy tone of the spread.
Similarly, there was a lengthy profile of former model and legendary fashion editor Grace Coddington. The feature included a professional photograph of Coddington aka "The Cod" with what appears to be her naturally curly hair in a frizzy state (seen below with a flower in hair). While the focus of the article was Coddington's mark on the fashion industry (she is the person who inspired supermodel Twiggy's decorative eyelashes), her frizzy haired pic left a mark on me. Her photo once again demonstrated the effortlessly chic way in which natural hair can bring out a woman's beauty.
Finally, for my highly textured ladies, there was a photo of singer Solange Knowles wearing an ahhh-mazing yellow dress and her hair in a natural state. I know. I know. Solange is known to wear wigs (I'm almost certain this one was among her collection), and there wasn't a diversity of models with a range of curls shown in the mag.
Here's the thing. At the very, very least, some sort of texture is being spotlighted and shown to accent high fashion and ready to wear looks. Why is this important? The more that textured hair–particularly afro textured hair–is re-introduced and accepted in the media, fashion, etc., hopefully the less stigma that will get associated with it. Perhaps we can move away from seeing natural hair as risky or solely statement making and more as it being our curly manes in its natural state.
What do you think about fall's 'fros and fashions?
FYI-For my fashion and photo lovers or just those who love flipping through the pages of Vogue and dreaming, check out the documentary In Vogue: The Editor's Eyes, which chronicles the magazine's 120 years.
In the past, I was obsessed with having long hair without really giving any thought to hair health. While I was dyeing and frying my hair, I didn't realize that this abuse would prevent me from having lengthy tresses, and boy oh boy did my curly mane let me know. It decided to "break off" our relationship, and my ends decided to split … literally! Hair will grow. It's length retention that's the trick and can only be achieved by having healthy hair.
For me, healthy hair means oingy boingy curls that greatly shrink in its natural state. This is opposed to hair that lays dry, limp, and overly frizzed out on my head. This is not like how our curls normally frizzes. I'm talking about the type of frizz that screams moiiiisturiiize meeee (cue high pitched, squealing voice)! Today, my hair is in a much better state thanks to several factors, all of which produce healthy and longer hair.
On Average
It is said that hair grows approximately 0.5 inch per month. Of course you'll need to factor in your genetics, diet, hair routine, and hair type. If your curls are tight then moisture retention may become an issue, since it is harder for the oils from your scalp to travel down the length of your strands. It is recommended that you regularly apply oil to your hair, sealing in moisture/water. This has been one of the key ingredients in ramping up my hair health and creating much softer curls.
What's Working
My hair has grown since May 2012. What has changed in my routine? I finally began implementing all the things I typically hear about, understand, but ignored. Please note that I did not implement all these changes at once. I slowly began tweaking my routine as I monitored my hair progress. Here's what's working:
Stop Straightening. As the weather warmed up in May, I stopped straightening my hair and started experimenting with natural styles, as you may have noticed here at My Curly Mane. Now, I truly enjoy going back and forth between sporting straight styles and an afro, but I noticed that a break from flat ironing allows my hair to thrive.
Press go for wash and go's. This was my trademark look for the summer, followed by braid outs as a close second. Wearing wash and go's would normally produce tons of split ends, but when I straightened my hair in November, I noticed that my ends were okay. I believe that I was able to save my strands due to a change in my leave-in conditioner and frequently oiling.
Leave-in Conditioner & Oils. As noted above, oiling my hair helps to seal in moisture. I can't stress enough the importance of implementing this in my routine. Try it and see.
Switcheroo For Shampoos. I switched from harsher, oil stripping shampoos to moisturizing shampoos. I also shampooed my hair less often. This once again aided in my hair's moisture balance.
Go Natural. I began relying on products with more natural ingredients. This includes Beautiful Textures Tangle Taming Leave-in Conditioner, Fruit of the Earth 100% Aloe Vera Gel, and Dabur Vatika Coconut Hair Oil.
Measuring Up
To understand my progress, keep in mind that my hair naturally grows in layers. It wants what it wants! In May, my longest strands were bra strap length. Now this is at mid back length, followed by other strands that are bra strap and shoulder length. Measured from the front, my longest strands were above chest length (you get what I mean) in May. They are now just past mid chest length.
Going forward, I want to find out what is the average rate in which my hair grows. My goal is to reach waist length hair. I have never had this in my life and believe that it is attainable so long as my hair remains healthy aka moisturized. Watch out Rapunzel!
If you're on a journey towards growing your mane (regardless of your current length), let's do this together. Let's give it time, so we don't obsess … well, not too much! Let's revisit and see how our hair measures up in February.
Do you remember those infomercials with that clever straightener that claimed to steam as opposed to burning hair while straightening—without blow drying? Better yet, do you remember that those same infomercials featured a curlie with thiiiick, long natural hair, which was steamed straight right before our very eyes? Doesn't ring a bell? Well, those incessant commercials were for the Maxiglide.
After watching them a million times, I was convinced to purchase a model from the Home Shopping Network (HSN). At first, I didn't like how its pins (used to separate strands as you iron) snagged my hair and caused split ends, so I put it away and considered it a loss. I waited too long to return it and simply forgot about it. This was during my prime product junkism, and if something didn't work on demand, I was on to the next!
That was until I re-discovered the Maxiglide a year later thanks to vlogger LeobodyC5 from YouTube. If you've seen LeobodyC5 aka big sister in my head, you'll know that she has amazing, long, natural hair. Trust me. It's good stuff! After seeing her results, I dug into my closet and dusted off the Maxiglide. I patiently and carefully ran the iron through my hair and loved the results.
The Maxiglide made my hair big, fluffy, and light. It had crazy body and easily produced waves and curls from taking down high buns or roller setting my hair overnight. Even in high humid weather, my hair would revert into bountiful curls. It was also easy to use, as I'd braid out my hair at night and straighten it in the morning. Roller sets prior to straightening always produced the best results.
Now here's the problem. I used the Maxiglide on a weekly basis. Surprisingly, I was able to return to healthy natural curls, but I also got a lot of split ends. This led to regular trims and barely any length retention due to frequent cuts. All in all it's a good straightener once you get the technique down and use it on occasion.
Model Drama
In my letter below, you'll notice that I had a complaint about the changes in Maxiglide's models. In the last four years or so, the company behind Maxiglide, Maxius Beauty, came out with a cheaper model—the Maxiglide Xpress—which began to replace the Maxiglide MP (smaller sized model) and Maxiglide XP (larger sized model that I preferred). While my XP was working, I wanted to have a backup model (MP or XP) to travel with. Unfortunately, all models are apparently sold out everywhere. It's not even available on Maxius Beauty's Website, so I contacted the company. Yeah, I did it! I rang the bell! … Okay, I gently knocked on the door. The conversation went (via email) as stated below.
Sent on April 19, 2012 (I was serious, but a bit silly. Can't help it!):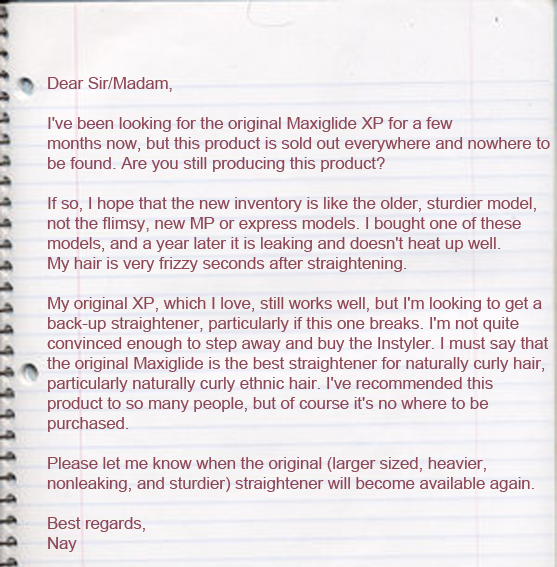 Reply from Maxiglide Customer Service on April 20, 2012, following a previous email exchange with them. This response was after I clarified my situation further. Maxius Beauty informed me in their previous email (not included below) that they are launching a new straightener called the Sonicglide. Personal details/name of a company contact was removed for privacy.:
The Low down
I was supposed to track down a copy of my receipt from the HSN (where I once ordered my models from). However, I never got around to doing so, so I can't complain. I am eagerly awaiting the launch of the Sonicglide. It was supposed to make its debut at the end of May, but it's nowhere to be found.
As I mentioned in my email, I'm just not completely convinced yet to purchase an InStyler. I've read reviews that have made me cautious. I've also eyeballed it a few times at Target but walked away from it … yes, I actually said no to purchasing a hair item!
While I patiently await the Sonicglide's arrival (taps nails impatiently on the table), do you think I should stalk follow up with Maxius Beauty, or have I maxed out this discussion (and use of the word max—ha!)? Let me know your thoughts, and I'll proceed as you wish.
If you've used the Maxiglide or InStyler, please let me know your experience. As you know, comments are always welcomed!
UPDATED (11-21-12): Ding! Ding! I received a message from Masood Max, the creator of the Maxiglide. Apparently, a limited amount of Maxiglides will be available for purchase through Maxius Beauty's Website, starting Black Friday. Hopefully, the Maxiglide XP will be available. I give Max kudos for following up with us fans. Once again, let me know if you're able to snag an XP and try it.
UPDATED (1-31-13): Gasp! The Sonicglide is here! You can purchase one at ShopNBC. Thank you, Pooneh, who informed us in the comments below. The only thing that surprises me is that The Sonicglide looks and works like the Maxiglide … except that it vibrates? Hmm … intrigued. I thought this would be a completely different model. What's funny is that the new promotional video showcases the original hair model (from the older videos), who has a great curly mane. If anyone makes a purchase, please let me know. I may have to snag one for myself, ur, I mean my sister. 😉
Attention dear friends. Recently I celebrated my birthday! Yes, curlies. My curly mane and I are literally older … and hopefully wiser! To celebrate this milestone (no, I won't reveal the numbers as yet … gulp!), I straightened my mane! Believe it or not; I actually departed from curls to sport straightened locks. First, I wanted to mix it up for a few, celebratory days. Second, I wanted to conduct a length check.
You see. For about a year, I swore that my hair wasn't budging past near mid-back/bra-strap length, but I now know that my hair needs less direct heat aka flat ironing in order for it to thrive. At the start of the summer, I made a commitment to reduce the amount of time in which I'd straighten my hair and experiment more with my natural hair. In doing so, my hair has gotten even healthier than before and longer!
That being said, it was time to straighten my hair the safer way—roller settting and then lightly flat ironing. Here are a few steps (as well as grown lady tips!) in which you can follow to capture this look.
Tools:
Clarifying or Moisturizing Shampoo
Conditioner
Leave-in conditioner (I use Silicon Mix Intensive Leave in Hair Shine and Conditioner since the silicones it contains help to trap moisture into the hair and prevent frizz )
Oil (I love my Vatika Oil mix)
Regular tooth comb (not wide or fine, just right and easy to use)
Snap-on, hard, magnetic rollers aka rolos 🙂 You can also use flexi rods if this is easier.
Soft rollers covered in satin
Spray Bottle (fill with water)
Hard hat dryer (I have a Pibbs but Belson Elite Ionic Tourmaline Rollabout Dryer works well)
Setting lotion = optional. I don't use it, but if you want more hold then use this.
Heat protectant spray (always recommended, but I tend to skip this in favor of an oil or butter)
Flat iron (I use a Maxiglide)
Steps
Start with a clean slate. Wash and condition your curly mane as you normally do. I like to clarify my hair, so it is completely clear of other products, particularly those that work with my natural curls but not with straight tresses.
Apply leave-in conditioner. I tend to add a lot of product to the ends of my hair, since I will be using a flat iron, and I don't want to dry out my ends. Calling all bandits! Split ends will rob you of length retention.
Keep hard rollers (for drying under the hard hat) at your side, and section your hair from the back to the front of your head. Create sections at the appropriate size of each hard roller. If your section is too large for the roller, your hair will take much longer to dry.
Comb out each section of hair, spritz to keep it moist, and roll it with a roller. Apply tension to your hair as you roll, so your hair is as straight as possible. If you want more hold, spritz setting lotion onto the hair as you roll it. Warning: I am absolutely the worst at roller setting! If you're in this club, it's okay. You want to focus on getting the hair smooth and simply roll it as close to the scalp as possible. When you flat iron, it will work out the kinks. I also do not create neat rows. I haven't gotten this down, so I roll my hair in the same sections I use for braid outs.
After roller setting your entire head of hair, sit under a hard hat dryer for at least 30 minutes. Please gauge this according to your hair length and drying needs. Your hair must be completely dry to avoid frizz.
Undo your rollers. You'll notice that your roots may still be poofy. Ah, our curly manes win again! Once again this is okay. See my photo. My hair length may not be as kinky curly as it was originally, but my roots are still poofy. Once again, no need to fret.
Apply oil all over your hair. This works as a heat protectant and adds sheen.
Dust off your flat iron. My Maxiglide felt a little foreign in my hands. It took me a minute to remember how to use it! Anyhoo, grab your flat iron and straightened your hair, working in small sections from the back to the front of your head. I apply a minimal amount of heat needed to straighten it. I also like to bump (curl) the ends for body.
That's it! You now have straight hair!
Optional: Do you want beachy, bouncy curls? If so, as you flat iron each section, roll it with a soft, satin roller. Leave the soft rollers in your hair for at least an hour. When removed, you will have large, curls and waves.
Runway Styling & Nighttime Maintenance

While I like to have straight hair for the first day. Each day afterwards, I like to rock that Victoria's Secret-esk, beachy look. Lol! This protects my ends and doesn't require flat irons to maintain the look. To capture this look, I begin by oiling my entire hair, particularly the ends, each night. Afterwards, I use the soft, satin rollers to roll my hair. I apply a satin cap over the rollers for extra protection and to keep the positioning of the rollers. Off to bed you go! In the morning, remove all and voilá! Repeat each night for a hot look and simple, safe upkeep.
Grown Lady Lessons
As I mentioned prior, the clock is ticking and tocking. Sigh. You may have guessed it. I am one of those gals who hit a birthday and had a bit of the blues followed by the highs of all the lessons learned. I am blessed to blow out another candle, and in doing so, want to share a few lessons with you. As always, each one teach one.
On Hair (of course!) …
Slow and steady wins the race. Chances are you will not figure out your hair overnight … and that's okay! I'm still discovering my hair's capabilities.
The best manes are the result of gentle care and healthy hair. These tips are underrated but produce the best results. Healthy hair that's treated kindly will always look good.
It's okay to keep the same style until you master your hair and other looks. Don't feel pressured to have the same results as other curlies. Focus on your own progress. Remember #1: slow and steady wins the race!
On Life …
It's okay to be different. It's everyone else's problem if you do not fit into a mold. Seize the opportunity to enlighten them. If they don't get it, keep it moving!
Not everyone will like you. Ugh! "But why?" you say. "I am so kind and God-fearing." Sadly, even the best of us will get shunned or bullied once in our lives. I know. It isn't right. It's just human nature. You just have to remember to be above it. Once again, it's their problem. Keep it moving!
There's nothing better than being kind to yourself. Woooah there, lioness! Go easy. Don't put so much pressure on yourself. Even if you believe you haven't accomplished as much as you'd like to by your age, note the many lessons learned (I hope!), adventures undertaken (even the minis), and plain ol' fashioned growing up that you've done. Be kind to yourself. You deserve it. If you've had a b'day or you're approaching one, happy you day to you!
May it be a light to you in dark places, when all other lights go out."
~ J.R.R. Tolkien, The Fellowship of the Ring
Before she even arrived, Hurricane Sandy was called the perfect storm. Perhaps this is because she was perfectly disastrous. On the east coast, Miss Sandy uprooted many trees, destroyed homes, cars, streets, and left many without electricity, including myself. Our lifestyle definitely went back to basics. With work still a possibility the next day, I needed to have my hair somewhat presentable in the event that I was called into the office. This required a much needed washing of my hair … without hot water!
Those of us with easy access to clean, hot water are veeerrrry lucky. I remember my first experience as a child visiting family in Jamaica and experiencing the culture shock … of my own culture! At that time many places in Jamaica did not have hot water running through the pipes. Today, here in the states, Sandy has contaminated water supplies and left many without access to power and ultimately clean, warm water. I extend my prayers to all whom have been affected by this travesty.
In the sake of actual necessity and much needed levity, let me share some hair care tips in the event that you're left without warm water and for some reason or another need to wash your hair. This is simple and maybe common sense, but sometimes, you're thrown off when comforts are removed. We're gonna take this back Little House on the Prairie-style! 😉
Tools:
Kettle
Large Pot
Sink or Bathtub (to wash hair in)
Water (seriously, you'll need this)
Gas/electric or solely gas burning stove (seriously!)
Preferred Moisturizing Shampoo – skip if you're doing the conditioner only/Curly Girl Method. I used Crème of Nature Argan Oil Moisture and Shine Shampoo.
Preferred Conditioner – My staple is Herbal Essences Hello Hydration Moisturizing Conditioner.
Steps:
Pre-poo – Before washing my hair, I applied conditioner onto it, since I recently straightened my curly mane and wanted to restore its moisture balance. You can do this too if you simply want to ensure that your shampoo doesn't completely strip your hair from oils. I left the conditioner in for about 10 minutes.
Heat water in a kettle – Gauge the amount based on your curly mane's needs.
Place large pot aside, where you can easily grab and use it. You will pour water from the pot onto your hair—not straight from the kettle! Hey, some curlies need a slower pace and heads up. I'm not mad at you!
Transfer some of the heated water into your pot. You'll want to leave some water for additional rinsing of your hair.
Shampoo hair in a sink or bathtub.
Add cold water to the pot with hot water. The temperature should be comfortable for pouring onto your hair.
Pour warmed water from the pot onto your hair.
Condition your hair.
Transfer more hot water from kettle to the pot and add cold water.
Pour warmed water from the pot onto your hair.
Work in this manner (combining water from the kettle and cold water from your sink into the pot) until your hair is clarified. Simple!
Styling:
You can proceed with a wash and go. However, I knew that I wouldn't be able to stretch and style my hair using a blow dryer (no electricity), as I typically do. If you have time on your hands, here's what you can do—Braid-outs!
Check out my post on how to get stretched results with Fruit of the Earth 100% Aloe Vera Gel. Of course, you'll have to skip the steps in which a blow dryer is used. I used aloe vera gel on the first day and Beautiful Textures Moisture Butter Whipped Curl Creme to re-braid my hair on the second day. Details on this butter will be shared in an upcoming post.
I re-braided my hair at night until our hot water returned, saving water and electricity, while gaining time needed to tend to my family. That's it! Simple lifestyle, easy hair care, many blessings.
Recently, I was graciously given the opportunity to test out and review Alikay Naturals Moisturizing Black Soap Shampoo and Honey and Sage Deep Conditioner. Just for you! Yes, this was a very kind offer, which I really appreciate. No worries, curlies! (My Curly Mane takes the stand, picks up a prayer book, and raises my right hand). I will always speak the truth, the whole truth, and nothing but the truth in my reviews. So help my mane! (Takes seat and begins testimonial).
Alikay Naturals is the brainchild of Rochelle Graham-Campbell aka Black Onyx77 on YouTube. I give her lots of credit for stepping up and becoming a woman in business, particularly in the natural hair care industry. I have never used the Alikay product line before, but was pleased to know that both the shampoo and deep conditioner are marketed as being 100% natural and 90% organic, especially since my curly mane is slowly taking a liking to all natural ingredients (as opposed to its relationship with mineral oil and silicones aka "bad" products for hair). Here are the goods:

MOISTURIZING BLACK SOAP SHAMPOO
1. Price: Approximately $11 for an 8 oz. bottle ( a little more than your average drug store brand but relatively affordable)
2. Key Ingredients: Water, Raw African Black Soap (always wanted to try this!), coconut oil (as you already know, my hair loves this), essential oils, fragrance, herbal and botanical blend. No: Petroleum, mineral oil, alcohol, paraben, sulfate, silicones (aka all that "bad" stuff I mentioned prior)
3. Scent: Great!I'd describe this as soapy, Hawaiian Punch mixed with bubble gum … if there is such a thing. Yum!
4. Application: Okay, this is where it gets tricky. This product is reeeaaally watery as opposed to traditional shampoos. I wasn't quite prepared for this. At first, I poured it into my hands … and watched as the product seeped through my fingers and into the drain. Fail (on my part)! I poured some more into my palms, tried rubbing them together … but there was very little lather. Fail! I tried pouring it into my hand and quickly tossing it over my hair. Fail! Okay, call me slow on this one, but on my final try, I just held my head back and tipped the bottle over my hair. Whala (voila)! I could feel it seeping into my scalp. I poured it onto the top of my hair several times, then worked it throughout my scalp. Perfect!
Please note: The label already addresses the consistency of this product … I just happened to skip reading it and wasted a lot of product in doing so. According to the label, "it is in a watery form so no thickening agents have been added." Very true. In fact, it feels as if the shampoo isn't doing anything, which is what I initially assumed. I ended up pouring extra amounts—certainly more than what was needed—on my hair, since I assumed that it still wasn't clean. Once again, there is no lather from this shampoo or dryness to my hair, as with regular shampoo, so this threw me off.
Yet, the shampoo must have worked because afterwards my hair felt soft. This product definitely did not strip away my natural oils, as promised. It also absorbed well into my hair. I just had a tough time gauging whether or not work was done (due to its lack of drying properties) and how much of it is needed. You may not experience this, but remember this is what happened to my curly mane.
5. Moisture & Feel:  Even before I proceeded to condition my hair, my hair felt soft and moisturized.
6. Look:  Alikay Moisturizing Black Soap Shampoo is dark brown in color and has a thin, liquid consistency. As for my hair, its appearance was typical of what it looks like after washing. However, I lost much less hair than I do when using regular shampoo. I'm pretty sure this is because regular shampoos contain sodium lauryl sulfate, which like a detergent, strips away natural oils from hair, thereby drying it out and leading to breakage.
Survey Says: While this won't necessarily upstage my other products, I'm not opposed to revisiting it. I still like to use a little something that will clarify, but you can always add that type of product to your routine. Alikay Naturals may actually have something similar in their line. I'm comfortable recommending this to you, particularly for curlies suffering at the hands of traditional shampoos. Just use my suggested application tip, so you don't waste the product and save dollars!
HONEY AND SAGE DEEP CONDITIONER
1. Price: Approximately$15 for an 8 oz. jar
2. Key Ingredients: honey, sage, coconut oil extracts, extra virgin olive oil, wheat protein, behentrimonium methosulfate  (rapeseed oil), silk amino protein, rice bran oil, eucalyptus oil, babassu oil, herbal and botanical blend. No: petroleum, mineral oil, alcohol, paraben, sulfate, silicones ("bad" guy alert again!)
As written on the label, "honey attracts water to hair then locks in moisture in each strand. Sage is proven to prevent hair loss and thicken hair. Extra Virgin Olive Oil adds shine and softness." If you subscribe to My Curly Mane, you'll know that I briefly touched upon the use of honey for hair. It is a humectant, attracting moisture to hair. Not to mention, when you eat it, honey boosts the immune system.
I did a double take when reading that this deep conditioner also contains babassu oil, which is new to me. Upon further research, I discovered that babassu (say that three times!) is a vegetable oil that grows in the South American Amazon. It is a non-drying emollient that has similar properties as coconut oil and is often recommended for soap makers.
3. Scent: The Honey and Sage Deep Conditioner smells like minty bubble gum, reminiscent of Miss Jessie's Curly Buttercreme. This may be credited to the inclusion of Eucalyptus Oil. While I'm not a fan of minty hair products, this product is ideal for those of you who adore this aroma. I also wasn't thrill with the smell of my hair when blow dried (I have a sensitive sniffer) but to each their own.
4. Application: This product is thiiiick, so you'll need to rake, smooth, and work the product into your hair. I tested this two ways. The first time I left the deep conditioner in my hair for 15 minutes with a shower cap over my head. I then rinsed it out of my hair. My hair felt very soft. The second time, I applied the product, covered my hair with a shower cap, and sat under a hooded dryer for 15 minutes. This worked much better and left my hair softer and even more moisturized.
5. Moisture & Feel: Once again, this deep conditioner succeeded in adding moisture to my hair. This, of course, made my curly mane cottony to touch.
6. Look: This conditioner looks like gritty oat meal and leaves behind traces of beads in the shower. I was surprised to discover that after using it, my hair was very fluffy, fuller as stated, and a bit elongated. Perhaps this is because my hair was also more hydrated.
Survey Says: This deep conditioner works pretty well. It definitely softens my hair, and I can see it coming in handy during the winter. While I don't think it's essential for me (we'll see when winter comes), it may be helpful for you, particularly if your mane is recovering from heat damage or tends to be on the dry side.
FINAL VERDICT
These products live up to their promise. They infuse moisture into hair, which is key for hair health. I don't think they will replace my current lineup at this point, but I'm also not opposed to using them again. I still have some of each product left over, so I will continue to use them up and update this post as needed.  Stay tuned for updates!
Of course, you won't know how these items respond to your curly mane unless you try them yourself. I know. I know. Trial and error again. Alikay Naturals Moisturizing Black Soap Shampoo and Honey and Sage Deep Conditioner can be purchase from www.blackonyxworld.com.
Have you used Alikay Naturals? If you decide to try these products or have in the past, please report back here. I'm interested in knowing your results and hair story.
I have a confession to make (stands up and addresses all curlies): I am obsessed with long curly hair! (lets out a sigh of relief). Believe me. I don't think long hair is any better than short hair or teeny weeny afros (TWAs). I just find myself ogling lengthy, bountiful curls. My weakness for length fuels my hair goal—to achieve waist length hair.
Before achieving my current length, I've made several errors and had many hiccups along the way. Now that I know how to care for and maintain my curly mane (and am constantly learning and sharing this information with you), I know that I can achieve this goal. Come back again, and I'll update you on my progress. For now, let's talk about a few pesky items that often get in the way of our hair's health and growth.
SHEDDING
While this doesn't get in the way of hair growing, it should be explained and distinguished from the items that do. Hairnistas say that everyone's hair grows at different rates, and the average rate is a half inch per month. They also say that you'll lose about 100 shed hairs per day. How do you know what are shed hairs? They're the strands with the white bulbs at the end. These bulbs literally come out of the root, as the hair has reaches the end of its days. There is nothing to worry about unless shedding is excessive aka you've created a carpet made of hair! If you do experience extra shedding, you may want to see a doctor/dermatologist about whether this is linked to an illness or an imbalance in hormones and/or stress.
BREAKAGE
Now that you know how to identify shed hairs, let's separate this from hair loss due to breakage. If your strands are missing a bulb, this is typically hair that has bid adieu because of breakage. These strands, which are typically shorter in length, are damaged by a variety of reasons. They include:
1. Heat – Ah, the gift and the curse. While I like to use blow dryers to speed up my styling time, please refrain from blow frying your hair to death. This includes burning your hair with flat irons and pressing combs.
2. Harsh Chemicals/Perms – Our hair is very delicate and prone to breakage from anything that loosens up the follicles. Hair color and lye, the active ingredient in relaxers, can be dangerous culprits. According to LIVESTRONG.COM, "Lye, or sodium hydroxide, penetrates the hair shaft and breaks down some of its structure, effectively loosening its natural curl. Thus, chemical relaxers' real function is to damage your hair and make it weaker. This process can't be reversed." Yikes!
3. Tight Ponytails and Braids – Yes, they're cute when done right. However, when styled too tightly (and you can see skin pulling at your crown), you've done did it now! Your hair can be literally pulled and tugged from the roots or become broken.
4. Roughing It Up – If you're a curlie who thinks thrashing and hacking her hair with a comb and brush will tame it, stop right there! This excessively harsh treatment will cause your hair to break.
5. Over Moisturizing – Too much moisture can actually be a bad thing. Yes, believe it or not. It can cause limp, noodle-like tresses that are prone to breakage. Please read more about this in my post on how to moisturize natural hair.
6. Too Much Protein – This can cause your hair to dry out due to the lack of moisture. As you should know, dry hair leads to ____(fill in the blank). 😉
7. Product Build up – Product that piles high on our strands leave little room for the good stuff (moisture) to get into our tresses. When this happens, guess what's the result? Seeing a theme here?
SPLIT ENDS
When your ends fray, there is little to no solution to fixing it. There are products that claim to moisturize those older ends to prevent the split from worsening. You can also moisturize your ends to prevent splitting, but ultimately, split ends need to be trimmed away. Time for them to literally split!
Now that you know what damaged hair looks like and how it's caused, please pay close attention to your curly mane. Even if you're not seeking length, these tips will help you to get healthy hair. Be kind to your curls. Mend all splits or cut them off for good, so you can positively progress in your hair journey.
I think it's good for a person to spend time alone. It gives them an opportunity to discover who they are and to figure out why they are always alone." ~ Amy Sedaris

Greta Garbo, screen siren of the '30s, famously sported pant suits and trademark finger waves. This leading lady strode into a room and easily drew attention, which is ironic because she has historically been credited with often saying, "I just want to be alone."
This brings up the topic of "me time." Time is truly a precious gem. With our lives moving in warped speed, it may appear as if there just isn't enough time to get things done … or to do nothing at all. That fluid time to dip and do, that "me time," is becoming more and more of a necessity.
For introverts, like myself … waaaait! Time out! Let's not confuse this with shy people. Nuh, uh. Introverts are people who need time for self reflection. This is how they refuel. This is also opposed to our sparkling extroverts, who need social interactions to process their experience with the world. Neither one is better than the other. It's just different ways in which we navigate our journey.
Back to my point. For introverts, like myself, "me time" is necessary. Even if you're not an introvert, this is the time needed to engage in hobbies like cleaning, cooking, knitting, and of course, blogging. Heck, you can just sit around and watch TV, catch a movie, daydream, and play in your curly mane. Yes, my curly friend. If you're lucky to have a little "me time," try some of the tips I've shared here.
As Audrey Hepburn said, "I have to be alone very often. I'd be quite happy if I spent from Saturday night until Monday morning alone in my apartment. That's how I refuel." Just don't forget to get back out into the world. Don't get lost curlie!
In my journey thus far, there have been times when I had to study or go shopping alone. At first, I kicked rocks and complained about my friends' busy schedules. Soon, I embraced that time, as it forced me to learn about myself. I had to turn inward and make my own decisions, steer my own course. It's such a key lesson for young women, as we often fall for group think or what so and so says. Sometimes that "me time" is just what answers questions and opens the door to spiritual awakening. Okay, I won't go too far into hippie mode!
For the busy mamas out there, "me time" is a hot commodity with kids running around and possibly also a hubby to tend to. If and when you can seize it, I applaud you! For my ladies with time on your hands, please use it well. Take some time to look within, have fun, and relax for a minute. Carpe diem!