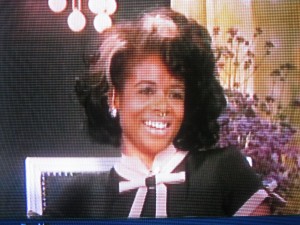 We all know that her milkshake brings all the boys to the yard, but what's the secret to singer Kelis' curls?
Her luscious, thick curly mane is as easily identifiable as her vocal sounds. From the bold, "look at me" colors to the fluffy coils, Kelis may be in Hair Hall of Fame territory.
I spotted Kelis' curls … or better yet, her fluffy waves during the July 13th episode of Fashion Police (video below). While I miss her textured, curly strands, I was digging her new 'do. It appeared to be the result of a rollerset, flipped out and curled ala Judy Jetson. There may also be some "magic hair" involved. An apparent lover of colors, Kelis stylized the look with violet highlights.
I personally like the look but believe that her natural curls are more flattering. It's her signature. A little over a decade ago, when I was hooked on hair color (the brighter the better), I can't tell you what I would have done for the blond and pink colored curls she once sported.
On a side note, I have always loved Kelis' eccentric music and eclec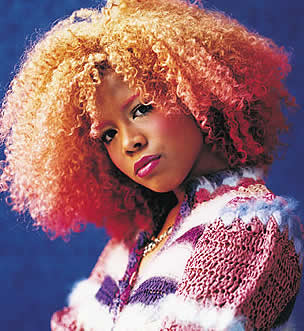 tic style. When she first arrived on the scene, it was deemed too far out for some, but little did we know that Kelis was just ahead of her time–pre-Gaga, Nicki, and Katie (I knew it!). I am still a fan of her video for "Caught Out There." She may have been screaming "I hate you so much right now," but I was thinking "I love your curly mane!"
You may also remember her uber long, straightened (and perhaps also magically enhanced) hair in "Get Along With You." That video is reminiscent of  Madonna's "Bedtime Stories" with a Tim Burton flare. It ventures into Tool (remember that band?) territory and always reminds me of my absolute favorite artist and the director of the soundtrack of my life, Bjork. So it was no surprise to find Kelis sharing pictures of her hanging out with Bjork during her interview with Fashion Police's Joan Rivers.
Check out the video below and let me know your thoughts on Kelis' new look.

Kelis on Fashion Police 07.13.2012
© 2012 – 2016, mycurlymane.com. All rights reserved.

Copyright secured by Digiprove © 2012
Related posts: