It was just another Saturday dedicate to errand running with my significant other (SO), until … we turned a corner while driving in the car, and my eyes caught a bouncing mane. It was spectacular—a pillar of curls proudly resting upon the head of a young woman in a flowy yellow dress. Spotted!
I begged my SO to turn the car around. After a few of his rejections and pleas for me to reflect on my curl addiction, we whipped the car around to track down that curly mane. Was it crazy? Yeah, maybe a little, but I had to find out more about this girl's hair. I figured I'd ask her, accept her "are you crazy" stares, and keep it moving Susan. The worst she could say was no.
We pulled over. I got out the car and walked over to her, anticipating her side eye. Instead, she turned in my direction and stared at my hair! We smiled at each other, and I went in for the kill.
"Hi, my name is Nay, and I love your curly mane," I said, making it clear that I was not a psycho stalker.
She introduced herself as Millie, and after complementing each other's hair, she agreed to share with us her hair story. Our interview went as follows:
Nay: Your hair is very pretty. Have you always been al naturale?
Millie: Thank you! No, I permed my hair from when I was 10 up until I was 20 years old.
Nay: Why did you decide to go natural?
Millie: A girlfriend decided to do it, so I decided to try it as well. That was in 2010. I realize now that I actually like my curls. Plus, my hair is the longest it's ever been.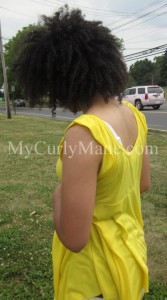 Nay: When you decided to go natural, did you immediately chop it all off, or did you grow out your perm?
Millie: I slowly transitioned for 1 ½ years.
Nay: How was that like?
Millie: The in between phase was tough, especially when I had two textures—curly and straight ends—but I wouldn't relax again. I've been fully natural for 3 months now, with no straight ends.
Nay (applauding Millie): Do you straighten your hair, or are you a full-on naturalista?
Millie: In the beginning I did straighten my hair, but I rarely do it now.
Nay: So aside from genetics, how are you maintaining your mane?
Millie (smiles because I'm probably confirming my madness): I wash my hair every 2-3 days. I shampoo with VO5 and condition with Milk & Silk (never heard of it, but she says she gets it at Sally's Beauty Supply – Shop SallyBeauty.com for Salon Products). I sometimes leave the conditioner in my hair. I also use Olive oil [the product].
Nay: That's it??
Millie: Yes, and I towel dry. I occasionally diffuse it.
Nay (baffled at the simplicity of her routine): Do you have any tips for girls who are newly natural and just learning about their curly manes?
Millie: They should know that it's [transitioning] a process, and you have to commit to it. Once you're all natural, just let your hair do its own thing. Also, if you use lot of conditioner in the shower while combing, it'll help to detangle your hair.
Sometimes less is actually more.
© 2012 – 2013, mycurlymane.com. All rights reserved.

Copyright secured by Digiprove © 2012-2013
Related posts: