It's the news that has done laps across the globe, leaving hurrr everywhere standing on end–Oprah is revealing her natural hair in the September issue of O magazine!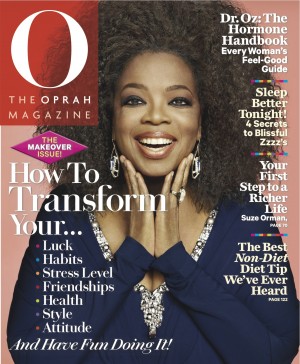 Love, love Oprah (and miss her talk show), so I am not jumping on the hair-hating bandwagon. How can you ridicule "The Big O" when she has come so far in her life and inspired so many? Nope, sir. Not I.
I am curious as to how she typically styles her curly mane and hope that she shares her secrets (visualizes pinning down Oprah's stylist Andre Walker, with a blow dryer in hand). I'm referring to her actual routine … and not the ones the editors creatively drafted for her. I want to know every plait and potion that she uses. I want to know every twist and finger twirl. I want to know every … what's that? I'm not an Oprah nut … no, really, I'm not (hums silently to self).
I'm just happy that she is supporting #teamnatural by showing comfort in her skin, as she has done in years past. Now, of course, other celebs are stepping up and revealing that they too have natural hair. Sigh. I just hope that this isn't going to be viewed as another trend of the week and instead as a way to educate the public about natural hair.
The next issue of O hits newsstands on August 7. In the meanwhile, what are your thoughts of the cover photo, featuring Oprah's hair?
© 2012, mycurlymane.com. All rights reserved.
Related posts: