The final video in the four-part Sonicglide series is here! Phew! Thank you for your patience. In this video, I show you the steps you can take to straighten your natural hair with this professional flat iron.
The Maxius Sonicglide is almost exactly the same as Maxius' Maxiglide hair straightener. Like the Maxiglide, the Sonicglide uses steam to hydrate and straighten hair. Yes, just like ironing the wrinkles out of your clothes. Watch Part 2 in this series for details on how these two flat irons for natural hair stack up against each other.
In this video, I show how this flat iron works similar to the chase method in which a fine tooth comb is chased by a regular flat iron. I may have missed mentioning some additional tips, so I've listed them all below. They are:
*Comb out each section of hair before straightening it –before step 3 in the video. I skipped showing this part, since I wanted to focus more on using the iron for straightening, but I realize it's important for you to know this. I don't want you to rip the straightener through tangled, knotty hair! Please remember to comb out each section first before steaming out the "wrinkles."
If you get a knot while gliding, pause, detangle your hair, then continue gliding.
Steam the length of your hair with the Sonicglide before gliding/straightening your hair without steam.
Glide (not tug) the iron straight through your hair on the first pass–without bending or flipping it. Do not clamp down too hard on the iron. The whole idea is to literally glide it through your hair, hence the name. 😉
Adjust the heat to fit your hair texture. Don't cook your tresses!
Use steam and clamp and unclamp the iron to aid in curling ends. I recommend turning down the temperature of the straightener while adding curls and flips.
Roll hair in satin lined rollers overnight to create curls and waves that lasts for days.
*You'll get great results if you roll each section right after you use the Sonicglide to straighten and bump the ends.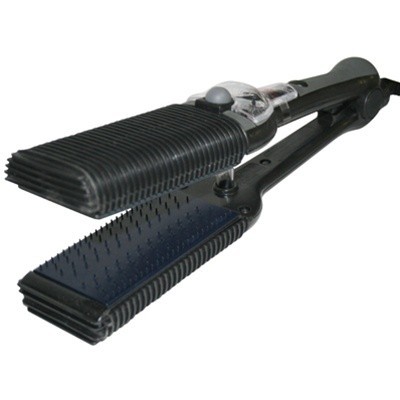 In part 3 of this series, I prepped my hair for safe straightening by doing a braid-out. You can do the same, although some naturals prefer to blow dry their hair first. This is my least favorite method, as I don't think my hair is as shiny and bouncy as it is with a braid-out. Also, this adds unnecessary direct heat to hair. As an alternative, you can prep your hair by doing a roller-set, which produces the best results.
In case you missed it, check out part 1, part 2, and part 3 of this series. You'll discover how I stumbled across this straightener while I was originally in pursuit of the Maxiglide. No, I am not paid by the company to endorse this product. Just passing the good news along.
If you can't view this video, watch it on My Curly Mane's YouTube channel. Got questions? Just let me know below.
More and more, all types of curlies are popping up everywhere on the television screen. Each time I spot an awesome chica with natural hair, it makes me want to break into a happy dance. For those of us who are a little longer in the tooth, there was a day, once upon a time, when you'd be hard pressed to see a lady on TV with natural hair. I'm not talking about the good ol' 70s when actresses like Pam Grier and Cicely Tyson were holding it down with their braids and afros … pause. Please tell me that you're familiar with both ladies. If not, I banish thee to Google, now!
Anyhoo, we're at another turning point, which will hopefully last beyond generational trends and politics. It's difficult to forecast since anything is possible. For now, let's optimistically hope that this popularity in pop culture is the new normal (crosses fingers).
The first sighting I caught in June is one that I'm sure you've already seen. Old Navy gave Boys II Men some props by featuring the boy band (are they too mature for such a title?) in a commercial, titled "In-Flight Entertainment." In the spot, the Boys treat us to their classic hit, "I'll Make Love To You" while seemingly aboard an airplane.
The skit continues with ladies in white Old Navy pants strutting down the aisle, including … you guessed it—a naturally curly girl. Not only does our natural haired gal model, but she also has a speaking part during which she gushes about her pants. You'll notice that her hair looks as if it's styled in a braid-out. Upon closer analysis (consisting of pausing, rewinding, and playing the commercial at least five times), it looks as if the model's texture is indeed natural. Thumbs up Old Navy!
Cheerios also got cool points for featuring an interracial couple and their beautiful biracial girl. While the young lady questions her mother about Cheerios, all I could look at was the pretty brown curls that perfectly framed her sweet face. Sadly, some viewers were too busy focusing on the couples pairing, and the commercial became controversial. For what??? Ah, people. C'mon! Watch and you be the judge … of her hair, please.
The Wendy Williams Show frequently attracts some of the most stylish ladies, particularly natural haired mavens. So, I wasn't surprised when, on June 13, Wendy's "eye candy of the day" happened to be a naturally curly girl. While she introduced herself (her name sounds like Hafeesa), all I could look at was her huuuge fro. It looked soooo majestic, and of course, it topped off her outfit.
In fact, Wendy commented by saying, ""I love your natural hair. It's big and beautiful." She also then made a point of noting to all of us viewers that it's all hers. Yes, real and styled in a wash and go. Weeeerrrrk!
Did you catch these or other curlies in June? Do tell below!
You may have to fight a battle more than once to win it." ~ Margaret Thatcher
I was picking my brain to see which stylers would be the perfect contenders in another (loooong overdue!) product battle, when Sherry, one of My Curly Mane's clever readers, gave me an amazing recommendation. Thank you!! Instead of stylers, Sherry suggested that we put leave-in conditioners to the test, specifically As I Am's Leave-in Conditioner against Beautiful Textures' Tangle Taming Leave-in. Perrrrfect! (slowly taps fingers together in a wicked genius moment)
Having a great, if not the best leave-in conditioner, is truly an important first step in styling natural hair. Leave-ins should help to remove tangles, hydrate your hair, and enhance stylers. Interested in knowing if these two make the grade?? Let's do a quick natural hair product review. At long last, I present to you another epic product battle!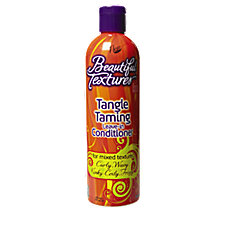 On the left, we have Beautiful Textures Tangle Taming Leave-in Conditioner (BT). After discovering BT last year, my hair instantly fell in love with this leave-in, and BT immediately joined the ranks of other products in my hair routine. According to its package, BT is marketed for mixed textures, which BT defines as curly, wavy, kinky-coily, and frizzy hair. "This Tangle Taming Leave-In Conditioner is the must have to get the styling versatility you deserve. Achieve softer, more defined curls, healthier looking elongated coils, unforgettable body, or simply silkier smoother hydrated hair."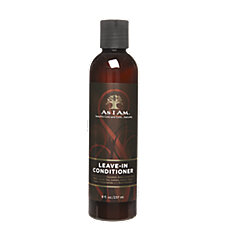 On the right, we have As I Am's Leave-in Conditioner (AIA). This newbie (to me) was actually off my radar! Yes! I didn't hear about it, which of course added to my intrigue. According to its package, AIA's leave-in was "created with thoughtful care for your hair … It seals the cuticle layer, supports healthy hair growth, and adds moisture and shine. This natural wonder keeps tangles away and provides a great foundation for natural styling."

The Rules
Both natural hair care products will be compared and measured according to My Curly Mane's criteria. A full point will be given for successful completion of each category. A half point will be given for satisfactory results. The categories are: price, ingredients, scent, application, look, feel, and the wild card—ability to produce second day hair. Final scores can range from zero to 7 (perfect) points.
Let's get ready to battle! En garde!
Price
Beautiful Textures Tangle Taming Leave-in Conditioner = approximately $6 for 12 fl. oz./355 ml
As I Am's Leave-in Conditioner = approximately $10.50 for 8 fl. oz./237 ml
This one is pretty straight forward. With BT, you get a lot more product for less.  Easy peasy. BT advance lunges and touches AIA where it hurts—the pockets!
BT
Point = 1 /Total = 1
AIA
Point = 0 /Total = 0
Ingredients
BT is enriched with aloe vera, coconut, olive, soy, argan oil, shea and mango butter. My Curly Mane says, "Yum and yum!" I already know that my hair loves aloe vera, oils, and butters, so this one was destined to be good stuff. The full list of ingredients is:
Aqua, Olea Europaea Fruit Oil/Olive Oil, Argania Spinosa Nut Oil/Argan Oil, Glycine Soja Oil/Soybean Oil, Cocos Nucifera Oil/Coconut Oil, Butyrospermum Parkii Fruit/Shea Butter, Mangifera Indica Seed Butter/Mango Butter, Rosmarinus Officinalis Leaf Extract/Rosemary Extract, Aloe Barbadensis Leaf Extract/Aloe Vera, Dimethicone, Panax Ginseng Root Extract/ Ginseng Extract, Polyquaternium 37, Propylene Glycol Dicaprylate/Dicaprate, Hydrogenated Vegetable Oil, Glycerin, DMDM Hydantoin, Cetearyl Alcohol, Ceteareth 20, Polysorbate 20, Propylene Glycol, Imidazolidinyl Urea, Phenyl Trimethicone, CI 15985/Yellow 6, Parfum/Fragrance, Benzyl Benzoate, Benzyl Salicylate, Coumarin, d-Limonene, Hexyl Cinnamal, Lyral, Methyl Ionone Gamma.
It is free from: paraben and protein.
AIA contains an organic strengthening agent, plus natural ingredients that promote hair growth. Its key ingredients are: extracts of coconut, amla, sugar beet root, green tea, lemon, apple, sugar cane, phytosterols and saw palmetto. With the exception of coconut, the other ingredients were new to my tresses. Apple?? Really??
The full list of ingredients is: Aqueous (Water, Aqua Purificada, Purified) Extracts: Cocos Nucifera (Coconut)¹ and Phyllanthus emblica (Amla)¹, Cetyl Alcohol¹, Citric Acid¹, Phytosterols¹, Serenoa Serrulata Fruit (Saw Palmetto) Extract¹, Camellia Sinensis Leaf Extract¹, Propylene Glycol, Pyrus Malus (Apple) Fruit Extract¹, Citrus Medica Limonum (Lemon) Peel Extract¹, Saccharum Officinarum (Sugar Cane) Stalk Extract¹, Beta Vulgaris (Beet) Root¹, Behentrimonium Methosulfate, Potassium Sorbate, Fragrance/Parfum, Limonene.
It is free from: paraben, protein, silicone, and sulfate.
Both products are alcohol free leave-in conditioners. With equally solid ingredients, both contenders parry, blocking all attacks and earning full points.
BT
Point = 1 /Total = 2
AIA
Point = 1 /Total = 1
Scent
BT smells like a sweet blend of banana and mango. It's fruity and delicious. However, AIA takes it to another level. It smells like sweet honey and coconut, which makes my mouth water! Are we sure that these items aren't edible??!
Any way you slice it (but don't eat it, ha!), I much prefer products that smell good enough to eat. This will win me over any day as opposed to chemically scented items. Neither BT nor AIA is nauseating or overdone. However, I find myself basking in AIA's aroma just a bit more than BT.
With a parry-riposte, AIA goes from defense to attack mode and earns a point.
BT
Point = 0.5 /Total = 2.5
AIA
Point = 1 /Total = 2
Application
Both products were applied to freshly washed natural hair. BT, with its light, orangey white color, has a thick texture. It isn't too heavy, but it is heavier than other products like Giovanni Direct Leave-in Conditioner. I was so happy when I first tried this product. For one, it has great slippage and easily distributes throughout my hair. It also plays well with most, if not all, of my stylers.
Now AIA left me in shock and awe. Remember, I was already bias in the beginning, having already declared BT as my favorite. However (leans in and puts on a serious tone), AIA is not to be messed with. With its creamy, nearly translucent white color, AIA is reminiscent of Kinky Curly's Knot Today. Only, it's much heavier than BT and Knot Today. This milky leave-in glides through my hair like silk! Keywords: suuuper sliiippage. It also plays well with my stylers, so far.
AIA counter attacks and earns a full point.
BT
Point = .5 /Total = 3
AIA
Point = 1 /Total = 3
Look
BT makes my curls pop! Remember, when I first used it, I was pleasantly surprised by the definition it created. It also made my natural hair easy to separate and style.
However, AIA seriously defines my curls. The minute this product hits my hair, it begins to twist and form curls. My-hair-loves-this! Not only is it defined, but my hair is also left with a lot of shiiiine.
AIA literally outshines BT and gets the edge.
BT
Point = 0.5 /Total = 3.5
AIA
Point = 1 /Total = 4
Moisture & Feel
I was surprised by the results in this key category. BT definitely detangles and hydrates my tresses. My hair instantly becomes pillow soft.
Now, this AIA leave-in … wow! This is the business! It infuses my curly mane with intense moisture, leaving it incredibly soooooft and supple. If BT leaves my hair like a pillow, AIA creates clouds. Instantly I can feel a difference. Dare I say, even more than BT?!
With a thrust, AIA once again earns a full point.
BT
Point = 0.5 /Total = 4
AIA
Point = 1 /Total = 5
Wild Card/Tie-Breaker: Second Day Hair
I'm judging this based on whether or not my hair remained moisturized on day 2, after applying each leave-in. Both natural hair care products successfully kept my hair moisturized.
BT
Point = 1 /Total = 5
AIA
Point = 1 /Total = 6
And the winner is:
The jury has deliberated and determined a winner. For its extra infusion of moisture and shine, As I Am's Leave-in Conditioner is the winner! It has won over my curly mane. Now, I have three bottles of BT in my stash, since I always purchase in bulk when I find a solid product. I guess I'll have to alternate using both leave-ins until I finish my stash. I hate to be the type to leave a sure thing for the next best thing, buuuuut … AIA is good stuff! Thanks again Sherry for the recommendation!
I recommended AIA to my sister—a tough, no nonsense type who refuses to experiment with products and do anything high maintenance with her somewhat newly natural tresses. She has been on a hunt for moisturizing products that her curly mane won't reject. Well, after trying AIA's leave-in, she was overjoyed that her thick, 4a hair remained moisturized all day. I gave her my bottle since AIA is nowhere to be found in her neck of the woods.
FYI – Both products can be purchased at Sally's Beauty Supply Store or by clicking on the following links:
Have you tried Beautiful Textures or As I Am's leave-in conditioners? Which one do you prefer?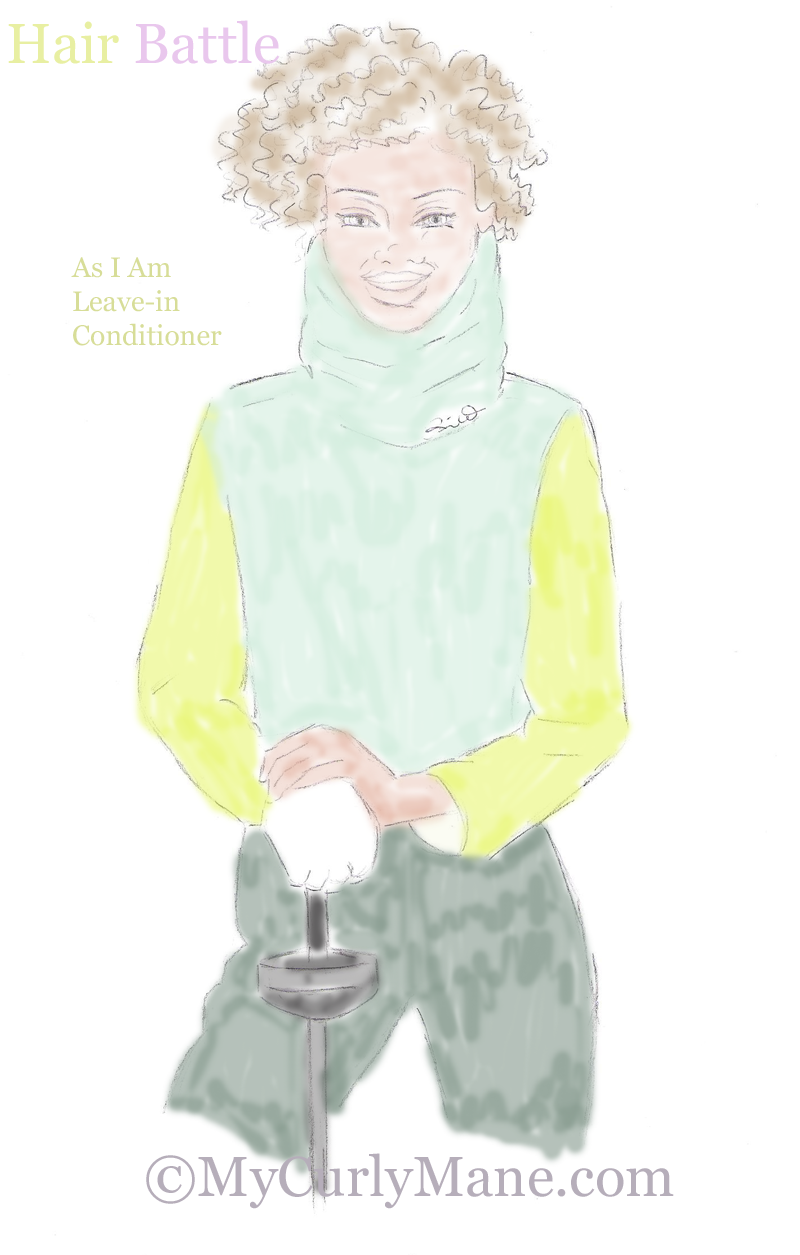 Hard work spotlights the character of people: some turn up their sleeves, some turn up their noses, and some don't turn up at all." ~ Sam Ewing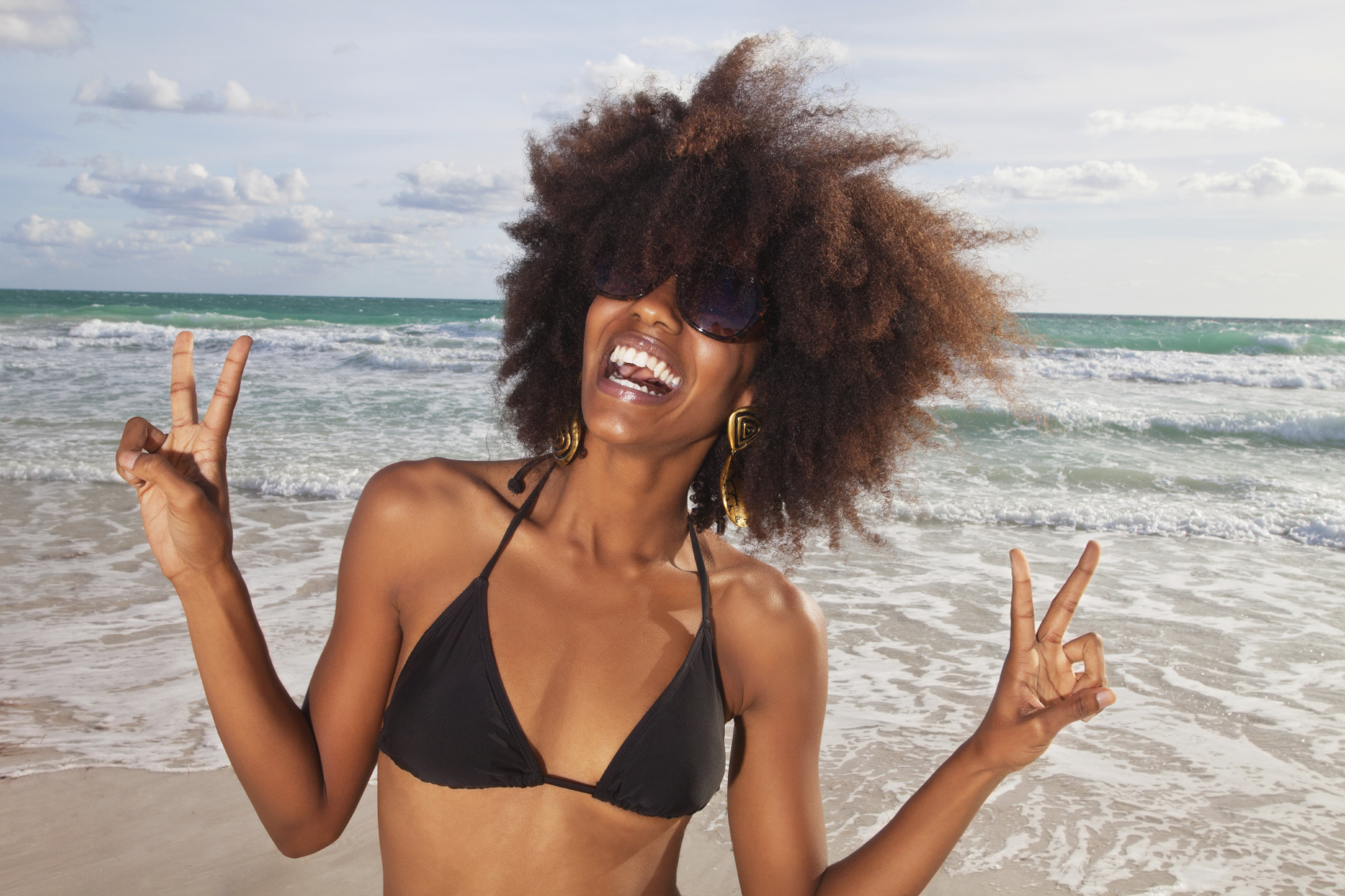 It was like some strange unsolved mystery. Each and every time I stepped into the shower at my SO's house, the water gently ran through my hair like silk. I only had to use minimal product to produce a lather, and I could detangle my natural hair practically with just water. Yes, with just water! After styling, I got the best hair day ever!
When I flashed forward a few days and repeated the process at home, my hair was just … average. What was going on? Well, after repeating these cycles, I came to the conclusion. Dum, dum, duuuum! Good ol' H2O.
Water can have a major impact on your products' effectiveness as well as on your hair, particularly naturally curly hair. These results are often dependent on whether or not your water is hard or soft. Yes, we're still talking about water here. Hard water is often known as containing larger amounts of minerals than its softer version. This mineral content varies based on your location and how the water is purified and processed. Minerals also have the potential of building up on natural hair, thereby drying it out.
Telltale Signs That Your Water Is Hard
NaturallyCurly lists a few telltale signs to know whether your water is on the hard side. The effects of hard water on natural hair include: "Cloudy, spotty dishes coming out of the dishwasher; diminished performance of coffeemakers; and clogged or broken pipes and washing machines with an unpleasant odor that don't work properly and turn clothes and towels dingy grey or a rust-tinged color." Sounds familiar?
Spotting Soft Water
Unlike hard water, soft water has many benefits for afro hair. It has zero-to-minimal amounts of magnesium and calcium. "It can be soothing to bathe in, but rinsing with it will make you feel like you still have a layer of soap on your skin," according to Livestrong.
When Faced With Hard Knocks
There are a couple of things you can do to alleviate or eliminate the effects of hard water on your curly mane.
1. Swap out your regular showerhead and replace it with a showerhead water filter. Just like drinking water filters, these showerheads filter out minerals and other substances, thereby softening your water.
I did this with my showerhead at home and noticed a slight improvement. Word for the wise: remember to replace your showerhead filter as needed. It's easy to forget! I can't remember the brand I used, but I purchased it from Lowe's. You can also find them at hardware stores.
However, Aquasana's showerhead filter is known as one of the best water softeners for African-American hair. It has consistently strong reviews and cost approximately $70. Aquasana is not the most aesthetically pleasing tool, but it's known to be effective. According to the company, it "removes harmful synthetic chemicals and chlorine in your water to give you softer skin and shinier hair for the cleanest, healthiest showering experience."
If you want to really improve your water quality and make it truly softer, install a whole house water filter system. These systems claim to remove iron and range in price from $50 to $1,000.
2. Use a chelating shampoo to remove mineral buildup on your hair. These are the best shampoos for hard water. They contain a key ingredient—ethylenediamine tetraacetic acid (EDTA), which "were developed to counteract the effects of hard water and heavy metal ions in the manufacture of textiles. These metal chelators are widely used in cosmetics and personal care products, in food, and in medicines. By binding with metal ions, these ingredients prevent the metals from being deposited onto the hair, scalp and skin," according to cosmeticsinfo.org.
Chelating shampoos are pretty harsh and will strip your hair of moisture. Be sure to follow them with a moisturizing conditioner like Hello Hydration and use them no more than every other week, if needed.
I keep hearing rave reviews about Joico K-PAK Chelating Shampoo. "This triple-action chelating shampoo is an intense clarifying shampoo that cleanses the hair, removes mineral deposits and styling product buildup," according to its package. This shampoo costs approximately $14 and can be found at your local Walgreens, or you can purchase it through my link.
 3. According to a couple of hair forums, coconut and argan oils can chelate iron and copper, once again preventing your hair from losing moisture. Not to mention that applying oils to your curly mane also has several benefits.
Into DIY methods? Many curlies have found success trying the following rinses.
Club soda rinses are effective and should be rinsed out of your hair once the fizzing stops. Not into using soda? Heck, bottoms up!
Apple cider vinegar (ACV) rinses remove buildup, restores your pH balance, treats dandruff, and closes the cuticle. Just be careful not to overdo it, as ACV is highly acidic, which can actually damage your hair with excessive use. On its own, ACV smells … deadly, but the smell does fade once washed out of your hair. Combine 1tbsp of ACV to every cup of distilled water. After shampooing, apply the rise. Wait a few seconds before rinsing with cold water, which will further help to seal the cuticles of your hair. Want a bit more moisturizing brew? Add honey and/or aloe vera gel.
Water and baking soda rinses cleanse and remove buildup from the hair. Baking soda aka sodium bicarbonate works great as a replacement for shampoos. Combine 2 tablespoons of Baking Soda with a cup of water, pour the mix onto your hair, wait a few minutes, and rinse. You're good to go!
Some curlies have tried baking soda washes followed by vinegar rinses. Just be careful. Too much of anything is overkill, especially for your natural hair. For me, I'll seize each and every moment to use soft water as I get it!
Heya cats and kittens! In an earlier post, I shared my experience using III Sisters of Nature Curly Whip Pudding and compared it to Miss Jessie's Curly Pudding, as III Sisters does in marketing this product. Well, since that post, some of you decided to try the Curly Whip Pudding yourselves … but couldn't find the product! No, I didn't pull a fast one on you!
I searched a couple of beauty supply stores and started to notice that the pudding … was missing. However, another product was in its place—III Sisters of Nature's Spiral Pudding. I decided to snag that product and do some further investigation. I compared the Spiral Pudding to a jar of Curly Whip Pudding I already had at home and found the following.
Like the Curly Whip Pudding, the Spiral Pudding claims to give your hair the same results as Miss Jessie's Curly Pudding. Only, III Sisters of Nature's products claim to be "the cleaner haircare products." According to the packaging, "Spiral Pudding helps revive dull, frizzy and tight curls to life with moisture, shine and length. Spiral Pudding is made with natural blends that have been reduced to the smallest molecule for maximum penetration and definition of curls, waves, twists and kinks."
Like Miss Jessie's, both of III Sisters' puddings are purple in color, smell like grape taffy or a grape flavored Now and Later, and have a thick texture (although the Spiral Pudding is slightly thicker and darker). If you read my previous post, I mentioned that the Sisters' pudding is slightly less aromatic, which I prefer. Miss Jessie's can be a bit too heavily scented for my sensitive sniffer, but it may be A-Okay for you. Mind you, Miss Jessie's pudding does have an unscented version.
While both of the Sisters' products have the same look and feel, I had to test out the results. I did a braid-out (yes, my typical style with puddings) with each product … and had the same results! Survey says: The Spiral Pudding is the new Curly Whip Pudding. It's just in a new packaging and sold under a new name. Perhaps the Sisters ran into issues with having the Curly Whip so close in relation to Miss Jessie's Curly Pudding. Inquiring minds would like to know!
All in all. It's up to you. Try III Sisters' Spiral Pudding (formerly known as the Curly Whip Pudding) and Miss Jessie's Curly Pudding and you be the judge. III Sisters of Nature's Spiral Pudding costs $12.99 and can be purchased at your local beauty supply store or at the sister's newly launched site, http://www.3sistersofnature.com.
When First Lady Michelle Obama displayed her newly shorn, straight fringe a few months ago, it was like the snip heard around the world. True to its name, bangs have come, gone, and resurfaced once again. Bang! They can decorate a mean bob, as seen by Anna Wintour, legendary editor-in-chief of American Vogue. They also soften beautifully angular features, as seen in Mrs. Obama.
Bangs can frame just about any face shape, depending on how they're cut. Every girl can be bangin'! Most importantly: They can be worn with a curly mane. Use them to top off a bun, twist, or pony. There are several ways that you can werk a curly bang with natural hair. Here are a few:
Natural
If you're sporting a full-frontal, froey fringe, make sure that your curly mane frames your face. The fuller the look, the better. Don't be afraid of volume! In fact, whip out an Afro pik to add some lift.
Style your afro-textured bangs as you do with the rest of your hair. I like to use my usual layering method consistent of a leave-in conditioner and gel. If your curly mane frowns on gels, use a leave-in and seal with an oil or butter. Just remember, a little frizz never hurt anybody.

Defined
For a structured look, try a wet or dry braid-out or twist-out. The smaller the braids or twists, the more defined the look. Add curlers to the ends to accentuate the style.
If you'd like a looser bang, use curlers or perm rods on the entire length of your wet or dry bangs. I recommend doing both styles on wet hair that has been combed out, so you can better manipulate your natural texture and set the look. 
Half bangin
If you have short layers in the front or bangs that are growing out, a side part is your friend. Once again, use an Afro pik to volumize the layer or tuck/bobby pin these hair under your ear or on top of the hairs at the side of your head. Whether worn naturally or defined, a half bang still looks completely chic.
Faux Bangs
Afraid to commit to a cut? Clip-ins and extensions are the way to go for a quick change-up. Adding faux bangs can add a new spin on an old look. If you're wearing a curly clip in, make sure that the magic hair matches your texture. Once again, make sure that the magic hair matches your own texture. This may require some manipulation of the curly clip-in/weave by cutting, braiding, twisting, or curling the hairs. Remember the goal is for it to look realistic … not like a brokedown palace!
Can't find clip-ins that are the same as your texture? Try purchasing full-length clip-ins or weaves that are a close match. This DIY method may require some cutting, sewing, sweating, tearing (ha!), and bobby pinning of the hairs into your own. You may want to don a headband over the area where the weave meets your real hair in order to hide the transition. Want to really switch it up? Try coloring your magic hair. Now that's bangin'!
Yes, Zoë Saldana is that tough girl you've seen in Avatar and Star-Trek, among a host of other movies. No, she isn't typically whom you think of as having a curly mane, but the actress surprises us (at least me) by sharing some of her hair care routine and personal experiences within InStyle Hair, a special spring edition of InStyle magazine. Of course, you know I had to pour myself through that one!
First things first. Yes, I am showcasing images of Zoë Saldana from the June issue of Allure, while referencing an interview she conducted with InStyle Hair. After all, she is killing it in the Allure pics. No, I won't continue to go back and forth with the yeses and nos. Ha! Let's move on to Saldana. The half Dominican, half Puerto Rican beauty shares information on her culture, hair, and overall identity.
She says to InStyle, "In Latino culture, hair carries a lot of history, a lot of weight, and a lot of energy. I always liked my hair. I never wanted to have any other skin but my own, any other hair but my own. I never had that identity thing where I looked at a blond girl or an Asian girl and thought, 'Why don't I look like that?' Women who spend so much of their lives wanting to have something else miss out on learning to appreciate what they do have."
Two snaps in Z formation for that one! Saldana credits her mother for raising her and her sisters with a strong sense of self and for teaching them to question whatever they felt did not make sense. She may just be our kind of gal after all.
As for her hair, she admits that, after using a Japanese straightener for the past 10 years, she is now missing her curls.
"It's been eight months since my last straightening treatment, and I'm going to let it all grow out. I miss feeling the thickness. It's been a long time since I've woken up with my hair looking like an Afro. I want to have that again," says Saldana.
Does this mean that we'll soon see Ms. Saldana sporting her natural tresses à la actress Viola Davis? From the looks of the magic hair she's werking in these magazine spreads, textured hair really does suit her. I'm looking forward to the new Zoë, Afro and all.
In case you were wondering, Saldana also breaks down her hair routine. This includes monthly treatments with products from Kérastase's Force Architecte collection. She also washes her hair every two days using Pantene's moisturizing shampoo and pre-poos with the Parisian oil, Leonor Gryel Huile de Palme.
"Child, let me tell you—it's pretty expensive, but it works!" she says.
If you're looking for a cheaper alternative, you can always pre-poo with olive oil and, of course my favorite, coconut oil.
You can catch Zoë Saldana and her stylish mane this summer as Lieutenant Uhura in Star Trek into Darkness. The full interview with Zoë can be found in InStyle Hair, on newsstands until June 14. You can also check out more stylish photos and learn more about Zoë Saldana's beauty routine in June's Allure.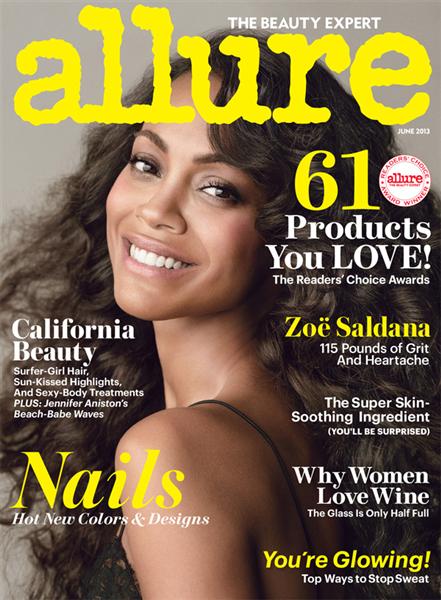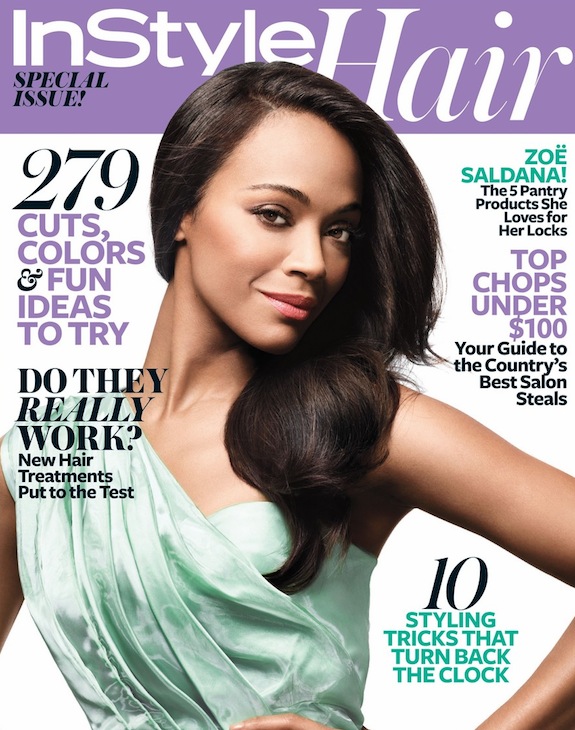 I know what you're thinking. Where have you been??!! Sorry guys. Yes, I have been MIA, but it's been a hectic month filled with lots of life juggling. You know how it goes. Unfortunately, blogging took a hit … but I'm back! And I've got news for you.
Before I break the news, let me take you back to last summer. I was styling my hair, when I noticed … a long, glowing, silvery white strand among the mass of dark tendrils. It was my first gray hair! Gasp! Yes, I had a mini panic attack. I backed up from the mirror, remembered to breathe, and returned to the mirror to double-check. I shook my head in disbelief. There it was!
I don't know why I was as stunned as I was. You see, I had a heads up a few months prior … when I got my first gray eyebrow hair! Yeeeesss! I-am-transfooorrrming. AH!
Well, recently, I calmed down and made up my mind that I would be that 80-year-old woman with long, curly gray hair. Just as I came to terms with … growing up (gulp!), in came breaking news this week … well, breaking news for us!
There's new research out that may raise hairs and a few questions. A joint group of researchers at Germany's Institute for Pigmentary Disorders at E.M. Arndt University of Greifswald and the UK's Centre for Skin Sciences at the University of Bradford have simultaneously come across a potential cure for gray hair and the skin disease vitiligo, which removes pigment from the skin, according to the Federation of American Societies for Experimental Biology .
Medical Daily states that gray hair is caused by an accumulation of hydrogen peroxide in the roots of hair follicles, causing oxidative stress. The same condition occurs in vitiligo, causing depigmentation in the skin and eyelashes (and eyebrows??).
"The idea that loss of pigmentation in the hair and skin are related is extremely interesting on a basic science level," says Joshua Zeichner, M.D., director of cosmetic and clinical research at Mount Sinai Medical Center's department of dermatology in an interview with Yahoo! Shine. "The traditional treatment of gray hair with hair dye is cosmetic and doesn't get to the root of the problem. A treatment that prevents or reverses the underlying graying process would revolutionize our approach to hair care."
Oh, yes it would! No need to schedule time to mix your brew of L'oréal or Féria, apply it to your hair, and wait for the magic to happen. No more hair dye and henna stained sinks and tiles. No need to spend money for that go-to colorist to return your hair to its natural hue. Where hair is concerned, this possible solution apparently turns back the hand of time. Curlies would have the option of forever maintaining their natural hair color, changing their color out of preference (not necessity), or simply going gray. Options. Options. Which one will you choose?
On a side note, for true vitiligo sufferers, I'm sure there are many who will be relieved by the news. I'm also sure this will raise new claims and accusations of skin bleaching … uh, huh. There are many bubbling up on the net, but I digress.
Now that there is possibly a cure for graying, will you run for the solution once it's available to the masses … perhaps in another decade or so?! Chime in below or vote. 

Loading ...
It has arrrriiiiived! Introducing part three of the four-part series on the Sonicglide! In this video, I show you how to do a braid-out–the perfect style for pre-straightening your hair. Braid-outs create a looser, wavier texture, so you don't have to use as much heat to straightened tightly curly hair.
When I braid my hair, I air dry it overnight, so I can skip using a blow dryer. Once again, the less heat the better! Also, you should use a silicone-based product to seal in moisture and work as a heat protectant.
While braid-outs are great starters for using a Sonicglide, I get the best results when I roller-set my hair and dry it under a hooded dryer prior to straightening. Your hair will be looser than doing a braid-out and veerrry soft from the dryer. The end result after straightening is bouncy, flowy hair. If you've had a "Dominican roller-set" then you know what I'm referring to. I highly recommend this technique!
A braid-out is one of the simplest, classic styles for naturals. You can keep your hair in this 'do or proceed to part 4 of this series (soon to come!).
In case you aren't able to view this above, watch this tutorial on My Curly Mane's YouTube channel. Enjoy!
Remember this simple mantra: If you keep your curly mane healthy, it will grow. Simple secret. End of story. You don't necessarily need a hair whisperer or magic potions. Just keep up a consistent regiment that your hair responds well to and voila! You will see results. "Whoa, Nay! Not so easy," you say? Continue reading.
Averages & Approximates
As I mentioned in my last hair update, hair grows approximately 0.5 inch per month. Keyword: approximately. Factor in your genetics, diet, hair routine, and hair type as additional influences on your growth rate. For tightly curly gals, moisture retention may become an issue, since it is harder for the oils from your scalp to travel down the length of your strands. Oiling your hair regularly will help to seal moisture/water into your strands. This is one of, if not the key element, that has been keeping my hair über soft and growing.
What's Working?
Oiling my hair daily. I've been doing this right before bed or in the morning on 2nd, 3rd, and even 4th-day hair styled in a wash-and-go.
Regular wash-and-go styling. Occasionally, I mix it up with braid-outs. The frequent exposure to water/moisture and sealing with oils and conditioner is working well for my hair.
Minimal straightening. In fact, the only time I've straightened my hair is to do this length check. The last time I did so was during my previous check in November. This has prevented me from experiencing heat damage, particularly with the use of a Maxiglide/Sonicglide.
A generous amount of leave-in conditioner. This is always used on wash days and applied under my hair gel. In case you missed it, check out my 10 steps for a wash-and-go.
How Do I Know It's Working?
I've received more compliments on my hair (thank you!), noting that it looks … different. Some say that it looks fuller. Others say it must be getting longer. Well, both are true. While it is getting healthier, my hair is taking on a bigger and bouncier look.
Believe me. It was just 3 or 4 years ago when I was struggling to get my hair to do anything. I had to cut off a considerable amount of heat damaged hair, and what was left wouldn't curl right. Not to mention, I struggled with styling the dang-on thing. Needless to say, I am overjoyed to get to this state!
Now, remember that for some reason or another, the universe is always in search of balance. Uh, huh. These generous comments have been sadly balanced by the usual back-handed compliments to naturals. Oh, yes, they'll come swooping down on your hit parade, ready to steal your sunshine. Here's what you can do.
When People Try To Derail Your Progress …
Remember to think of what Jesus would do. No, really. I am serious!
Count to 10 … and then count to 10 again … alrighty, count to 20!
Ruuuunn!! Click here to read about more ways to avoid Negative Nancies.
Comedian Kat Williams can be controversial and over-the-top. Regardless of your opinion of him, he has a point about one thing. He says, "So what? She/he keeps talking about you and hating on you. What do you think a hater's job is? To hate! If you have someone hating on you right now, you better think of how to get five more people hating by Christmas! You need haters to make you stronger … without haters, most people wouldn't try to become better." LOL! Sad but true. Your hair is fab. Don't listen to comments that will keep you from achieving your goals … in life and on your head.
What's Not Working?
I'm experiencing some falling hair, which of course leads to tangles and knots. I noticed that this has happened since I've stopped oiling my scalp and when I go beyond 4th day hair styled in a wash-and-go. Using a Tangle Teezer has helped to curb the knotting of shed hair so far, which makes me believe that my hair just needs to be clarified of shed hair more often.
Also, my scalp has been flakier than usual. This may be due to my inconsistent scalp oiling. I'm going to resume oiling and massaging my scalp to see if this has any effect on my progress.
Measuring Up
When tugged on in its natural state, my curly mane reaches just past mid back length. Since it grows in layers, some areas are inching their way closer towards waist length. Yet, this go around, my straightened hair pic from November appears identical to the one in March. Optical illusion? I swear that my hair is growing! I won't obsess. I won't obsess! Instead, I'm giving it another three months and then I'll see how my curly mane measures up.
Look at the photo above and note my progress. The growth is better seen when the duration between length checks is longer. Basically, hair needs time to grow. My next check will be in another 3 months. Let's see if I can get a little closer to waist length by then.
Which one of the following describes you?
On a mission for health/length
Rocking strong with a short cut
Shout it out below!