When First Lady Michelle Obama displayed her newly shorn, straight fringe a few months ago, it was like the snip heard around the world. True to its name, bangs have come, gone, and resurfaced once again. Bang! They can decorate a mean bob, as seen by Anna Wintour, legendary editor-in-chief of American Vogue. They also soften beautifully angular features, as seen in Mrs. Obama.
Bangs can frame just about any face shape, depending on how they're cut. Every girl can be bangin'! Most importantly: They can be worn with a curly mane. Use them to top off a bun, twist, or pony. There are several ways that you can werk a curly bang with natural hair. Here are a few:
Natural
If you're sporting a full-frontal, froey fringe, make sure that your curly mane frames your face. The fuller the look, the better. Don't be afraid of volume! In fact, whip out an Afro pik to add some lift.
Style your afro-textured bangs as you do with the rest of your hair. I like to use my usual layering method consistent of a leave-in conditioner and gel. If your curly mane frowns on gels, use a leave-in and seal with an oil or butter. Just remember, a little frizz never hurt anybody.

Defined
For a structured look, try a wet or dry braid-out or twist-out. The smaller the braids or twists, the more defined the look. Add curlers to the ends to accentuate the style.
If you'd like a looser bang, use curlers or perm rods on the entire length of your wet or dry bangs. I recommend doing both styles on wet hair that has been combed out, so you can better manipulate your natural texture and set the look. 
Half bangin
If you have short layers in the front or bangs that are growing out, a side part is your friend. Once again, use an Afro pik to volumize the layer or tuck/bobby pin these hair under your ear or on top of the hairs at the side of your head. Whether worn naturally or defined, a half bang still looks completely chic.
Faux Bangs
Afraid to commit to a cut? Clip-ins and extensions are the way to go for a quick change-up. Adding faux bangs can add a new spin on an old look. If you're wearing a curly clip in, make sure that the magic hair matches your texture. Once again, make sure that the magic hair matches your own texture. This may require some manipulation of the curly clip-in/weave by cutting, braiding, twisting, or curling the hairs. Remember the goal is for it to look realistic … not like a brokedown palace!
Can't find clip-ins that are the same as your texture? Try purchasing full-length clip-ins or weaves that are a close match. This DIY method may require some cutting, sewing, sweating, tearing (ha!), and bobby pinning of the hairs into your own. You may want to don a headband over the area where the weave meets your real hair in order to hide the transition. Want to really switch it up? Try coloring your magic hair. Now that's bangin'!
Yes, Zoë Saldana is that tough girl you've seen in Avatar and Star-Trek, among a host of other movies. No, she isn't typically whom you think of as having a curly mane, but the actress surprises us (at least me) by sharing some of her hair care routine and personal experiences within InStyle Hair, a special spring edition of InStyle magazine. Of course, you know I had to pour myself through that one!
First things first. Yes, I am showcasing images of Zoë Saldana from the June issue of Allure, while referencing an interview she conducted with InStyle Hair. After all, she is killing it in the Allure pics. No, I won't continue to go back and forth with the yeses and nos. Ha! Let's move on to Saldana. The half Dominican, half Puerto Rican beauty shares information on her culture, hair, and overall identity.
She says to InStyle, "In Latino culture, hair carries a lot of history, a lot of weight, and a lot of energy. I always liked my hair. I never wanted to have any other skin but my own, any other hair but my own. I never had that identity thing where I looked at a blond girl or an Asian girl and thought, 'Why don't I look like that?' Women who spend so much of their lives wanting to have something else miss out on learning to appreciate what they do have."
Two snaps in Z formation for that one! Saldana credits her mother for raising her and her sisters with a strong sense of self and for teaching them to question whatever they felt did not make sense. She may just be our kind of gal after all.
As for her hair, she admits that, after using a Japanese straightener for the past 10 years, she is now missing her curls.
"It's been eight months since my last straightening treatment, and I'm going to let it all grow out. I miss feeling the thickness. It's been a long time since I've woken up with my hair looking like an Afro. I want to have that again," says Saldana.
Does this mean that we'll soon see Ms. Saldana sporting her natural tresses à la actress Viola Davis? From the looks of the magic hair she's werking in these magazine spreads, textured hair really does suit her. I'm looking forward to the new Zoë, Afro and all.
In case you were wondering, Saldana also breaks down her hair routine. This includes monthly treatments with products from Kérastase's Force Architecte collection. She also washes her hair every two days using Pantene's moisturizing shampoo and pre-poos with the Parisian oil, Leonor Gryel Huile de Palme.
"Child, let me tell you—it's pretty expensive, but it works!" she says.
If you're looking for a cheaper alternative, you can always pre-poo with olive oil and, of course my favorite, coconut oil.
You can catch Zoë Saldana and her stylish mane this summer as Lieutenant Uhura in Star Trek into Darkness. The full interview with Zoë can be found in InStyle Hair, on newsstands until June 14. You can also check out more stylish photos and learn more about Zoë Saldana's beauty routine in June's Allure.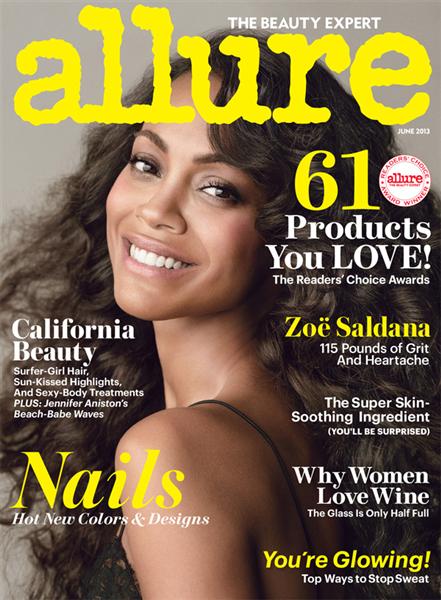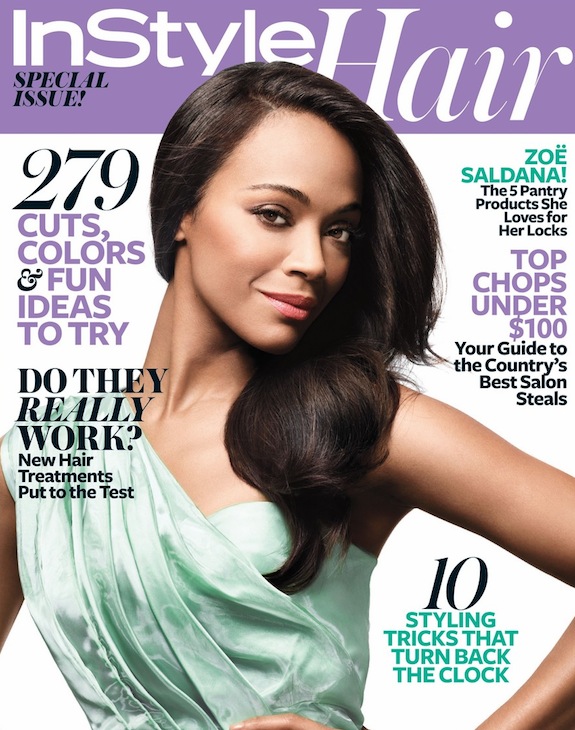 I know what you're thinking. Where have you been??!! Sorry guys. Yes, I have been MIA, but it's been a hectic month filled with lots of life juggling. You know how it goes. Unfortunately, blogging took a hit … but I'm back! And I've got news for you.
Before I break the news, let me take you back to last summer. I was styling my hair, when I noticed … a long, glowing, silvery white strand among the mass of dark tendrils. It was my first gray hair! Gasp! Yes, I had a mini panic attack. I backed up from the mirror, remembered to breathe, and returned to the mirror to double-check. I shook my head in disbelief. There it was!
I don't know why I was as stunned as I was. You see, I had a heads up a few months prior … when I got my first gray eyebrow hair! Yeeeesss! I-am-transfooorrrming. AH!
Well, recently, I calmed down and made up my mind that I would be that 80-year-old woman with long, curly gray hair. Just as I came to terms with … growing up (gulp!), in came breaking news this week … well, breaking news for us!
There's new research out that may raise hairs and a few questions. A joint group of researchers at Germany's Institute for Pigmentary Disorders at E.M. Arndt University of Greifswald and the UK's Centre for Skin Sciences at the University of Bradford have simultaneously come across a potential cure for gray hair and the skin disease vitiligo, which removes pigment from the skin, according to the Federation of American Societies for Experimental Biology .
Medical Daily states that gray hair is caused by an accumulation of hydrogen peroxide in the roots of hair follicles, causing oxidative stress. The same condition occurs in vitiligo, causing depigmentation in the skin and eyelashes (and eyebrows??).
"The idea that loss of pigmentation in the hair and skin are related is extremely interesting on a basic science level," says Joshua Zeichner, M.D., director of cosmetic and clinical research at Mount Sinai Medical Center's department of dermatology in an interview with Yahoo! Shine. "The traditional treatment of gray hair with hair dye is cosmetic and doesn't get to the root of the problem. A treatment that prevents or reverses the underlying graying process would revolutionize our approach to hair care."
Oh, yes it would! No need to schedule time to mix your brew of L'oréal or Féria, apply it to your hair, and wait for the magic to happen. No more hair dye and henna stained sinks and tiles. No need to spend money for that go-to colorist to return your hair to its natural hue. Where hair is concerned, this possible solution apparently turns back the hand of time. Curlies would have the option of forever maintaining their natural hair color, changing their color out of preference (not necessity), or simply going gray. Options. Options. Which one will you choose?
On a side note, for true vitiligo sufferers, I'm sure there are many who will be relieved by the news. I'm also sure this will raise new claims and accusations of skin bleaching … uh, huh. There are many bubbling up on the net, but I digress.
Now that there is possibly a cure for graying, will you run for the solution once it's available to the masses … perhaps in another decade or so?! Chime in below or vote. 

Loading ...
It has arrrriiiiived! Introducing part three of the four-part series on the Sonicglide! In this video, I show you how to do a braid-out–the perfect style for pre-straightening your hair. Braid-outs create a looser, wavier texture, so you don't have to use as much heat to straightened tightly curly hair.
When I braid my hair, I air dry it overnight, so I can skip using a blow dryer. Once again, the less heat the better! Also, you should use a silicone-based product to seal in moisture and work as a heat protectant.
While braid-outs are great starters for using a Sonicglide, I get the best results when I roller-set my hair and dry it under a hooded dryer prior to straightening. Your hair will be looser than doing a braid-out and veerrry soft from the dryer. The end result after straightening is bouncy, flowy hair. If you've had a "Dominican roller-set" then you know what I'm referring to. I highly recommend this technique!
A braid-out is one of the simplest, classic styles for naturals. You can keep your hair in this 'do or proceed to part 4 of this series (soon to come!).
In case you aren't able to view this above, watch this tutorial on My Curly Mane's YouTube channel. Enjoy!
Remember this simple mantra: If you keep your curly mane healthy, it will grow. Simple secret. End of story. You don't necessarily need a hair whisperer or magic potions. Just keep up a consistent regiment that your hair responds well to and voila! You will see results. "Whoa, Nay! Not so easy," you say? Continue reading.
Averages & Approximates
As I mentioned in my last hair update, hair grows approximately 0.5 inch per month. Keyword: approximately. Factor in your genetics, diet, hair routine, and hair type as additional influences on your growth rate. For tightly curly gals, moisture retention may become an issue, since it is harder for the oils from your scalp to travel down the length of your strands. Oiling your hair regularly will help to seal moisture/water into your strands. This is one of, if not the key element, that has been keeping my hair über soft and growing.
What's Working?
Oiling my hair daily. I've been doing this right before bed or in the morning on 2nd, 3rd, and even 4th-day hair styled in a wash-and-go.
Regular wash-and-go styling. Occasionally, I mix it up with braid-outs. The frequent exposure to water/moisture and sealing with oils and conditioner is working well for my hair.
Minimal straightening. In fact, the only time I've straightened my hair is to do this length check. The last time I did so was during my previous check in November. This has prevented me from experiencing heat damage, particularly with the use of a Maxiglide/Sonicglide.
A generous amount of leave-in conditioner. This is always used on wash days and applied under my hair gel. In case you missed it, check out my 10 steps for a wash-and-go.
How Do I Know It's Working?
I've received more compliments on my hair (thank you!), noting that it looks … different. Some say that it looks fuller. Others say it must be getting longer. Well, both are true. While it is getting healthier, my hair is taking on a bigger and bouncier look.
Believe me. It was just 3 or 4 years ago when I was struggling to get my hair to do anything. I had to cut off a considerable amount of heat damaged hair, and what was left wouldn't curl right. Not to mention, I struggled with styling the dang-on thing. Needless to say, I am overjoyed to get to this state!
Now, remember that for some reason or another, the universe is always in search of balance. Uh, huh. These generous comments have been sadly balanced by the usual back-handed compliments to naturals. Oh, yes, they'll come swooping down on your hit parade, ready to steal your sunshine. Here's what you can do.
When People Try To Derail Your Progress …
Remember to think of what Jesus would do. No, really. I am serious!
Count to 10 … and then count to 10 again … alrighty, count to 20!
Ruuuunn!! Click here to read about more ways to avoid Negative Nancies.
Comedian Kat Williams can be controversial and over-the-top. Regardless of your opinion of him, he has a point about one thing. He says, "So what? She/he keeps talking about you and hating on you. What do you think a hater's job is? To hate! If you have someone hating on you right now, you better think of how to get five more people hating by Christmas! You need haters to make you stronger … without haters, most people wouldn't try to become better." LOL! Sad but true. Your hair is fab. Don't listen to comments that will keep you from achieving your goals … in life and on your head.
What's Not Working?
I'm experiencing some falling hair, which of course leads to tangles and knots. I noticed that this has happened since I've stopped oiling my scalp and when I go beyond 4th day hair styled in a wash-and-go. Using a Tangle Teezer has helped to curb the knotting of shed hair so far, which makes me believe that my hair just needs to be clarified of shed hair more often.
Also, my scalp has been flakier than usual. This may be due to my inconsistent scalp oiling. I'm going to resume oiling and massaging my scalp to see if this has any effect on my progress.
Measuring Up
When tugged on in its natural state, my curly mane reaches just past mid back length. Since it grows in layers, some areas are inching their way closer towards waist length. Yet, this go around, my straightened hair pic from November appears identical to the one in March. Optical illusion? I swear that my hair is growing! I won't obsess. I won't obsess! Instead, I'm giving it another three months and then I'll see how my curly mane measures up.
Look at the photo above and note my progress. The growth is better seen when the duration between length checks is longer. Basically, hair needs time to grow. My next check will be in another 3 months. Let's see if I can get a little closer to waist length by then.
Which one of the following describes you?
On a mission for health/length
Rocking strong with a short cut
Shout it out below!
Picture this. In a Zombie Apocalypse, most of your days would be spent practicing your killer moves, hiding, or running for your dear life. But what would your hair look like? … Yes, I'm thinking waaay out of the box here, but it's a detail that hasn't been lost by the creators of AMC's The Walking Dead.
Dead Heads like me have noticed that there are now two female, African-American characters with natural hair who have joined the cast of intriguing characters. There' s Michonne, a silent but deadly warrior, who's quick with a sword. She fights fast and fearless, all while whipping around lengthy dreads. Yes, she truly whips her hair back and forth!
As you can imagine, in this impressively detailed and believably written, end-of-the-world scenario, there would be zero room for flat irons or relaxers. Ladies, count 'em out. It's all about survival here! Thank goodness the writers got this right and showed all the ladies in a natural light, regardless of race. In real life Danai Gurira, who plays Michonne, wears her hair in a short afro, which highlights her attractive facial features and allows her to go unrecognized by die-hard fans. In an interview with Zap2it, Gurira discusses the strong and unreadable female role she plays.
"A lot of people just love that she's a bad-ass. A lot of female friends keep asking my brother, 'Was she always tough like that? How did she get like that? What should we do to be like that?' … It was very deliberate to make her unreadable and an enigma. She's not going to be the sort of character you get to know quickly. That's who she is. The desire people have to see her unravel in a way, it's not going to be what they get," says Gurira.
*Rubs chins mysteriously.* Hmmm. I definitely get it. (more after the jump)
In addition to Michonne, there's a new character named Sasha, who is among a newfound group of the living. Sasha, played by actress Sonequa Martin-Green, is sweet and courageous. She also has natural hair that is kept neatly swept from her face, you know, in case she has to attack some creature or another. In real life, Martin-Green like Gurira has beautiful, natural hair that amplifies her looks. You can catch her sporting a fluffy 'do or straightened style on the red carpet or in her recently cast role in ABC's Once Upon a Time.
Now that you know that two naturally fab ladies are among the cast, will you also spend your Sunday nights peering from under the sheets in fear of who would be taken out next? Are you already watching? How would you style your hair in a Zombie Apocalypse? For me, I might have to go with a low afro since I'd have bigger fish to fry.

Chime in below, but please no spoilers!
@mycurlymane Yeaaaa!!

— Sonequa Martin-Green (@SonequaMG) May 26, 2013
You can wake up to your higher self … You don't have to run from life your whole life. You can really live and you can change, and you can be an agent of change." ~ Laura Dern as Amy Jellicoe in Enlightened
I have another show in which I'm adding to My Curly Mane's "Fab Fave For You" list. … Yes, I just invented that one! This list contains a few of my favorite things that I hope are helpful for your spiritual journey or for someone you know. My first entry is HBO's series, Enlightened. I'm hooked on its lessons of the week, hippy trippy vibe, and the Cali-cool essence of its wavy-haired main character, Amy Jellicoe, played by Laura Dern. The seasoned actress co-created the show with Mike White, who writes each episode and also stars in the show.
Let me fill you in without spoilers. It's good. I promise! The series begins with a straight-haired, 40-year-old Amy Jellicoe working as a manager at a leading mega company, Abaddonn Industries. Amy soon experiences a dramatic (and entertaining) personal breakdown that causes her to evolve and become literally enlightened after staying at a holistic treatment center. She becomes the meditative, philosophical, textured-haired, self-help guru in pursuit of being an "agent of change." As Amy says in one episode, "It's a beautiful thing to have a little hope for the world." Amy more than just evolves; she become truly happy.
Ironically, I found another similar find about a week ago. It was on a rainy day, after a few minutes hunting for something good on Netflix, that I decided to watch the documentary Happy. Blame it on the sulky weather, but this doc seemed to be right on the money … and it is! Happy highlights real-life stories of several people around the world who have identified themselves as being truly content despite their apparently rough circumstances. One of these examples that stuck out to me was how a rickshaw driver in India who has just the basic necessities in life was happy in comparison to a population of financially successful, Japanese businessmen who are literally, sadly working themselves to death.
Quick fact for you: Researchers found that extrinsic pleasures like extreme wealth lead to temporary happiness versus the long-term satisfaction that comes from internal rewards like being authentic to oneself, bonding with others, and giving back to the earth. Basically, it's proven that letting your hair down and being more like Amy is really what makes us happy.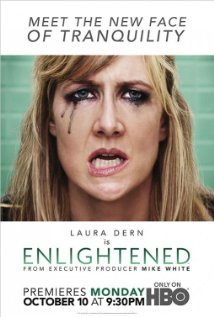 It reminds me of how I felt in the beginning of my career versus now. In the beginning (yes, there was a heaven and an Earth … but I digress!

) I would dress like my older co-workers in an effort to gain acceptance and to be taken seriously. This consisted of wearing oversized business suits, having my hair "tamed" and pulled back into a tight ponytail, and keeping very, very silent. I thought obedience and basically mimicking others' appearance would make me successful. What I really found was that my clothes made me physically and emotionally imprisoned. I was also terribly unhappy using so much energy trying to please others. This discomfort also affected my performance. Remember what I said about trying to fit into a mold created for you … or one in which you've unwittingly created!
In time, with self-reflection and prayer, I learned to just be myself. I soon discovered that it was okay to dress with a little more flair, paint those nails, and free my mane! It was okay to have different opinions and politely express them. It was acceptable to be different, to be me. This didn't make me any less competent. It was up to me to show this and be that example to others. I also discovered that I was happiest doing more of the things that truly made me happy like being out in the sun, drawing, writing, and helping others embrace their hair and spiritual journey (of course!). These are simple solutions with big results. It's about being your own version of Amy and really finding happiness. Happy, happy! Joy, joy!
What makes you happy? Name one thing, anything! Yes, butter pecan ice cream counts!
UPDATED: Just as I was about to post this, I did a fact-checking search and discovered that HBO has discontinued Enlightened!! What?! This show was amazing and so well written! Ah! See what happens when you have a show with meaning. I have to say that I also haven't heard HBO plugging the show as hard as it does with Girls. Sigh. What's that you say? Turn it into a reality show and it would resuscitate? Oh, oh, oh. Say it isn't so! We can't go that route with this one.
Well, let's cue the violins and play the sad music. Throw up the in memoriam sign. While this show has dearly departed, please catch its two seasons and reflect on how you can make positive changes in the world … like bringing this show back. Ha! Are Were you also hooked on Enlightened?

Part 2 of the Sonicglide series is here! In this installment, I highlight the features of the Sonicglide and compare this steam straightener to the Maxiglide. In case you've never heard of either flat iron, there's no need to worry. I'll fill you in.
The Maxiglide is a hair straightener that uses steam to literally iron out curls. In my previous post on the Maxiglide, I discussed my success in using this iron. I also shared my inability to locate and purchase another model, disappointment with the newer models (pre-Sonicglide), and correspondence with Maxius Beauty, the company behind the Maxiglide. Last year, I was informed that a new model, the Sonicglide was on its way. Well, as you know, it has arrived.
In Part 2 of My Curly Mane's four-part video series, you'll see how closely the Sonicglide mirrors the Maxiglide. Originally, the Sonicglide was marketed as a vibrating iron … but I didn't notice any vibrations. There also wasn't any mention of this in the packaging or instruction manual. In fact, inquiring minds (my own and perhaps yours as well!) believe that this may be the same tool as the Maxiglide. Hmmm … I'll delve further into this in the conclusion of this series. For now, tune into the second video.
In case you can't view the video above, click here to watch it on YouTube.

I said that I was going to do it, and I did! I purchased a Sonicglide! I had to find out what this new installment from the team at Maxius was all about, discover how it compared to the original Maxiglide, and report back to you. In case you're wondering where my hunt for a Sonicglide/Maxiglide came from, read my previous post. To give you the full low down, I broke up my video into a four-part installment:
Part 1 (included above) highlights my experience unboxing my order. You'll find out what's included in your order.
Part 2 describes the features of your tool, particularly in comparison to a Maxiglide.
Part 3 gives you tips on how to prep your hair for straightening.
Part 4 outlines the steps needed to properly use a Sonicglide and get the best straightening results.
Parts 2 through 4 are currently in development. Stay tuned! In the meanwhile, I've got the first video ready for your viewing pleasure!
Got questions I didn't answer? Please leave your comments below.
If you have trouble viewing the video above, click here to view this on YouTube.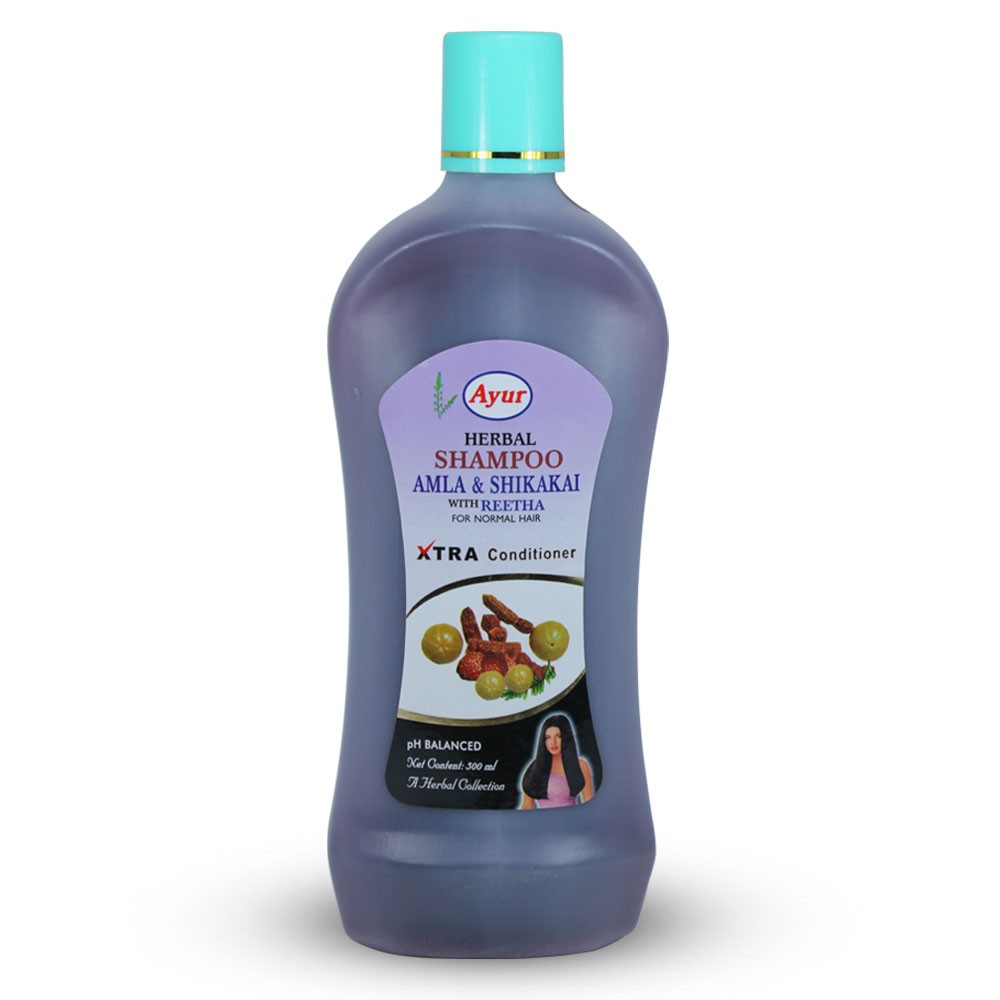 The last time I embarked on a Vatika Oil run, I caught sight of Ayur Herbal Shampoo. As I expertly juggled three bottles of Vatika in my arms, I figured there was room for one more item and picked up the shampoo. Now that I've tried it, let me fill you in on the goods.
Ayur Herbal Shampoo with Amla, Shikakai, and Reetha is marketed as being an extra conditioner for normal hair. According to its package, "its rich lathering formula leaves hair exceptionally lustrous and healthier. Natural herbal extracts clean the scalp, retaining its natural oils. It is also helpful in case of dandruff, falling, and greying of hair, etc."
Price
This shampoo can be purchased for $8 at your local cash and carry. You can also click on the links above to purchase.
Ingredients
Aqua, Sodium Laureth Sulphate (foaming and cleansing detergent), Cocomonoethanolamide (a foaming agent), Cocobetain, Amla (Embelica officinalis) Extract, Shikakai (Acacia concina) Extract, Reetha (Sapindus mukorossi) Extract, Propylene Glycol, EDTA (a stabilizer), Phenoxyethanol, Methyl Paraben, Propyl Paraben, Imidazolidinyl Urea, Colour, Fragrance.
As noted above, this shampoo contains the following herbal extracts:
Amla (Indian Gooseberry) – delays graying & prevents hair loss.
"Reetha is an excellent conditioner." – used in soaps and shampoos; derived from a plant.
Shikaikai (aka Acacia Concinna) –derived from a plant that has a low pH, this natural shampoo does not strip hair from its oils.
Despite all the good stuff, Ayur is not chemical free (reread ingredients above). It contains sodium laureth sulphate, a harsh cleanser that can be a deal breaker for some curlies. Given the inclusion of this ingredient, I wouldn't use Ayur more than once or twice a week … which is exactly what is recommended on the label. Sometimes you really do have to read and follow directions!

Scent
Ayur has a light, herbal scent. It isn't the least bit overpowering, so there's no need to worry about fainting spells.
Look
Ayur has a thick, syrupy texture and purple color (points!). Nothing out of the ordinary.
Application
Ayur easily lathers and distributes evenly onto my hair. A little goes a long way. You'll only need to apply it to your hair once in order to clean it. My curly mane already felt clean, but not stripped, after its first wash. I decided to lather up again in order to fully test the product. Although my hair felt drier on Ayur's second application, I could tell that my natural oils weren't completely removed. Thumbs up.
Moisture & Feel
As the company claims, Ayur doesn't appear to strip away my natural oils. After washing it out, my hair felt soft, perhaps even softer than after using other shampoos containing sodium laureth sulphate. The minimal stripping may be credited to Ayur's herbal extracts.*I already had Vatika oil in my hair before washing, so please factor this in.
Final Verdict
If your hair and/or scalp is sensitive to chemicals like sodium laureth sulphate and/or herbal ingredients, stay clear of this shampoo. If your hair and/or scalp if flexible, give this one a try. Ayur is great for removing build-up and cleaning textured tresses without stripping strands. I was pleased with the results but would caution from using this too frequently. It was too soon for me to note whether this will prevent graying and hair loss, but I'll include this in my rotation over the next couple of months and update this post.
Have you tried Ayur Herbal Shampoo or something similar? Share your experiences below.