You cannot choose your battlefield; God does that for you, but you can plant a standard where a standard never flew." ~ Nathalia Crane, The Singing Crow And Other Poems
Wash and go's are the way to go for many of us naturally curly girls. Often this means turning to a fave gel to help capture our curls and waves. The choices vary, but only a few products truly come in swinging and rank towards the top. Curlies, grab your tennis rackets and werk your fiercest 'fros. It's time for another Product Battle!
On the left, we have Fantasia IC Gel. This contender is familiar with the battle scene.
IC is often compared to the likes of many similar products, but its results are easily remembered. According to the package, IC "delivers the greatest shine on earth and revitalizes and strengthens damaged hair." IC also has a variation that includes olive oil, sparkle lites (for shimmer), as well as a line for color-treated hair.
On the right, we have Eco Styler Protein Styling Gel aka "black gel" aka "brown gel." Also a longtime opponent, this gel is known for having a smooth start and a firm finish. Eco comes in a range of rainbow-colored lines geared towards a wide range of hair needs – from color-treated tresses to active, sporty manes. According to its package, Eco is "for all hair types and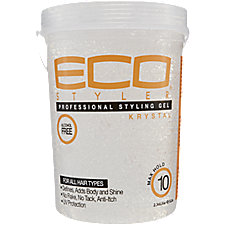 used by professionals." You can also click here to read my review of Eco.
The Rules
Both products will be measured according to My Curly Mane's criteria. A full point will be given for successful completion of each category. A half point will be given for satisfactory results. The categories are: price, ingredients, scent, application, look, feel, and the wild card—ability to produce second day hair. Final scores can range from zero to 7 (perfect) points.
Let's get ready to battle!
1. Price
Fantasia High Potency IC Hair Polisher Styling Gel, with Sparkle Lites= approximately $4 for a 16 oz. jar
Eco Styler Protein Styling Gel or Eco Styler Krystal Styling Gel (pictured above) = approximately $3 for a 16 oz. jar
Both products are really affordable! It's just about as good as it gets. These competitors each deliver a drop volley and backspin their game to earn full points.
IC
Point = 1/Total = 1
Eco
Point = 1 / Total = 1
2. Ingredients
IC and Eco are water based, since this is the first ingredient in both of their listing. In fact, these gels contain similar items, including protein. If you are protein sensitive, stand clear! Let's move closer to the court and see how these players stack up.
Fantasia IC Hair Polisher is "formulated for color treated and chemically damaged hair. It repairs, restores, and resurfaces hair. This polisher seals, smooths, shines and locks in color for semi-permanent and permanent hair color." This gel is also touted for its aloe vitamins and wheat proteins. The full list of ingredients is: Purified Water (Aqua), Glycerin, Carbomer, Triethanolamine, Aloe Vera Gel, Dimethicone Copolyol, Tocopheryl Acetate, Hydrolyzed Wheat Protein, Polysorbate-20, Benzopehonoe-4, Methylchloroisothiazolinone, Methylisothiazolinone, Disodium EDTA, Fragrance.


This product is free from:

silicone, sulfates, and paraben. Updated 8/4/13: This product actually does contain silicone in the form of Dimethicone. Nearly missed this one! Thank you, DrSelina for the catch! Since this is my oversight, I'll allow IC to maintain its point … for now. 😉
Eco Styler has an olive oil version that "contains 100% Pure Olive Oil for deep down conditioning while maintaining maximum hold." Most of its formulations "contain UV Protection and help your scalp regulate its natural moisture system." The full list of ingredients is: Water, Carbomer, Hydrolyzed Wheat Protein, PVP, Glycerin, Triethanolamine, Sodium Hydroxymethylglycinate, Polysorbate 20, Tetrasodium EDTA, Fragrance, Love and Pride (nice).


This product is free from:

silicones, sulfates, and alcohol.
Both products hit hard and deliver when it comes to their ingredients. Deuce!
IC
Point = 1/Total = 2
Eco
Point = 1 / Total = 2
 3. Scent
IC has a light, clean fragrance.
Eco's assortment of gels varies in aroma, from yummy grape (Eco Protein) to fresh laundry (Eco Krystal).
Both IC and Eco go easy on the nostrils. No fainting spells from these two! In fact, they're equally able to hit the "sweet spot." IC and ECO serve it up and earn a full point.
IC
Point = 1 /Total = 3
Eco
Point = 1 / Total = 3
4. Application
For wash and go results, each product must be applied to damp, freshly washed hair. You can see my 10 steps for a wash and go for details. I rake and smooth each item onto my hair, applying them over Beautiful Textures Tangle Taming Leave-in Conditioner and topping them with Vatika oil. They can also be used to slick down your hairline. For their similar skills, IC and Eco keep it neck and neck. They each drop shot and earn a point.
IC
Point = 1 /Total = 4
Eco
Point = 1 / Total = 4
 5. Look
Worried about flakes? No need. IC and Eco are flake free. Both gels also do a great job of defining curls and keeping frizz at bay. However, each delivers a different look.
IC lives up to its promise and makes curls shine. It's reminiscent of aloe vera gel (AVG)–yet another comparison as mentioned above–but this is because AVG is one of its main ingredients. However, IC differs from AVG by making my curly mane look limp in appearance. My curls have more hang time, which isn't quite what I'm going for.
Eco comes in formulations with holding strengths that range from 1 to 10 (the strongest hold). It dries crunchier than IC, so you will need to scrunch out the crunch from this gel. This same holding property also captures and clumps together bigger curls. It also creates more lift as each day goes by. By the third day, my curly mane is at its optimal, full effect. We're talking about big hair, which I love!
Eco takes a deep shot and literally gets the "advantage."
IC
Point = 0/Total = 4
Eco
Point = 1 / Total = 5
 6. Moisture & Feel
Like AVG, IC immediately softens my hair. This is thanks to (you guessed it!) AVG and glycerin! Eco instantly leaves hair crunchy, but it gets softer once the gel cast is removed (through scrunching). You can also oil your hair to soften the look.
For its uber cushiony-ness, IC aces it. Eco gets a half point.
IC
Point = 1 /Total = 5
Eco
Point = 0.5 / Total = 5.5
7. Wild Card/Tie Breaker: Second day hair
With IC and Eco, my curly mane is able to get second and third day hair! You'll need to pineapple overnight to preserve the look. At the very least, sleep on a silk/satin pillow case or use a silk/satin cap. Both players take a backhand shot and lob for a point. Match point.Eco.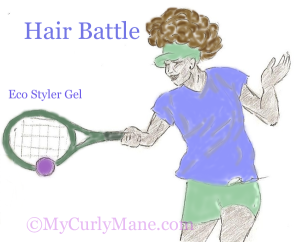 IC
Point = 1/Total = 6 out of 7
Eco
Point = 1 / Total =6.5 out of 7
And the winner is: I have spent many times going back and forth between the two (picture head continuously moving left and right as I watch the rally), and both products are impressive. After watching how each plays with my hair, it all comes down to the look. I "love" bigger, more defined curls, which Eco delivers. I also know that I can get a softer feel by scrunching out the gel cast and applying oil to Eco. If you oil your hair on the second and third days, you're pretty much good to go. Game. Set. Match. Eco is the winner!
© 2012 – 2017, mycurlymane.com. All rights reserved.

Copyright secured by Digiprove © 2012-2013
Related posts: