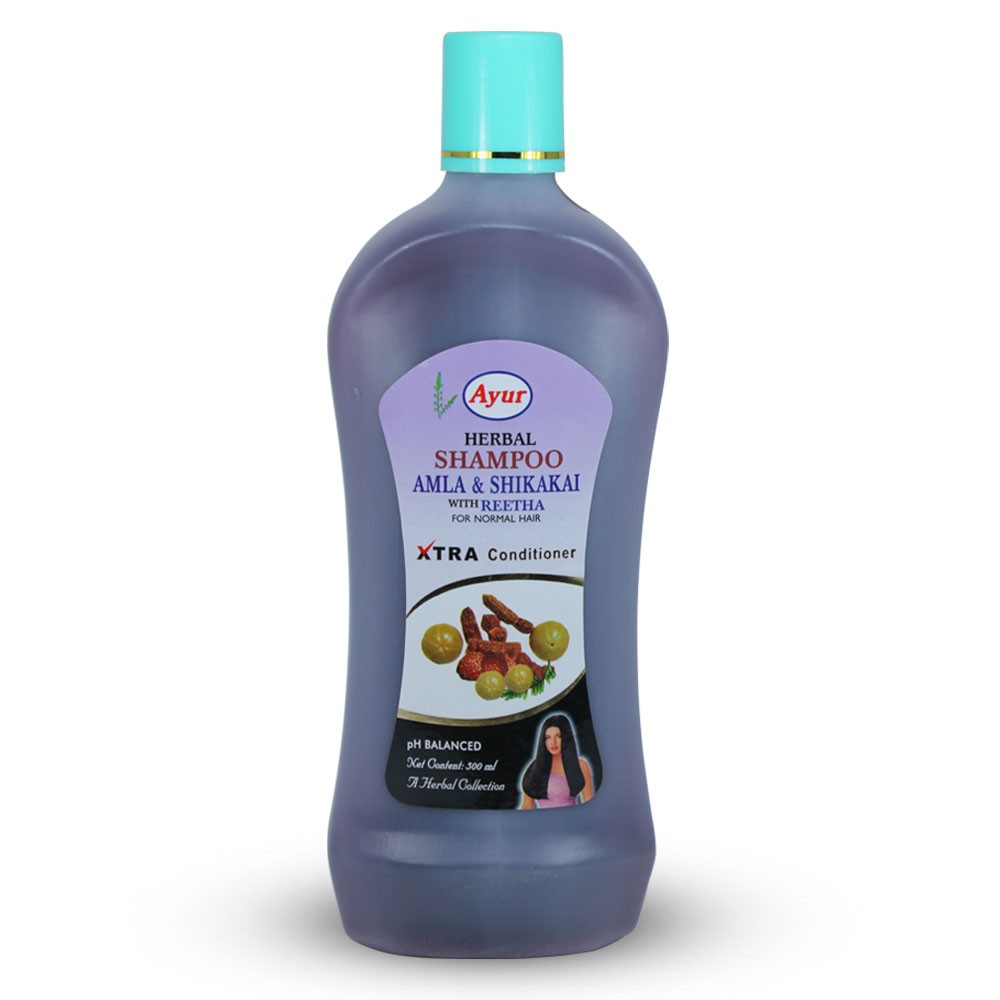 The last time I embarked on a Vatika Oil run, I caught sight of Ayur Herbal Shampoo. As I expertly juggled three bottles of Vatika in my arms, I figured there was room for one more item and picked up the shampoo. Now that I've tried it, let me fill you in on the goods.
Ayur Herbal Shampoo with Amla, Shikakai, and Reetha is marketed as being an extra conditioner for normal hair. According to its package, "its rich lathering formula leaves hair exceptionally lustrous and healthier. Natural herbal extracts clean the scalp, retaining its natural oils. It is also helpful in case of dandruff, falling, and greying of hair, etc."
Price
This shampoo can be purchased for $8 at your local cash and carry. You can also click on the links above to purchase.
Ingredients
Aqua, Sodium Laureth Sulphate (foaming and cleansing detergent), Cocomonoethanolamide (a foaming agent), Cocobetain, Amla (Embelica officinalis) Extract, Shikakai (Acacia concina) Extract, Reetha (Sapindus mukorossi) Extract, Propylene Glycol, EDTA (a stabilizer), Phenoxyethanol, Methyl Paraben, Propyl Paraben, Imidazolidinyl Urea, Colour, Fragrance.
As noted above, this shampoo contains the following herbal extracts:
Amla (Indian Gooseberry) – delays graying & prevents hair loss.
"Reetha is an excellent conditioner." – used in soaps and shampoos; derived from a plant.
Shikaikai (aka Acacia Concinna) –derived from a plant that has a low pH, this natural shampoo does not strip hair from its oils.
Despite all the good stuff, Ayur is not chemical free (reread ingredients above). It contains sodium laureth sulphate, a harsh cleanser that can be a deal breaker for some curlies. Given the inclusion of this ingredient, I wouldn't use Ayur more than once or twice a week … which is exactly what is recommended on the label. Sometimes you really do have to read and follow directions! 🙂
Scent
Ayur has a light, herbal scent. It isn't the least bit overpowering, so there's no need to worry about fainting spells.
Look
Ayur has a thick, syrupy texture and purple color (points!). Nothing out of the ordinary.
Application
Ayur easily lathers and distributes evenly onto my hair. A little goes a long way. You'll only need to apply it to your hair once in order to clean it. My curly mane already felt clean, but not stripped, after its first wash. I decided to lather up again in order to fully test the product. Although my hair felt drier on Ayur's second application, I could tell that my natural oils weren't completely removed. Thumbs up.
Moisture & Feel
As the company claims, Ayur doesn't appear to strip away my natural oils. After washing it out, my hair felt soft, perhaps even softer than after using other shampoos containing sodium laureth sulphate. The minimal stripping may be credited to Ayur's herbal extracts.*I already had Vatika oil in my hair before washing, so please factor this in.
Final Verdict
If your hair and/or scalp is sensitive to chemicals like sodium laureth sulphate and/or herbal ingredients, stay clear of this shampoo. If your hair and/or scalp if flexible, give this one a try. Ayur is great for removing build-up and cleaning textured tresses without stripping strands. I was pleased with the results but would caution from using this too frequently. It was too soon for me to note whether this will prevent graying and hair loss, but I'll include this in my rotation over the next couple of months and update this post.
Have you tried Ayur Herbal Shampoo or something similar? Share your experiences below.
© 2013, mycurlymane.com. All rights reserved.

Copyright secured by Digiprove © 2013
Related posts: