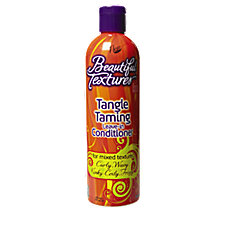 Pop! Bounce! Sway! That's the sound of my tresses doing their dance the minute they're caressed by Beautiful Textures Tangle Taming Leave-in Conditioner. I have used this leave-in consistently for the last month, and … I am a fan of this product!  Attention! Attention! Here lies a product that actually lives up to its promise. Yes, curlies. We have lift-off.
Here's the rundown. A few months ago, I discovered Beautiful Textures on a trip to one of my go-to beauty supply stores (BBS). I entered the store with the intention of purchasing my previous staple, Silicon Mix's Leave-in Conditioner. I turned the corner toward the Dominican section. You know the aisle with Lacio Lacio, La Bomba, and the other major Dominican players?
Well, on my way towards that area, I heard audio coming from another aisle. I walked over and was nearly blinded by a sea of bright yellow and orange. The colorful packaging of Beautiful Textures' entire product line was on display, accompanied by a looping video of apparent biracial women swinging their pretty curly manes (some curls looked much better than the others that were featured).
Why biracial babes? Beautiful Textures is marketed as being "for mixed textures," which made me pause and question if any of the products would work for tighter textures like my own. I also questioned the quality of the packaging and some of the model's hair, but that lasted for a minute, as my curiosity and product junkism reared its ugly head again. Within a few seconds of scanning the product line, I swiped the Tangle Taming Leave-in Conditioner (approximately $6), Curl Control Defining Pudding, and Moisture Butter Whipped Curl Créme—all of which I will review just for you!
Let's begin today by focusing on the Tangle Taming Leave-in Conditioner. I'm still surprised to admit that I'm hooked on this bad boy! Yes, I have fallen hard, but I don't want to be too hasty! I've got to let the love affair take its steady course. 😉
Beautiful Textures Tangle Taming Leave-in Conditioner has a thick, creamy consistency, so gauge your application according to your strands. I apply a generous amount to my freshly washed hair, basking in its fruity scent. Not to worry. The smell isn't overpowering, at least not for me. If it does bother you, take comfort in the fact that it doesn't linger for long.
The minute the cream touches my hair, it melts into it. I instantly notice a difference. My strands curl and spring into place, easily becoming defined. This isn't a chemical reaction. Rather, it's my hair soaking up the yummy goodness that the leave-in provides. The slippage this product gives is amazing. It allows me to easily separate my curls for finger combing and styling. It also works well with my stylers (aloe vera gel included), possibly even enhancing them.
While the distribution is impressive, this tangle tamer clearly nourishes my tresses from the inside out. After using it, my hair is much softer and moisturized compared to other products. In case you don't already know, naturally curly hair thrives with moisture. Without it, you'll quickly spiral into the land of hair breakage.
This product is jam packed with oils upon oils as well as aloe vera gel, which my hair loves. Other ingredients include: Aqua, Olea Europaea Fruit Oil/Olive Oil, Argania Spinosa Nut Oil/Argan Oil, Glycine Soja Oil/Soybean Oil, Cocos Nucifera Oil/Coconut Oil, Butyrospermum Parkii Fruit/Shea Butter, Mangifera Indica Seed Butter/Mango Butter, Rosmarinus Officinalis Leaf Extract/Rosemary Extract, Aloe Barbadensis Leaf Extract/Aloe Vera, Dimethicone, Panax Ginseng Root Extract/ Ginseng Extract, Polyquaternium 37, Propylene Glycol Dicaprylate/Dicaprate, Hydrogenated Vegetable Oil, Glycerin, DMDM Hydantoin, Cetearyl Alcohol, Ceteareth 20, Polysorbate 20, Propylene Glycol, Imidazolidinyl Urea, Phenyl Trimethicone, CI 15985/Yellow 6, Parfum/Fragrance, Benzyl Benzoate, Benzyl Salicylate, Coumarin, d-Limonene, Hexyl Cinnamal, Lyral, Methyl Ionone Gamma.
It is free from: paraben and protein.
Pull the brakes! If your hair hates oils and aloe vera, sadly, this one may be a no go for you. Stick with whatever product your hair likes best and ignore me … well, just this once! LOL!
I really do hope that someday there will be one miracle product that fits all curlies, and we can skip along together, curls bouncing along into the sunset. Of course, that would mean that all of our curly manes would be the same, and what a boring world that would be!
Beautiful Textures has finally launched its Web site. You can learn more about the product line and catch those videos that piqued some of my interest by visiting: http://www.beautifultextures.com
© 2012 – 2016, mycurlymane.com. All rights reserved.

Copyright secured by Digiprove © 2012-2013
Related posts: