The final video in the four-part Sonicglide series is here! Phew! Thank you for your patience. In this video, I show you the steps you can take to straighten your natural hair with this professional flat iron.
The Maxius Sonicglide is almost exactly the same as Maxius' Maxiglide hair straightener. Like the Maxiglide, the Sonicglide uses steam to hydrate and straighten hair. Yes, just like ironing the wrinkles out of your clothes. Watch Part 2 in this series for details on how these two flat irons for natural hair stack up against each other.
In this video, I show how this flat iron works similar to the chase method in which a fine tooth comb is chased by a regular flat iron. I may have missed mentioning some additional tips, so I've listed them all below. They are:
*Comb out each section of hair before straightening it –before step 3 in the video. I skipped showing this part, since I wanted to focus more on using the iron for straightening, but I realize it's important for you to know this. I don't want you to rip the straightener through tangled, knotty hair! Please remember to comb out each section first before steaming out the "wrinkles."
If you get a knot while gliding, pause, detangle your hair, then continue gliding.
Steam the length of your hair with the Sonicglide before gliding/straightening your hair without steam.
Glide (not tug) the iron straight through your hair on the first pass–without bending or flipping it. Do not clamp down too hard on the iron. The whole idea is to literally glide it through your hair, hence the name. 😉
Adjust the heat to fit your hair texture. Don't cook your tresses!
Use steam and clamp and unclamp the iron to aid in curling ends. I recommend turning down the temperature of the straightener while adding curls and flips.
Roll hair in satin lined rollers overnight to create curls and waves that lasts for days.
*You'll get great results if you roll each section right after you use the Sonicglide to straighten and bump the ends.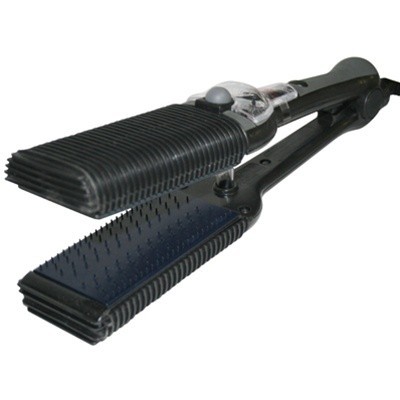 In part 3 of this series, I prepped my hair for safe straightening by doing a braid-out. You can do the same, although some naturals prefer to blow dry their hair first. This is my least favorite method, as I don't think my hair is as shiny and bouncy as it is with a braid-out. Also, this adds unnecessary direct heat to hair. As an alternative, you can prep your hair by doing a roller-set, which produces the best results.
In case you missed it, check out part 1, part 2, and part 3 of this series. You'll discover how I stumbled across this straightener while I was originally in pursuit of the Maxiglide. No, I am not paid by the company to endorse this product. Just passing the good news along.
If you can't view this video, watch it on My Curly Mane's YouTube channel. Got questions? Just let me know below.
© 2013 – 2016, mycurlymane.com. All rights reserved.

Copyright secured by Digiprove © 2013
Related posts: