More and more, all types of curlies are popping up everywhere on the television screen. Each time I spot an awesome chica with natural hair, it makes me want to break into a happy dance. For those of us who are a little longer in the tooth, there was a day, once upon a time, when you'd be hard pressed to see a lady on TV with natural hair. I'm not talking about the good ol' 70s when actresses like Pam Grier and Cicely Tyson were holding it down with their braids and afros … pause. Please tell me that you're familiar with both ladies. If not, I banish thee to Google, now!
Anyhoo, we're at another turning point, which will hopefully last beyond generational trends and politics. It's difficult to forecast since anything is possible. For now, let's optimistically hope that this popularity in pop culture is the new normal (crosses fingers).
The first sighting I caught in June is one that I'm sure you've already seen. Old Navy gave Boys II Men some props by featuring the boy band (are they too mature for such a title?) in a commercial, titled "In-Flight Entertainment." In the spot, the Boys treat us to their classic hit, "I'll Make Love To You" while seemingly aboard an airplane.
The skit continues with ladies in white Old Navy pants strutting down the aisle, including … you guessed it—a naturally curly girl. Not only does our natural haired gal model, but she also has a speaking part during which she gushes about her pants. You'll notice that her hair looks as if it's styled in a braid-out. Upon closer analysis (consisting of pausing, rewinding, and playing the commercial at least five times), it looks as if the model's texture is indeed natural. Thumbs up Old Navy!
Cheerios also got cool points for featuring an interracial couple and their beautiful biracial girl. While the young lady questions her mother about Cheerios, all I could look at was the pretty brown curls that perfectly framed her sweet face. Sadly, some viewers were too busy focusing on the couples pairing, and the commercial became controversial. For what??? Ah, people. C'mon! Watch and you be the judge … of her hair, please.
The Wendy Williams Show frequently attracts some of the most stylish ladies, particularly natural haired mavens. So, I wasn't surprised when, on June 13, Wendy's "eye candy of the day" happened to be a naturally curly girl. While she introduced herself (her name sounds like Hafeesa), all I could look at was her huuuge fro. It looked soooo majestic, and of course, it topped off her outfit.
In fact, Wendy commented by saying, ""I love your natural hair. It's big and beautiful." She also then made a point of noting to all of us viewers that it's all hers. Yes, real and styled in a wash and go. Weeeerrrrk!
Did you catch these or other curlies in June? Do tell below!
Yes, Zoë Saldana is that tough girl you've seen in Avatar and Star-Trek, among a host of other movies. No, she isn't typically whom you think of as having a curly mane, but the actress surprises us (at least me) by sharing some of her hair care routine and personal experiences within InStyle Hair, a special spring edition of InStyle magazine. Of course, you know I had to pour myself through that one!
First things first. Yes, I am showcasing images of Zoë Saldana from the June issue of Allure, while referencing an interview she conducted with InStyle Hair. After all, she is killing it in the Allure pics. No, I won't continue to go back and forth with the yeses and nos. Ha! Let's move on to Saldana. The half Dominican, half Puerto Rican beauty shares information on her culture, hair, and overall identity.
She says to InStyle, "In Latino culture, hair carries a lot of history, a lot of weight, and a lot of energy. I always liked my hair. I never wanted to have any other skin but my own, any other hair but my own. I never had that identity thing where I looked at a blond girl or an Asian girl and thought, 'Why don't I look like that?' Women who spend so much of their lives wanting to have something else miss out on learning to appreciate what they do have."
Two snaps in Z formation for that one! Saldana credits her mother for raising her and her sisters with a strong sense of self and for teaching them to question whatever they felt did not make sense. She may just be our kind of gal after all.
As for her hair, she admits that, after using a Japanese straightener for the past 10 years, she is now missing her curls.
"It's been eight months since my last straightening treatment, and I'm going to let it all grow out. I miss feeling the thickness. It's been a long time since I've woken up with my hair looking like an Afro. I want to have that again," says Saldana.
Does this mean that we'll soon see Ms. Saldana sporting her natural tresses à la actress Viola Davis? From the looks of the magic hair she's werking in these magazine spreads, textured hair really does suit her. I'm looking forward to the new Zoë, Afro and all.
In case you were wondering, Saldana also breaks down her hair routine. This includes monthly treatments with products from Kérastase's Force Architecte collection. She also washes her hair every two days using Pantene's moisturizing shampoo and pre-poos with the Parisian oil, Leonor Gryel Huile de Palme.
"Child, let me tell you—it's pretty expensive, but it works!" she says.
If you're looking for a cheaper alternative, you can always pre-poo with olive oil and, of course my favorite, coconut oil.
You can catch Zoë Saldana and her stylish mane this summer as Lieutenant Uhura in Star Trek into Darkness. The full interview with Zoë can be found in InStyle Hair, on newsstands until June 14. You can also check out more stylish photos and learn more about Zoë Saldana's beauty routine in June's Allure.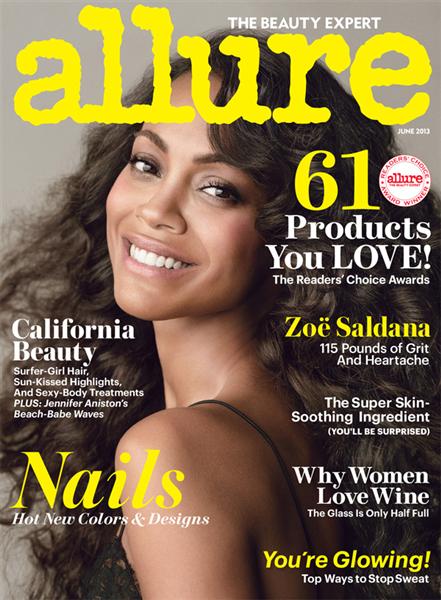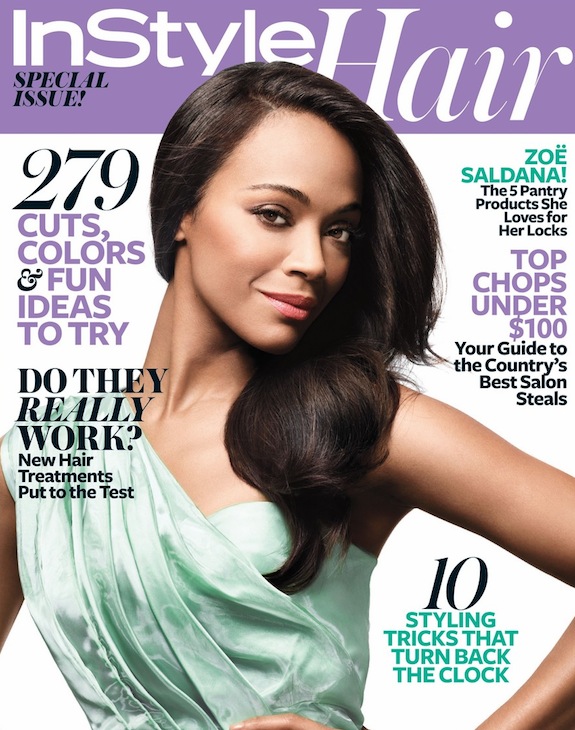 Picture this. In a Zombie Apocalypse, most of your days would be spent practicing your killer moves, hiding, or running for your dear life. But what would your hair look like? … Yes, I'm thinking waaay out of the box here, but it's a detail that hasn't been lost by the creators of AMC's The Walking Dead.
Dead Heads like me have noticed that there are now two female, African-American characters with natural hair who have joined the cast of intriguing characters. There' s Michonne, a silent but deadly warrior, who's quick with a sword. She fights fast and fearless, all while whipping around lengthy dreads. Yes, she truly whips her hair back and forth!
As you can imagine, in this impressively detailed and believably written, end-of-the-world scenario, there would be zero room for flat irons or relaxers. Ladies, count 'em out. It's all about survival here! Thank goodness the writers got this right and showed all the ladies in a natural light, regardless of race. In real life Danai Gurira, who plays Michonne, wears her hair in a short afro, which highlights her attractive facial features and allows her to go unrecognized by die-hard fans. In an interview with Zap2it, Gurira discusses the strong and unreadable female role she plays.
"A lot of people just love that she's a bad-ass. A lot of female friends keep asking my brother, 'Was she always tough like that? How did she get like that? What should we do to be like that?' … It was very deliberate to make her unreadable and an enigma. She's not going to be the sort of character you get to know quickly. That's who she is. The desire people have to see her unravel in a way, it's not going to be what they get," says Gurira.
*Rubs chins mysteriously.* Hmmm. I definitely get it. (more after the jump)
In addition to Michonne, there's a new character named Sasha, who is among a newfound group of the living. Sasha, played by actress Sonequa Martin-Green, is sweet and courageous. She also has natural hair that is kept neatly swept from her face, you know, in case she has to attack some creature or another. In real life, Martin-Green like Gurira has beautiful, natural hair that amplifies her looks. You can catch her sporting a fluffy 'do or straightened style on the red carpet or in her recently cast role in ABC's Once Upon a Time.
Now that you know that two naturally fab ladies are among the cast, will you also spend your Sunday nights peering from under the sheets in fear of who would be taken out next? Are you already watching? How would you style your hair in a Zombie Apocalypse? For me, I might have to go with a low afro since I'd have bigger fish to fry. 🙂 Chime in below, but please no spoilers!
@mycurlymane Yeaaaa!! 🙂

— Sonequa Martin-Green (@SonequaMG) May 26, 2013
Whether you're tuning to the tube or flipping through mags, these days it's tough not to spot at least one curly mane shining brightly. *My curly mane drops down and throws hands in the air.* Oh, thank you! Thank you curlies for embracing your manes! It's thanks to you that me and other former lone wolves don't have to field endless questions about what's going on at the top of our heads. Yes, there'll always be some questions and general interest, but at least we're no longer gawked at like some form of endangered species.
This is one of the reasons why I love to spotlight those of you who are out there, proudly sporting textured tresses. This includes curlies, who while shelling out products, are also inadvertently (or advertently based on who's puppet-stringing in the marketing division ;)) showcasing natural hair. This group also includes those talented ladies, who while working their wicked manes, stand out for simply being themselves.
In case you've missed it, grab a snack and relax. Let me fill you in on the latest batch of curlies—spotted!
Working Realness On Wendy
On January 13, 2013, The Wendy Williams Show featured American fashion designer Norma Kamali. She is best known for her sleeping bag coat, a garment made from silk parachutes—think of your fave blanky remixed with Missy Elliot's "I Can't Stand The Rain" garbage bag outfit and stitched to meet the sophistication of Audrey Hepburn. Still with me? Picture it for a moment and come back.
While Kamali was at Wendy, she treated us to a mini fashion show of her latest threads worn by real women. Out of the group, my eyes could not stop staring at a curvaceous curlie killing it on the catwalk. She's not only stunning, but her hair is to.die.for.! Lady, we applaud you.
Pretty-Poofing On The Phone
You already know that Samsung Galaxy S3 is one of the hottest phones on the market. So, I almost ignored the commercial when I heard it coming on the TV. That was until I looked up and spotted—another curlie! This curly girl had me running to the TV to freeze frame and drool over her hair. Although I've been rocking a middle part for the last month, I'm now contemplating how to construct a wickedly deep side part ala this mop-top maven.
Mega Musical Mane At The Beyoncé Bowl
We all know the facts. Beyoncé killed it at the Super Bowl. While I was in a daze, taking Bey in and two-stepping it to "Single Ladies," I paused for just a second. Can you guess when? Not when Kelly and Michelle popped up onto the stage. Not when Beyoncé started super stomping and dutty whining. Yup, you guessed it. It was when famed guitarist Bibi McGill took the stage with her exploding guitar and electric mane. McGill, the event's musical director, delivered not only in the presentation but also with her fierce 'fro.
In case you were busy sulking because the Giants weren't in the Super Bowl (like I was at first) or passed out from a food coma (like I was late in the evening), check out Bibi's solo and curly mane in the half-time video (Bibi literally explodes onto the stage at 3:13).
Get These Looks
All of the ladies mentioned above are showcasing the beauty of wash-and-go hair. If you're still wondering how you can get solid wash and wear results, read and try my 10 steps.
Although we're in a new year, I want to flash back a few months and catch you up on a curlie I recently spotted. Something tells me that once or twice, your eyes caught sight of her too.
Picture this. I was going about my typical routine after coming home from work. I swung the door closed, dropped a couple of bags at my feet, and threw my keys on the nearest table. In my freed hands, I quickly rummaged through my mail until … I found the fall 2012 catalog for J.Crew.
For me, J.Crew = cozy sweaters and turtlenecks. I really didn't need much assistance to turn the pages towards that section, but to help their cashmere stand out even further, the preppy shopping staple featured a stunning model with a full-on mane! She practically roared from the pages (albeit quietly, as seen in the image on the left).
Ironically, a week later, a mailer from Sephora came and there was that model yet again! I kid you not! It was the same beauty with her curly 'fro. I had to know who she was! You too? In case, you missed the many fashion features bubbling up on the net, the stunner in the cozy blue threads and makeup ads is Julia Sarr-Jamois, fashion editor for Wonderland magazine.
She's not only easy on the eye, but she also sports enviable curls. Sarr-Jamois is a talent with an eye for fashion. Her savvy street styles is what made her one of J.Crew's features in the fall campaign centered on real-life fashion-forward folks.
Diego Scotti, J. Crew's chief marketing officer, says to Women's Wear Daily, "We chose very accomplished people who have an impact on our customers and culture in general. They appreciate quality and detail. Our customers identify with them, but the campaign is not about celebrities."
While the focus of the campaign is on the line's bags, suits, and sweaters, I believe that Sarr-Jamois steals the show. Despite J.Crew's efforts to not choose a celebrity, Sarr-Jamois is and rightfully can be called a celeb. She has been placed center stage in these campaigns and as the subject of many street photogs and bloggers, including yours truly.
Sephora describes her as an editrix (love that term). While I was searching for Juliet Julia (Ever seen that movie? I digress.), I discovered that the half Senegalese and half French stunner is 23 years old. She also addressed the excitement centered around her curls in an interview with Vogue. Sarr-Jamois outlines her simple, wash 'n go routine and likens wearing her hair loose in the summer to wearing a fuzzy Prada hat. I can definitely relate!
"I've never really been into makeup. My hair is my statement, along with my clothes," says Sarr-Jamois. "The only thing I won't wear with my hair is flared jeans. I love them, but that look is way too seventies-child."
Ah, Julia (throws fists up in the air and shakes them)! I love, love flared jeans. No worries. I'll bring back the seventies for you. Just keep on inspiring us with your styling. Keep an eye out for this one curlies! You can view more pics of Julia Sarr-Jamois' hair and fashion below.
A few months ago, I was asked by a colleague to speak with an intern about her pursuits in the communications field. I gladly obliged and had lunch with this budding professional. I already knew that she was leading several college organizations, acing her grades, and working at a restaurant in addition to her studies and internship. What I didn't know was that … she's a curly girl! Spotted! Izzy, our super smart and savvy curlie, agreed to share with us the secrets to her long, luscious mane.
Nay: What is your routine?  Spill the beans!
Izzy: My routine is low and high maintenance at the same time! I wash it every 4-5 days. On the first day, it's flatter, and on the second day it picks up volume.

Nay (staring at Izzy's cascading curls): What products do you use?
Izzy (graciously whips out her products and lines them up): For shampoos, I don't see any miracle products. They're all the same to me. I've yet to find one that makes a difference, but I do choose them by scent, as long as it smells good! I use Suave Humectant Moisture Shampoo. As a regular conditioner, I sometimes I use Silicon Mix Pearl, but my favorite is Silicon Mix Bambu Treatment  because it smells amazing! (haha). It's the best!

Nay: Ahhh, Silicon Mix. I used to swear by their leave-in conditioner. Have you ever used it?
Izzy: No, I haven't. I actually don't use a leave-in.
Nay (rubs ears to check if all is clear): What? What's that you say?
Izzy (laughs): No, I don't use a leave-in conditioner. It makes my curls frizz in combination with the gel. My conditioner, the treatment, is like miracle whip! I also use a paddle brush to detangle my hair in the shower. I detangle everything except the last, bottom two inches of hair. I work that with my hands. It's a lot faster.

Nay (continues drooling over her curls and waves): That sounds similar to my routine, except I work my way up my hair. You have a lot of hair! How long does this take you to do it?
Izzy: It takes me about 20 minutes in the shower. That was unheard of when I was younger. I used to be in the bathroom for long time, trying to detangle my hair. It was painful. Now, after I detangle, I use Eco Styler Krystal Gel.
Nay: Ah, the infamous Eco! That gel changed my life when I first began wearing my hair naturally curly. How'd you discover it?
Izzy: I've been using it for 6 years now. Before that, I couldn't find anything that worked with my hair. It wasn't until high school that I learned how to do my hair from a friend. She had curly hair and used Jheri Redding Hair Gel (it was pink in color and created by the inventor of the Jheri curl! He also co-founded Redken and Nexxus). That was a great product … but got discontinued. I had to keep looking for a gel that gives me a soft hold. I tried L.A. Looks, but that flaked.  Garnier  Citre Shine—No! My hair hated it. I had to try a couple of things before I found the right products, before I found Eco – best thing ever. I also learned from my friend how to apply products in sections, which I had no idea about before.
Nay (hungry for more information): Aside from applying products in sections, how else do you style your hair? When I use Eco, I apply oil over it and use heat to stretch my hair.
Izzy: I haven't tried oils or heat. Just Eco. I sleep on my hair (loose) to help soften my hair. It frizzes a little, but it looks good.  I leave it down the 1st 3 days. The next few days, I use a little Frizz-Ease Dream Curls to define my curls when they get frizzy, or I use a mixture of water and gel and spritz it. On the fourth day, I apply the spritz and pull it back. For my job as a server, I have to have my hair above my shoulders, so I wear it up in a big, loose bun. I keep it loose, so my curls stay in normal shape when I take it down.
Nay (envious that this curly can still get great 2nd day hair without pineappling overnight): So far my hair shrugs at spritzes, but you're one of those curlies who seem to have it down. Let's take it back a bit. What were your experiences like as a kid curlie?
Izzy (Cuing Gaga. Just kidding!): I was born this way, but I hated it back then. My parents are from the Dominican Republic. My mom has thick, curly, dense hair, but she always relaxes it. She never wears it curly and out. My dad has thick, wavy hair. I have a mixture of their textures, so they didn't know what to do with my hair. My mom did a lot of ponytails and braids to my hair. When I got older, I would always wear it in a bun. It was easier and hid my hair. I wore it like that so much that I got really big knots … which created more problems. People always told me that my hair wasn't good, and I should straighten it.
Nay (sighs): That's always the worst—to have other people tell you that you need to change the very same things that are a part of you. With all this hair pressure, did you ever straighten or perm your hair?
Izzy (spurring a discussion about relaxers and perms and the mixed usage of these terms): I relaxed my hair once, and I loved it. People told me I looked better with my hair straight, but my mom was furious. She didn't want me to have chemicals, so I grew it out. My worst experience was when I went to a hair academy to get my hair straightened through a roller set and flat iron.
Nay (reminiscing on my own, fortunately positive experience at a hair academy): Uh, oh. What went wrong?
Izzy (rattling off the salon's errors): It hurt when they detangled my hair. The store was closing, so they didn't have time to finish fixing it. Plus, they didn't really know how to get it straight. It was like a battle they weren't winning. I walked out with my hair unfinished and frizzy. It was in that in-between stage where it wasn't curly, and I didn't know how to make it straight. I only paid $12, but I felt depressed. I thought; is my hair that bad?
Nay: These types of experiences will cause you to blame your hair, when really it's the lack of curly hair knowledge that's the problem. I can't imagine that things are still the same. You've had to have some good experiences now.
Izzy: Now, yes. I remember one experience that made me think twice about my hair. I was working as a cashier at a children's retail store.  A lady came up and asked me where I bought my hair. I showed her that it's real, and she actually said that I was lucky. She would pay for it!
Nay (knowing full and well that I'd throw down for her curly mane): And we all come full circle. I'm convinced that once you accept your hair and decode its mystery, you're able to look and feel your best. What do you think of other curlies embracing their manes?
Izzy: I think it's awesome that they're embracing their natural hair. Not many do because of the conditioning they get as a child. On my 21st birthday, I wore my hair naturally curly, but my cousin asked me why I wasn't going to get it straightened for this special event. It wasn't said in a bad way; it's just the mentality.
Nay: Do you have any additional tips for naturally curly girls out there?
Izzy: You'll embrace your curls when they look good, when it's healthy. You just have to find the right products. I use Eco and a good conditioner. You don't need that many products! You also have to have a little patience. You will find the right products and routine.
We're lucky. We can wear our hair straight or curly. Like my boyfriend said to me, we look unique because you don't really see that many people with our hair. I never thought about it that way. Curly hair is our signature. Why take it away?
I think there is beauty in everything. What 'normal' people would perceive as ugly, I can usually see something of beauty in it."
~ Alexander McQueen
Strut. Strut. Pop. Twirl. Werk it like a supermodel, girl! New York Fashion Week 2012 has come to a close, with style forecasters predicting that ladies will don color, sparkle, and prints for the fall season. Yet, there's another overlooked trend that caught my attention. I'm sure you've probably guessed it. Yes, my friend. We have curls!
Our catwalk curls are courtesy of skilled designers Mark Badgley and James Mischka, the team behind Badgley Mischka. According to the designers, their show was inspired by the 1920s German Impressionist film, Metropolis. I've never seen this movie, but I noted the throwback details (fur collars) blended with modern accents (cut out details of each dress). Naturally, I applaud them for using purple and blue tones (Glad they got the memo! 😉 ) along with the gilded and rose-colored fabrics. The slightly Gothic makeup—I adore.
Now, I know you're questioning where curls factor into this piece. Well, they were everywhere! Each model took the stage with short, textured hair that perfectly framed their faces. The 'dos were light, fluffy, and airy looking, hinting at a romantic feel. It reminded me of previous shows by Brit designer Vivienne Westwood (love her work), who's no stranger to highlighting curly hair or taking any risks for that matter. For Badgley Mischka, textured tresses amplified their regal, feminine looks.
If your hair already looks like this, you're in luck … and fashionably on point! If not, you can mirror this look by volumizing your hair with an afro pik, or lightly separating your curls by hand. Frizz is your friend for this look, so feel free to play. If you have shorter locks, you have an advantage, as you can easily fluff your hair (through a pik or by hand) to frame your face. For tighter curls, try roller setting, braid-outs, or twists-outs to duplicate this texture. Don't forget to add a side part.
While I am happy to see curls on the runway, I have to pose a few questions. Do you think that Badgley Mischka's fall line should have included a diversity of models, sporting a variety of curls? Do you think the simple presence of textured hair on the catwalk is enough, since they were capturing a period, and we should count it as a win for all of our curly manes? Please share your thoughts and don't forget this season's trends. You better werk!
Approximately 6.1 million of you tuned in to watch this year's MTV Video Music Awards (VMAs) either to catch a glimpse of One Direction, laugh with Kevin Hart, listen to Pink rock out, or watch how the Chris Brown-Rihanna-Drake saga would unfold. However, do you know the true star of the show? Spotted! Two unique manes!
Our first curlie cat walked to the beat of her own drum. I'm not talking about the typical spirally locks that are highlighted in the media. Our natural haired lady took it waaay back to Hammer time! She, whose name I unfortunately don't know, was one of the night's models. She was tasked with escorting winners to and from the stage.
She immediately caught my eye when pop star Rihanna accepted her award. Ri Ri looked spectacular, and I was focused on her until … a leggy beauty handed her a VMA. The model's svelte, sexy frame was complemented by her sparkly dress and … high top fade!  Yes, this beauty took the afro to new heights … literally! Her look was signature Grace Jones. I wouldn't be surprised if experimental Rihanna also made a mental download of her hair and will mirror it as her next look.
Just as I was in awe of this feminine fade, out came yet another natural beauty onto the stage. Our second gal was spotted performing as a backup singer for country teen queen Taylor Swift. In fact, she wasn't in the background. She was performing side by side with the star for the majority of the performance, placing her full-on curly mane on display, on display, on display (okay, enough with The Real Housewives reference). She whipped her curls about, animating the song and easily drawing me in.
Did you see it?? Are you inspired to rock out with these looks? If you've always done braid-outs, follow our second curlie and try a wash and go (click here for my 10 steps). If you're looking for a funky new look, especially if you are big chopping, try our first gal's 'do. You can even take it to another level and add colors or designs! A bit too extreme for me, but still a pretty cool look indeed.
Have you tried a fade or similar unique look? Did you steal the show? Feel free to share your story below.

This Labor Day weekend, I was fortunate to celebrate with good food, music, company, and conversations. Among the discussions was talk of naturally curly hair. Yes, yes, if you're around me long enough, the conversation does veer into fashion, art, pop culture, and hair! No one is safe!
So I was overjoyed when mom of three boys (bless her), LaToya, willingly shared her hair story for us to learn from. The themes she addressed will ring familiar for some of you. For others, it's good to know that you are not alone. We are here with you, though you're far away … Okay, I'll cut it out. Back to my Q&A with LaToya.
Nay (eyeing LaToya's wavy hair, tied in a ponytail): Your hair looks great! I hope you don't mind the question, but is your hair natural?
LaToya (raises ponytail): Thank you, but these curls are weaved.
Nay (drops mouth wide open, stunned at being duped but impressed by how naturally the weave blends into LaToya's hair.): It is??
LaToya: Yes, I'm wearing a weave, but my hair needs a rest from it. It's been a while now, so I'm going to take it out.
Nay (promising that I'm not a natural hair pusher): You're working the weave, but what about the rest of your hair? Is it naturally curly?
LaToya (surprised by my own surprise): No, I have a perm, but I have gone natural before. I wore my natural hair for 10 years, beginning when I was 18 years old. It was my senior year in high school. My sister was getting married, and a beautician did everyone's hair for the wedding. I got a bad perm that was left in my hair … She didn't wash it out completely.
Nay: Gasp!
LaToya: Yes! It led to a lot of breakage, so I just decided to go natural. I wasn't alone (cue song). My best friend went natural when I did. I also had an old-school stylist who knew how to take care of natural hair and helped us to transition. Whenever I wanted it straight, she simply pressed it. I also tried a lot of products like hair mayonnaise.
Nay: You went natural for a long time. What happened?
LaToya: I like to be versatile. Weaves had trouble blending into my natural texture. I sweat a lot too, and when I sweat, it causes a big puff. Permed hair is easier to weave. Your look stays preserved. Plus, I can go to a salon and have a beautician easily do my hair. I don't have to figure it out.
Nay: So what's your hair plans for now?
LaToya: I'm staying permed for now but taking time out from weaves. I do miss my natural hair. It was longer and healthier.
Nay (I'm not a pusher!): Do you think you'll go back to being natural?
LaToya: Actually, my best friend stayed natural. She has figured it out, and her hair is nice. For me, it's hard to find products that I can consistently use and will moisturize my hair, but I heard Carol's Daughter is good. I'm also seeing more salons that know how to do natural hair.
Here lies most of our problems and an issue that drives many curlies back to straightening and perming—maintaining natural hair's moisture (click here to read my tips on how to moisturize curly hair) and acquiring reliable products for styling. A las, there is hope. We are finally making strides, and resources are increasing each year. Plus, as a community, we have nailed down some methods and acquired the basic science to our hair. Of course, you'll find details here at My Curly Mane. Yes, Virginia, there is a Santa Claus!
Have you had a similar journey as LaToya? Please feel free to share your story.
Stay tuned for an interview with LaToya's son Jaden, whose naturally curly hair will bring you tears of joy.
It was just another Saturday dedicate to errand running with my significant other (SO), until … we turned a corner while driving in the car, and my eyes caught a bouncing mane. It was spectacular—a pillar of curls proudly resting upon the head of a young woman in a flowy yellow dress. Spotted!
I begged my SO to turn the car around. After a few of his rejections and pleas for me to reflect on my curl addiction, we whipped the car around to track down that curly mane. Was it crazy? Yeah, maybe a little, but I had to find out more about this girl's hair. I figured I'd ask her, accept her "are you crazy" stares, and keep it moving Susan. The worst she could say was no.
We pulled over. I got out the car and walked over to her, anticipating her side eye. Instead, she turned in my direction and stared at my hair! We smiled at each other, and I went in for the kill.
"Hi, my name is Nay, and I love your curly mane," I said, making it clear that I was not a psycho stalker.
She introduced herself as Millie, and after complementing each other's hair, she agreed to share with us her hair story. Our interview went as follows:
Nay: Your hair is very pretty. Have you always been al naturale?
Millie: Thank you! No, I permed my hair from when I was 10 up until I was 20 years old.
Nay: Why did you decide to go natural?
Millie: A girlfriend decided to do it, so I decided to try it as well. That was in 2010. I realize now that I actually like my curls. Plus, my hair is the longest it's ever been.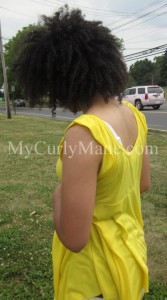 Nay: When you decided to go natural, did you immediately chop it all off, or did you grow out your perm?
Millie: I slowly transitioned for 1 ½ years.
Nay: How was that like?
Millie: The in between phase was tough, especially when I had two textures—curly and straight ends—but I wouldn't relax again. I've been fully natural for 3 months now, with no straight ends.
Nay (applauding Millie): Do you straighten your hair, or are you a full-on naturalista?
Millie: In the beginning I did straighten my hair, but I rarely do it now.
Nay: So aside from genetics, how are you maintaining your mane?
Millie (smiles because I'm probably confirming my madness): I wash my hair every 2-3 days. I shampoo with VO5 and condition with Milk & Silk (never heard of it, but she says she gets it at Sally's Beauty Supply – Shop SallyBeauty.com for Salon Products). I sometimes leave the conditioner in my hair. I also use Olive oil [the product].
Nay: That's it??
Millie: Yes, and I towel dry. I occasionally diffuse it.
Nay (baffled at the simplicity of her routine): Do you have any tips for girls who are newly natural and just learning about their curly manes?
Millie: They should know that it's [transitioning] a process, and you have to commit to it. Once you're all natural, just let your hair do its own thing. Also, if you use lot of conditioner in the shower while combing, it'll help to detangle your hair.
Sometimes less is actually more.