Yes, Zoë Saldana is that tough girl you've seen in Avatar and Star-Trek, among a host of other movies. No, she isn't typically whom you think of as having a curly mane, but the actress surprises us (at least me) by sharing some of her hair care routine and personal experiences within InStyle Hair, a special spring edition of InStyle magazine. Of course, you know I had to pour myself through that one!
First things first. Yes, I am showcasing images of Zoë Saldana from the June issue of Allure, while referencing an interview she conducted with InStyle Hair. After all, she is killing it in the Allure pics. No, I won't continue to go back and forth with the yeses and nos. Ha! Let's move on to Saldana. The half Dominican, half Puerto Rican beauty shares information on her culture, hair, and overall identity.
She says to InStyle, "In Latino culture, hair carries a lot of history, a lot of weight, and a lot of energy. I always liked my hair. I never wanted to have any other skin but my own, any other hair but my own. I never had that identity thing where I looked at a blond girl or an Asian girl and thought, 'Why don't I look like that?' Women who spend so much of their lives wanting to have something else miss out on learning to appreciate what they do have."
Two snaps in Z formation for that one! Saldana credits her mother for raising her and her sisters with a strong sense of self and for teaching them to question whatever they felt did not make sense. She may just be our kind of gal after all.
As for her hair, she admits that, after using a Japanese straightener for the past 10 years, she is now missing her curls.
"It's been eight months since my last straightening treatment, and I'm going to let it all grow out. I miss feeling the thickness. It's been a long time since I've woken up with my hair looking like an Afro. I want to have that again," says Saldana.
Does this mean that we'll soon see Ms. Saldana sporting her natural tresses à la actress Viola Davis? From the looks of the magic hair she's werking in these magazine spreads, textured hair really does suit her. I'm looking forward to the new Zoë, Afro and all.
In case you were wondering, Saldana also breaks down her hair routine. This includes monthly treatments with products from Kérastase's Force Architecte collection. She also washes her hair every two days using Pantene's moisturizing shampoo and pre-poos with the Parisian oil, Leonor Gryel Huile de Palme.
"Child, let me tell you—it's pretty expensive, but it works!" she says.
If you're looking for a cheaper alternative, you can always pre-poo with olive oil and, of course my favorite, coconut oil.
You can catch Zoë Saldana and her stylish mane this summer as Lieutenant Uhura in Star Trek into Darkness. The full interview with Zoë can be found in InStyle Hair, on newsstands until June 14. You can also check out more stylish photos and learn more about Zoë Saldana's beauty routine in June's Allure.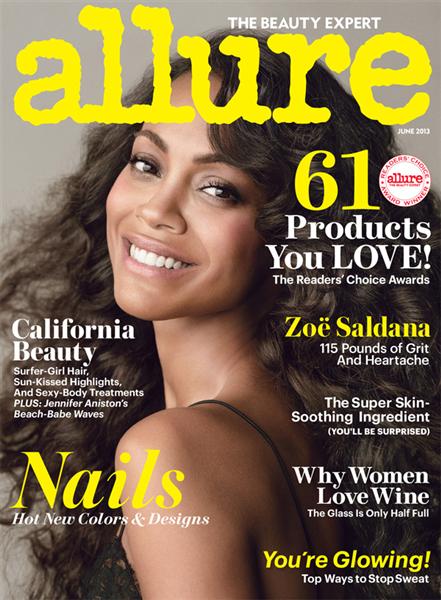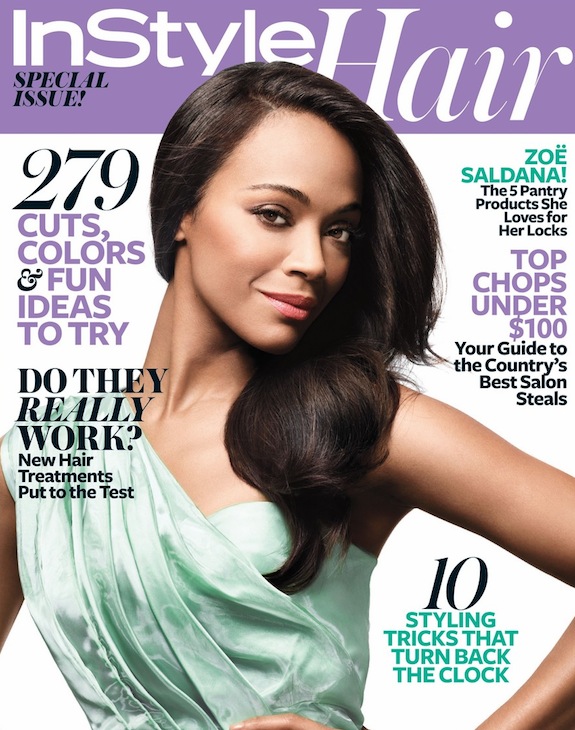 © 2013 – 2016, mycurlymane.com. All rights reserved.

Copyright secured by Digiprove © 2013
Related posts: