Once upon a time, when I was a littler girl, I dreamed of looking like a doll. Better yet, I wished that my dolls looked like me, so I could enter the land of make believe and live vicariously through them. However, given the doll options during that time, chances were sliiiimm.
Nowadays, young ladies (and some of us girls who remain Toys "R" Us kids,) can actually have their dreams brought to reality! There are a couple of fashion dolls out there that are done up with natural hair! These dollies have real-like curls and waves and look just like us! … or better yet, what some of us "Barbie girls" hope we'll look like when we grow up 😉
In case you're seeking a great present for some lucky, young girl (yourself included!), here's the breakdown on a few, hot natural hair dolls on the market:
Barbie Girl With Curls
In 2011, fashion designer Byron Lars created a line of edgy and stylish dolls for Barbie Collector. These dolls killed it with their clothes (Lars doesn't get enough fashion cred), and particularly, with their hair. From TWAs to afro puffs, these dolls must be seen to be believed. Many are sold out, but I want them all! I still get giddy when walking down the Barbie aisle in toy stores. If these dolls were on the shelf, it would be dangerous!
Most, if not all the Barbies in this line, are sold out. Sigh. However, you can still check them out online. I posted the image above of Byron Lars' Sugar™ Barbie® doll. Yep, stunning. It's just one out of many natural-haired catwalk queens in the collection. Check out the other dolls.
Custom Curls
If you're seeking a wider variety of Barbie-esk, natural-haired dolls, then Karen Byrd has got you covered with Natural Girls United! Byrd has cleverly created a line of custom ethnic dolls with locks, twists, and huge 'fros. You'll be impressed by the variety of styles and colors in both hair and skin tone. These dolls are also quite stylish.
Of course, it came as no surprise that Byrd has a long wait list for her dolls. Tempted to jot down my own name! Oh, and in case you missed it, check out the Ken-like dolls with dreads. Really cool and cute! See all the options from Karen Byrd's Natural Girls United!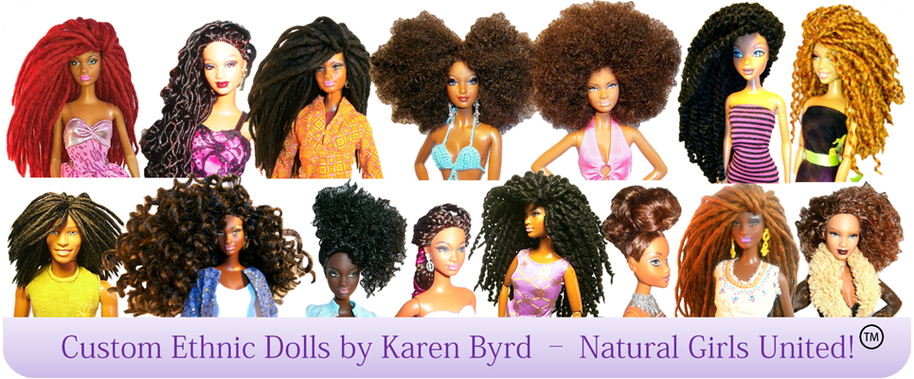 DIY Method
Still haven't found the doll of your dreams? Funds are a bit tight? No need to fear. There are DIY methods to give any doll naturally curly hair. Thank heavens for you crafty folks out there!
Kristl, the blogger behind How To Play With Barbies, has created step-by-step instructions on how to make what she calls a "rotini or halo hair." It's a genius method that allows you to really get experimental making over doll's hair from straight to curly. The final result is seen below. Yes, that doll had straight hair the morning before–ha!
Discover how you can remix a doll's hair at How To Play With Barbies or read the post Kristl wrote for Beads, Braid, & Beyond (super cute blog).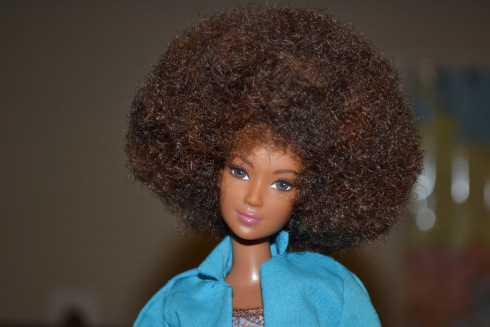 Getting Wiggy With It
Now, if you ODed your doll's makeover, or you had a dolly hair cut go wrong, there's hope for you. Just like in real life … your doll can sport a natural hair wig! Yes, you heard right. There are wigs for Barbies, courtesy of Tabloach at Etsy. Take a moment to let that process.
I think it's both a clever yet funny idea. Why not? I have at least two old Barbies that were locked away because of some causality I caused to their hair. If only these wigs were available then. Check out the before and after image, and you be the judge. Smart!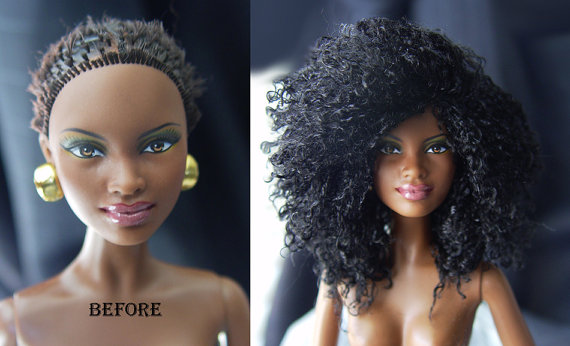 Social commentaries and concerns about Barbies aside, these dolls are helping to diversify the dolls that are out there. What do you think about these natural-haired dolls? Giving you life?
© 2014, mycurlymane.com. All rights reserved.

Copyright secured by Digiprove © 2014
Related posts: