When I tried Beautiful Textures Leave-in Conditioner months ago, I had such good results that I ran back to my favorite beauty supply store like a mad woman and scooped up the whole product line in eager anticipation of equally good results. Crazy? Who? Me? The leave-in was such a success that it is now my staple, so naturally I placed my bets on the other items in the collection without even trying them. This included  Beautiful Textures Moisture Butter Whipped Curl Crème (looong title).
Fortunately, this butter crème, which I'll refer to as BTB for Beautiful Textures Butter, meets my expectations … provided that I use it just for braid-outs. BTB is marketed as being for mixed textured girls, which you can argue includes all textured tresses. Hmmm … Still on the fence about how I feel about this, but let me break down some of its elements for you.
 Price  – Cha Ching or Minor Ding?
You can exhale curlie, this one won't break the bank. An 8 oz jar of this butter crème only cost me approximately $6. That's it!
 Ingredients – Powerful Potions
Okay this list is loooong. It includes a mixture of natural and chemical compounds. BTB is marketed as being enriched in aloe vera (my curly mane loves this, as you know), coconut oil (love!), soy (for hair?? Allllrrrrighty then.) argan oil (the latest oil of the month), shea butter, and mango butter. The full shabang includes: Aqua, Olea Europaea Fruit Oil/Olive Oil, Glycine Soja Oil/Soybean Oil, Caprylic/Capric Triglycerides, Behentrimonium Methosulfate, PEG 75 Lanolin, Cetearyl Alcohol, Ceteareth 20, Cetyl Alcohol, Argania Spinosa Nut Oil/Argan Oil, Cocos Nucifera Oil/Coconut Oil, Butyrospermum Parkii Fruit/Shea Butter, Mangifera Indica Seed Butter/Mango Butter, Rosmarinus Officinalis Leaf Extract/Rosemary Extract, Dimethicone, Aloe Barbadensis Leaf Extract/Aloe Vera, Phenyl Trimethicone, Panax Ginseng Root Extract/Ginseng Extract, Polysorbate 20, Imidazolidinyl Urea, DMDM Hydantoin, CI 15985/Yellow 6, Parfum/ Fragrance, Benzyl Benzoate, Benzyl Salicylate, Coumarin, d-Limonene, Hexyl Cinnamal, Lyral, Methyl Ionone Gamma.
Scent – Mmmm or Grrrr?
BTB smells a lot like mangos … which I love! Very delish.
Moisture & Feel – The Goodies
Off-white, peachy in color, this butter has a very light consistency. It is oily and will coat your fingers, but hello! It's a butter!

Unlike some other products, it does not leave a tacky feeling. On my hair, this does leave a moisturized albeit oily coating. I tend to apply a lot of it, so watch out for the oily build up. In fact, I had to warn a friend, who was admiring my tresses, before she dove her fingers into my hair. She was surprised by the feeling to say the least! This is where you'll need to decide between the appearance and feeling of your curly mane. Can't we just have it all?!
Application – Getting The Look
According to the packaging, you should use this to "refresh and hydrate your mixed textured hair every day." It goes on to say that "Moisture Butter helps maximize the styling options of mixed textured hair by helping achieve softer, more defined curls, healthier looking elongated coils, or simply silky-smooth hydrated hair."
I tried to use this butter for a wash and go. Hey, I was feeling experimental! However, I didn't like the oil slick it produced. The best way to use this product is for braid- and twist-outs, as indicated on the package. Sometimes it does help to read directions! While you can use this on your first day braid-outs, I get the best results using this on the second day. Stay with me here.
First Day
I do my typical braid-out with aloe vera gel (AVG) and use this butter lightly over it. As an alternative, you can just layer oils (I prefer Dabur Vatika Oil) over your AVG braid-out, as I usually do, and skip BTB. Still with me? If not, read my review of AVG for detailed instructions.
Second Day
This is where BTB works its magic. I spritz sections of my hair with water, apply a little bit of this butter, and re-braid my hair. In the morning, I do my typical process. I un-braid my hair and briefly blast it with a blow dryer. During this time, I separate my strands and fluff my hair. The blow dryer warms up the butter in my hair. I believe that this enhances my look as well as the penetration of BTB's butters and oil into my hair.
Third Day
I repeat the process I used on the second day. After this day, I wash my hair because my scalp gets product build up from this butter, and my hair is oilier than desired.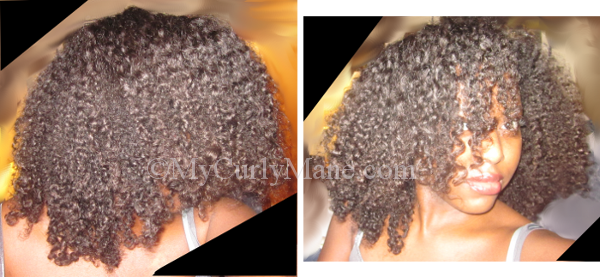 Look – Thumbs Up or Down?
On the first day, my AVG + oil/AVG + BTB combo produces curly waves. In comparison, BTB produces thicker, even more defined waves on the second and third day. Both braid-outs create an elongated style, but the look and thickness differs. My hair is also lighter looking and feeling on the first day, since it is not yet weighed down by the butter. It becomes fuller looking on the second and third day with BTB. I love big hair!
As I mentioned before, I always wash my curly mane after the third day due to the build up and oiliness. My hair also starts to look a bit dirty … whether you're seeking this look or not is up to you!
All in all, this product has now been initiated into my routine. Braid-outs are my preferred protective style this winter, and this butter is working. I give it thumbs up, as I love the results. However, I am leaving myself room to play and explore other butters. I'll report back.
You can purchase this at your local beauty supply store or click here.
Do you give Beautiful Textures Moisture Butter Whipped Curl Crème thumbs up or down? Shout it out below. If you know of other butters that are working for you, share and share alike!
He who knows when he can fight and when he cannot, will be victorious." ~ Sun Tzu
With tons of theatrics and a classic performance by the Spice Girls (sadly no signature natural curls by Scary Spice), the summer Olympics came to a close. Sniffle, sniffle. The games will be missed. In honor of all the stellar athletes who inspired and amazed us, I present to you another epic Hair Battle!
On the left, we have Miss Jessie's Original Curly Pudding
. This all-star has been saving many a curlies' tresses by offering a variety of styling options. From spiraling twist-outs to bouncing shingles, this product delivers. According to Miss Jessie's packaging, "This curl creme was specifically formulated to stretch out and elongate your curls for soft, maximum curl definition. Amazing for natural curls, kinks & waves, finger styling, TWAs, coiling, transitioning, kinky weaves and more. Excellent for combating curl shrinkage!"
On the right, we have III Sisters of Nature Curly Whip Pudding
. Marketed as comparable to Miss Jessie's Curly Pudding, this newcomer has a few tricks up its sleeves. According to its packaging, "III Sisters of Nature Curly Whip Pudding is formulated to bring dull, frizzy and tight curls to life with moisture, shine, and length. Our cleaner and natural blends are reduced to the smallest molecule for maximum penetration and definition of curls, waves and twists, and kinks. Compare to the more expensive brand and save."
Remove the packaging; open the jars; and you'll notice that both products are nearly identical. But are they really? Let's put them to the test.
The Rules
Both products will be measured according to My Curly Mane's criteria. A full point will be given for successful completion of each category. A half point will be given for satisfactory results. The categories are: price, ingredients, scent, application, look, feel, and the wild card—ability to produce second day hair. Final scores can range from zero to 7 (perfect) points.
Let's get ready to battle!
1. Price
Miss Jessie's = approximately $22
III Sisters of Nature =  $13
There's not much of a battle here when it comes to price. III Sisters has purposely set its price point much lower than Miss Jessie's. As a result, the sisters easily skip and twirl their way to a quick and easy full point.
Miss Jessie's
Point = 0 /Total = 0
III Sisters
Point = 1 / Total = 1
 2. Ingredients
Once you learn how to understand product ingredients, it will save you a lot of headaches … and money! Here's the breakdown on our contenders:
Miss Jessie's Curly Pudding contains mineral oil aka parafinium liquidum, which can either dry out your hair or help it to maintain moisture. You will need to shampoo your hair to remove the mineral oil. Typically, mineral oil doesn't affect my hair, but I've noticed that this is changing as my hair grows. When using this product, my hair tends to shed. I've even had whole strands come out while washing the product out of my hair! However, I'm hesitant to write this off, as Curly Pudding saved me while I was rehabbing my curly mane. I didn't have this problem when my hair was shorter. Instead, I'm advising you to pay close attention to your hair when using this product.
Curly Pudding (unscented) also contains water, parafinium liquidum, glycerin, dipropylene glycol, Ordenone™ Triethanolamine, carbomer, PEG-12 dimethicone, wheat amino acids, aloe barbadensis leaf extract, avocado oil, shea butter, sweet almond oil, jojoba seed oil, macademia seed oil, oleth05, ethylhexyl methoxycinnanate, disodium EDTA, DMDM hydantoin, lodopropynyl butylcarbamate.
Pros: This product is free of silicone, sulfate, and paraben
III Sisters of Nature's Curly Whipped Pudding prides itself on being naturally made.
Curly Whipped Pudding contains Deionized Water (Aqua),Polyquaternium 10 and PEG 14, Glycerol, DMDM Hydantoin, PEG 33 and PEG 8 Dimethicone, Triethanolamine, Sodium Polyacrylate and Ethylhexylstearate Trideceth-6, Fragrance (Parfum), Aloe Extract ( Aloe Barbadensis), Soybean Oil (Glycine Soja), Babassu Oil (Orbignya Oleifera), Honey, Macadamia Nut Oil (Macadamia Ternifolia), Papaya Extract (Carica), Avocado Oil (Persea Gratissma), Bay Laurel Extract (Lauris Nobilis), Sweet Almond Extract (Prumus Amygdalus), Chamomile Extract (Anthemis Nobilis).
Pros: As written on the label, Curly Whip Pudding is a "natural product containing no alcohol, no waxes, no silicones, no petrolatum, mineral oil, parabens, formaldehyde, carbomer, gimmicks, and hype. Just style and savings."
It's just hard to beat anything that delivers in the style department and contains all natural ingredients. III Sisters takes a leap towards another full point.
Miss Jessie's
Point = 0.5 /Total = 0.5
III Sisters
Point = 1 / Total = 2
 3. Scent
Miss Jessie's pudding has a strong, signature smell reminiscent of grape flavored bubble gum. Love it or hate it, you definitely won't miss it. You can probably smell Curly Pudding from a mile away, which is just too much for my sensitive sniffer. The good news is that Miss Jessie's is aware of this potential headache-inducing trait and provides an unscented version, which I prefer to use.
III Sisters smells … the same! Since they're strategically competing against Miss Jessie's, the sisters must realize that some people do enjoy Curly Pudding's scent in doses. They've formulated their pudding as a lighter scented version. You'll still get the grape candy smell, except the nasal volume is turned down a notch.
Despite their similar aroma, Miss Jessie's stands out by offering an unscented version, earning a full point.
Miss Jessie's
Point = 1 /Total = 1.5
III Sisters
Point = 0.5 / Total = 2.5
4. Application
Both products are applied in the same way–on damp, freshly washed hair. They each have a thick, cake batter consistency, which is what I love about puddings. They just seem to work better for braid-outs and twist-outs (with the exception of aloe vera gel). The difference lies in their penetration. Miss Jessie's coats my hair strands, while III Sisters lightly absorbs into the hair shaft, causing less product build up and feel (see details below). III Sisters gets the edge.
Miss Jessie's
Point = 0.5/Total = 2
III Sisters
Point = 1 / Total = 3.5
 5. Look
I have not used these items for wash and gos, as I would go through them much more quickly than desired … particularly given the costs. If used for braid-outs or twist-outs, both products will amaze you. They produce mirror image results–shiny, defined styles. The only difference is that my braid-outs with Miss Jessie's have more shrinkage on the 1st day (see attached photo), while III Sisters gives me a softer, more relaxed hold. For their identical results, these twins somersault their way to a full point.
Miss Jessie's
Point = 1/Total = 3.5
III Sisters
Point = 1 / Total = 4.5
6. Moisture & Feel
This is where the two find their individuality.
Moisture
Miss Jessie's requires the use of its Baby Butter Creme to maintain moisture. I have had hits and misses with this one, as it (combined with the pudding) leaves my hair feeling oily and weighed down by waaaay too much product. III Sisters makes my hair a bit more moisturized on its own, but this may be credited to its natural ingredients.
Feel
I can definitely feel Miss Jessie's Curly Pudding on my hair, as it also coats my hands when running my fingers through my hair. III Sisters of Nature's Curly Whip Pudding gives a similar, but lighter coating.
Miss Jessie's
Point = 0.5/Total = 4
III Sisters
Point = 1 / Total =5.5
 7. Wild Card/Tie Breaker: Second day hair
You can get second day hair with both products, provided that you pineapple (gather your hair at the very top of your head) the night before, re-braid or re-twist your hair, or stuff your hair in a satin cap. I have to admit, I prefer my second day hair results with III Sisters because my hair isn't as oily or masked by products. It's also a bit more elongated.
Miss Jessie's
Point = 0.5/Total = 4.5 out of 7
III Sisters
Point = 1 / Total =6.5 out of 7
And the winner is: III Sisters of Nature's Curly Whipped Pudding! This newbie has surprisingly taken the medal from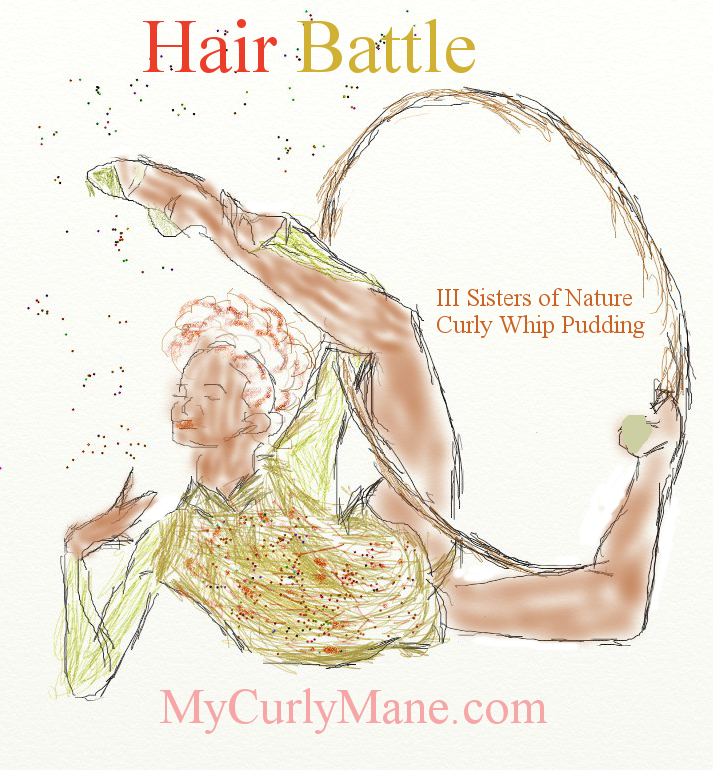 the champ.
If you are looking for a product that will deliver on the look (and don't mind the scent), both products serve that purpose. As I mentioned before, Miss Jessie's has saved this curlie many a times (specifically Curly Pudding and Quick Curls). I still have 3 full jars of Curly Pudding in my stash, so you will see its cameo in my routine. However, when it comes down to look AND feel AND hair health, III Sisters wins the gold.
A girl without braids is like a city without bridges." ~ Roman Payne, Rooftop Soliloquy
Previously, I shared with you my shock and awe at the results of my hair styled with aloe vera gel (AVG). Yes, shock and awe. Well, I didn't want to leave you hanging, so I continued to use the gel for a full week (how's that for due diligence?). I even incorporated it into my plaits/braid out routine, a welcomed change from my typical wash and go. The results?
Perfect! I am truly amazed. Aloe vera gel gave me a soft and defined braid out with little shrinkage. Typically, with other products, my hair results wane as the days go on. Not to mention that the product tends to dry out my hair, leave it dull after the first day, and/or leaves a slightly frizzed result. Not with aloe vera gel! I was able to resuscitate my braided out mane each night, getting 2nd, 3rd, and even 4th day hair! I kid you not. I also got some compliments … and confused stares (here she goes again with new hair).
You can achieve this look by following the steps below. You can also use braid outs as a protective style, meaning it will protect your strands from breaking and splitting by hiding and securing your ends (while in braids). This is particularly good for curlies whose hair does not like wash and gos or if your personal preference is for a more elongated curly look.
Tools:
First Things First:
1. Work on freshly washed hair. Yes, curlie, wash your mane!
2. Start at the back of your head and work your way towards the front.
3. Part your first section of hair and section off the rest of your hair with a clip. The bigger the section, the larger the curls and waves will be.
4. Layer products in the following order: leave-in conditioner, oil (for sealing in moisture), and aloe vera gel.
5. Braid your hair and twirl the ends around your finger. This will leave a curl at the ends. I applied a little extra conditioner to my ends to add moisture and aid in the twirling action.
6. Continue to braid all over your head. I do approximately 8-10 plaits.
7. You can leave your hair as is, or place your braids in two pony tails (see pic) using rubber bands. I use this method to further stretch my hair. If you like more body at the top of your head (va-voom!), skip the ponytails, as it will pull your hair south as opposed to up and out. I skipped the ponytails for my 2nd day hair results.
8. Let your hair air dry or sit under a hooded dryer. It may be easier to do this routine at night, and let your hair air dry overnight, which is what I did.
9. Once dry, gently unbraid your hair. If you let it dry overnight and it's still a little wet, gently unbraid your hair and blow dry (not scorch) it. Once dry, I like to use a blow dryer (again) to tug and stretch my hair even more. The blow dryer also helps my products, particularly the oils, absorb into my hair, softening the hair further.
10. Fluff and separate curls as desired in order to hide the parts in your hair. You can also add accessories as desired. I added a black flower (and a little gloss and glam!) on my 2nd day.
For 2nd Day Hair

1. Work in sections again, from the back to the front of your head. You can use the same areas you used before or use new sections. If you're using a new section, remember to gently separate your hair strands.
2. Lightly spritz sectioned off hair with water.
3. I added more aloe vera gel because I wasn't sure if I'd get enough definition. You can skip this or go in the opposite direction and add aloe vera gel, oil, and/or more leave-in. This will require some experimentation. Please listen to your hair and its needs.
4. Re-braid hair.
5. Air or blow dry.
6. Unbraid and fluff. You can also briefly blow dry and stretch your hair.
For 3rd Day Hair

Repeat the steps used for the 2nd day (above). I skipped the aloe vera gel and just added more leave-in, as I felt my hair needed a little more moisture. Once again, listen to your hair.
If your hair and scalp permits, you can continue to wear your hair in this style for consecutive days. Just repeat the steps above. Try it (don't forget the gloss and glam!) and share your results.