While I was MIA (see newest post on Forecasting 2014), there have been a lot of natural hair news going around … as usual! In case you missed the September 2013 issue of O Magazine, sit back, relax, and let me catch you up. The Big O (love calling her that) treated us to her "Hair Extravagaaaanza!" Okay, so I added the extra flair with the pronunciation, but Oprah really did make a splash with this issue.
The orange-hued cover set the tone for the magazine's circus-themed feature. Oprah, looking subliminally feline, is decked out in an orange dress topped off by the biggest, most majestic mane I've ever laid eyes on. Her afro took up the bulk of the cover. Did you see it? Trust me. It was hard to miss. Check out the images torn from my copy.
Within the covers, Oprah explains that she was wearing a 3.5 pound afro wig she's named "Wild Thang." Fun! Kudos to Gayle King who likened the faux natural look to The Lion King. LOL!
The Queen of All Media also confessed to wearing wigs while taping her renowned talk show in order to give her hair a break. Yep, you can't blame her for wanting to protect her tresses. Back in the day (yes, I took it there), supermodel Gail O'Neill had the most drool-worthy natural hair that I ever saw. As time progressed and her career took off, I noticed that her enviously long locks started to lose its luster and length. I'm assuming here that the ever changing fashion and beauty game just wasn't kind to Gale's hair. I'm sure Oprah experienced similar issues.
While "Wild Thang" was spotlighted on the cover, Oprah's real hair was once again revealed in the back of the magazine. Her self-described "untouched-by-any-hands-other-than-my-own real hair" is set loose. The appearance is similar to a blown out 'fro. Although Oprah says it's au naturel, her longtime hairstylist Andre Walker explains that "she has very little relaxer in her hair now, so we've been exploring her natural texture, twisting or braiding then setting it free!" Cue the debate on whether or not a mild relaxer constitutes natural hair. I say … nay, but to each their own!
Nevertheless, I love the artistic layout of this issue, which committed to the circus motif. O Magazine was spot-on in recommending Hello Hydration Conditioner for thick and coarse hair. The writer(s) also provided similar tips that us hair bloggers have been preaching day in and out, such as finding a great gel and conditioning often. Makes me wonder if O's research department has been visiting the blogosphere. Hmmm.
I wish they could have mentioned other styling options like puddings, but I'm sure the breakdown would be too dense. After all, the magazine was highlighting a diverse array of hair types, with only a few pages dedicate to natural hair. Plus, that's why you come here, so I can break it all down for ya!
Overall, the September O Magazine was worth the read, including the article on how Oprah prepped for her role in Lee Daniels' The Butler. Missed it? Check out my images, visit O Magazine's website, or head over to your local library (remember those? Sigh.) for a copy. Sound off below!
Yes, Zoë Saldana is that tough girl you've seen in Avatar and Star-Trek, among a host of other movies. No, she isn't typically whom you think of as having a curly mane, but the actress surprises us (at least me) by sharing some of her hair care routine and personal experiences within InStyle Hair, a special spring edition of InStyle magazine. Of course, you know I had to pour myself through that one!
First things first. Yes, I am showcasing images of Zoë Saldana from the June issue of Allure, while referencing an interview she conducted with InStyle Hair. After all, she is killing it in the Allure pics. No, I won't continue to go back and forth with the yeses and nos. Ha! Let's move on to Saldana. The half Dominican, half Puerto Rican beauty shares information on her culture, hair, and overall identity.
She says to InStyle, "In Latino culture, hair carries a lot of history, a lot of weight, and a lot of energy. I always liked my hair. I never wanted to have any other skin but my own, any other hair but my own. I never had that identity thing where I looked at a blond girl or an Asian girl and thought, 'Why don't I look like that?' Women who spend so much of their lives wanting to have something else miss out on learning to appreciate what they do have."
Two snaps in Z formation for that one! Saldana credits her mother for raising her and her sisters with a strong sense of self and for teaching them to question whatever they felt did not make sense. She may just be our kind of gal after all.
As for her hair, she admits that, after using a Japanese straightener for the past 10 years, she is now missing her curls.
"It's been eight months since my last straightening treatment, and I'm going to let it all grow out. I miss feeling the thickness. It's been a long time since I've woken up with my hair looking like an Afro. I want to have that again," says Saldana.
Does this mean that we'll soon see Ms. Saldana sporting her natural tresses à la actress Viola Davis? From the looks of the magic hair she's werking in these magazine spreads, textured hair really does suit her. I'm looking forward to the new Zoë, Afro and all.
In case you were wondering, Saldana also breaks down her hair routine. This includes monthly treatments with products from Kérastase's Force Architecte collection. She also washes her hair every two days using Pantene's moisturizing shampoo and pre-poos with the Parisian oil, Leonor Gryel Huile de Palme.
"Child, let me tell you—it's pretty expensive, but it works!" she says.
If you're looking for a cheaper alternative, you can always pre-poo with olive oil and, of course my favorite, coconut oil.
You can catch Zoë Saldana and her stylish mane this summer as Lieutenant Uhura in Star Trek into Darkness. The full interview with Zoë can be found in InStyle Hair, on newsstands until June 14. You can also check out more stylish photos and learn more about Zoë Saldana's beauty routine in June's Allure.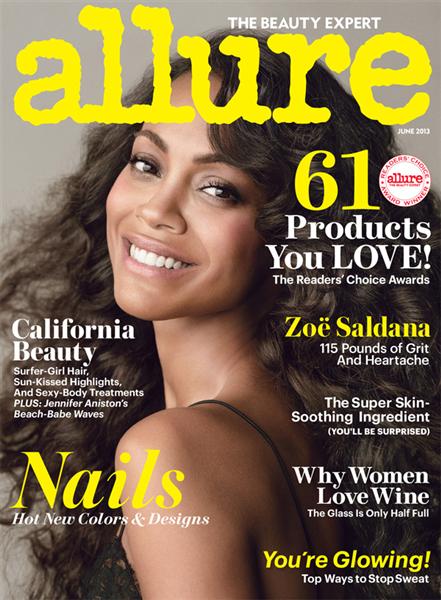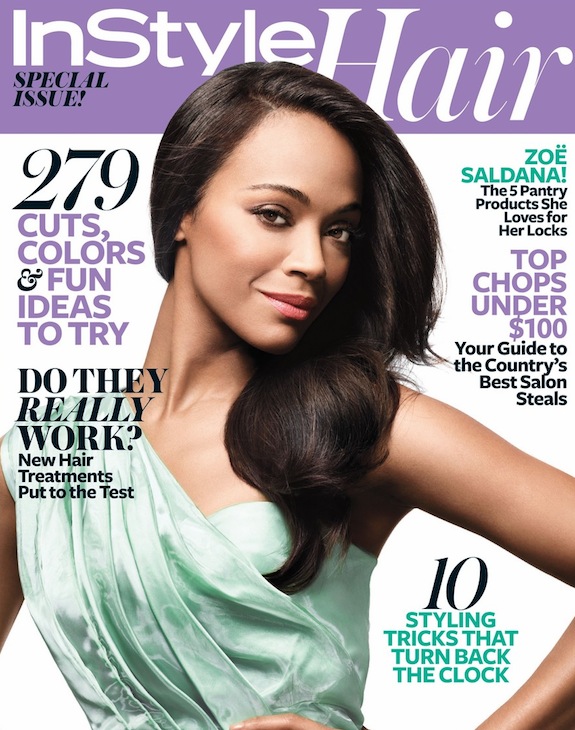 Picture this. In a Zombie Apocalypse, most of your days would be spent practicing your killer moves, hiding, or running for your dear life. But what would your hair look like? … Yes, I'm thinking waaay out of the box here, but it's a detail that hasn't been lost by the creators of AMC's The Walking Dead.
Dead Heads like me have noticed that there are now two female, African-American characters with natural hair who have joined the cast of intriguing characters. There' s Michonne, a silent but deadly warrior, who's quick with a sword. She fights fast and fearless, all while whipping around lengthy dreads. Yes, she truly whips her hair back and forth!
As you can imagine, in this impressively detailed and believably written, end-of-the-world scenario, there would be zero room for flat irons or relaxers. Ladies, count 'em out. It's all about survival here! Thank goodness the writers got this right and showed all the ladies in a natural light, regardless of race. In real life Danai Gurira, who plays Michonne, wears her hair in a short afro, which highlights her attractive facial features and allows her to go unrecognized by die-hard fans. In an interview with Zap2it, Gurira discusses the strong and unreadable female role she plays.
"A lot of people just love that she's a bad-ass. A lot of female friends keep asking my brother, 'Was she always tough like that? How did she get like that? What should we do to be like that?' … It was very deliberate to make her unreadable and an enigma. She's not going to be the sort of character you get to know quickly. That's who she is. The desire people have to see her unravel in a way, it's not going to be what they get," says Gurira.
*Rubs chins mysteriously.* Hmmm. I definitely get it. (more after the jump)
In addition to Michonne, there's a new character named Sasha, who is among a newfound group of the living. Sasha, played by actress Sonequa Martin-Green, is sweet and courageous. She also has natural hair that is kept neatly swept from her face, you know, in case she has to attack some creature or another. In real life, Martin-Green like Gurira has beautiful, natural hair that amplifies her looks. You can catch her sporting a fluffy 'do or straightened style on the red carpet or in her recently cast role in ABC's Once Upon a Time.
Now that you know that two naturally fab ladies are among the cast, will you also spend your Sunday nights peering from under the sheets in fear of who would be taken out next? Are you already watching? How would you style your hair in a Zombie Apocalypse? For me, I might have to go with a low afro since I'd have bigger fish to fry. 🙂 Chime in below, but please no spoilers!
@mycurlymane Yeaaaa!! 🙂

— Sonequa Martin-Green (@SonequaMG) May 26, 2013
No longer regulated for spinsters and schoolmarms, high buns have made a comeback! Gone are the days that buns rendered images of awkward ladies with lipstick stained teeth. From Demi Lovato to Jennifer Lopez, celeb after celebs are donning this 'do as a way to dress up their look.
Need further proof that this ballerina-esk style is #gonewiththewindfabulous? When Olivia Culpo took the stage during the Miss Universe pageant a month ago, she wore a massive, eye-catching high bun. Guess what? I noticed her bunned regality during the competition and even mentioned it on Twitter. Did you see it? Retweet if you did. Sure enough, Culpo and her high bun won the competition! If these glamour gals got it down, er, high up, then we can too!
Wearing your hair in a bun aka bunning is the perfect solution to bad hair days. It is not only chic, but it is also a protective style. It allows our ends to be carefully tucked and sheltered into our hair, freeing them from exposure to the elements. While I recognize this benefit, I used to bypass this style because it seemed too difficult for me to do. Wrong! It's actually easy peasy. In fact, our textured tresses are perfectly suited for this look. I've got it down, and now I want you to get it too!
Get This Look!
The directions below are for creating a traditional bun as opposed to a top knot (more of a knot-like formation). This look is best styled on second-day, wash and go hair—perfect for those of you who can't nail down second-day looks. You can also bun hair that's currently in or freed from twists and braids.
Tools
Hair Donut/Sock Bun (see pic at the right) – I visited a couple of beauty supply stores until I found the right donut, but you can make one out of an old rolled up sock or stockings. Just cut off the foot area and make sure it's the right size for your hair length. Now you know you have at least one gym sock that's missing its buddy. Snag it!
Rubber band without metal clasp
Bobby pins – I used about 5 long pins for securing the bun and 3 short pins for tucking in flyaways/shorter curls.
Gel – I whipped out my old trusty Eco Styler Gel.
Oil – Any will do. I used Vatika Oil.
Headband – Optional
Boar Bristle Brush – Optional
Steps
Oil hair to soften curls, particularly if it's been previously styled with gel. This will make your hair a bit more supple.
Pull your hair to the top of your head and position it at the crown. Before you leave it there, run and face the mirror. Does this position work for your face? Look at the angles of your jawline and face shape. You may want to gather your hair a little further forward or backward.  It's up to you.
Secure your hair in its position with a rubber band. Waaaiiiit! Remember not to make it too tight. We have to watch those sensitive edges! It's okay if your high pony isn't perfect.  In fact, a messy bun works just as nicely.
Grab your donut (purchased or make-shift) and slide your ponytail through the donut hole.
Part hair in center of your pony and wrap it around the donut. As you wrap your hair, tuck your ends under or nearly under your donut and secure it with a bobby pin. Ideally, you want to cover the donut completely. Take a 360 view of your head to ensure that your sock bun is covered.
Got short, loose curls sticking out from the back of your head? Wraps the ends around a short bobby pin and tuck it into your hair. Make sure that the pin runs vertically/semi-vertically, so it blends into your curls.
Oil fingers and smooth down frizzy strands.
For a precise bun, apply gel to the front, sides, and back of your hair—not the bun itself! You can use a boar bristle brush to assist in the finish. This will give you a smoother look.
Voila! You're done. Now you're serving face! Leave your hair as is or dress it up with accessories.
Bonus Tips: Dressing It Up

I have a thin, uneven hairline, which bugs me when my hair is pulled back. Solution: I use a headband to finish the look and help frame my face.
Add a bow to the back of your bun for flair.
Use faux color on your hair or just towards the ends for a highlighted bun.
Once you get this down, you'll be able to take your own spin on it. Watch out! It's addictive!
Are you a fan or foe of high buns? Sound off below!
Although we're in a new year, I want to flash back a few months and catch you up on a curlie I recently spotted. Something tells me that once or twice, your eyes caught sight of her too.
Picture this. I was going about my typical routine after coming home from work. I swung the door closed, dropped a couple of bags at my feet, and threw my keys on the nearest table. In my freed hands, I quickly rummaged through my mail until … I found the fall 2012 catalog for J.Crew.
For me, J.Crew = cozy sweaters and turtlenecks. I really didn't need much assistance to turn the pages towards that section, but to help their cashmere stand out even further, the preppy shopping staple featured a stunning model with a full-on mane! She practically roared from the pages (albeit quietly, as seen in the image on the left).
Ironically, a week later, a mailer from Sephora came and there was that model yet again! I kid you not! It was the same beauty with her curly 'fro. I had to know who she was! You too? In case, you missed the many fashion features bubbling up on the net, the stunner in the cozy blue threads and makeup ads is Julia Sarr-Jamois, fashion editor for Wonderland magazine.
She's not only easy on the eye, but she also sports enviable curls. Sarr-Jamois is a talent with an eye for fashion. Her savvy street styles is what made her one of J.Crew's features in the fall campaign centered on real-life fashion-forward folks.
Diego Scotti, J. Crew's chief marketing officer, says to Women's Wear Daily, "We chose very accomplished people who have an impact on our customers and culture in general. They appreciate quality and detail. Our customers identify with them, but the campaign is not about celebrities."
While the focus of the campaign is on the line's bags, suits, and sweaters, I believe that Sarr-Jamois steals the show. Despite J.Crew's efforts to not choose a celebrity, Sarr-Jamois is and rightfully can be called a celeb. She has been placed center stage in these campaigns and as the subject of many street photogs and bloggers, including yours truly.
Sephora describes her as an editrix (love that term). While I was searching for Juliet Julia (Ever seen that movie? I digress.), I discovered that the half Senegalese and half French stunner is 23 years old. She also addressed the excitement centered around her curls in an interview with Vogue. Sarr-Jamois outlines her simple, wash 'n go routine and likens wearing her hair loose in the summer to wearing a fuzzy Prada hat. I can definitely relate!
"I've never really been into makeup. My hair is my statement, along with my clothes," says Sarr-Jamois. "The only thing I won't wear with my hair is flared jeans. I love them, but that look is way too seventies-child."
Ah, Julia (throws fists up in the air and shakes them)! I love, love flared jeans. No worries. I'll bring back the seventies for you. Just keep on inspiring us with your styling. Keep an eye out for this one curlies! You can view more pics of Julia Sarr-Jamois' hair and fashion below.
On the NBC sitcom, Community, actress and comedian Yvette Nicole Brown plays Shirley Bennett, a recently divorced mother of three who attends Greendale Community College. While Brown is a celeb and Bennett is a sassy student, they have a single, glaring commonality—natural hair! Thank you to the writers for allowing Brown's character to sport a curly mane (faux or no)! Thank you Yvette for embracing your textured tresses!
When I heard that Yvette Nicole Brown was going to be featured on the Wendy Williams Show a few weeks ago, I tuned in to check out her hair … of course! To my delight, Wendy sparked a conversation about the topic. Yeesssss! Score! Cool points for Wendy. Here's how it went:
Wendy Williams: The last time I saw you, it was all natural hair. And I told you, as soon as you start doing a whole lot of TV, and events, and stuff, wigs make it easy. So now what are we doing?
Yvette Nicole Brown: She (apparent reference to stylist) told me to keep some hair in a bag. Now this front is mine. A little bit of mine is springing out everywhere. But this [majority of hair] is somebody else's. I don't even know. I don't know whose, and I don't care. I just want to personally thank her.
Wendy went on to mention Yvette's best friend and actress, Sherri Shepherd, who is also a devote wig wearer. In the interview, Wendy seemed clearly team magic hair. Okay. Correction. She is a wig lover with some pretty impressive styles and wigs that she even names. You may have already heard all about her wig head, Shakeetha. LOL! It all makes me thiiiissss close (brings thumb and pointer extremely close together) to wanting to test drive wigs … maybe … just once. This also brings me to the topic of women with natural hair wearing faux hair, specifically wigs.
Yvette Nicole has beautiful natural hair, and to preserve it while undergoing frequent changes for appearances, she wears wigs. Natural hair just won't hold up to the entertainment industry's many styling demands. For instance, going from straight to wavy and back again in a 48 hour period.
For us every day ladies, our hair may not have rigorous demands, so a wig may not be a necessity … or is it? Looking back at the times spent straightening my hair and perfecting my natural look for professional occasions, I wonder if it would have been better for my hair if I just wore wigs. I've never done so and enjoy styling my hair, so I'll continue to work with what I have for now. Just remember curlies, even if you are a wiggy, you still need to give gentle care to your natural hair.
Are you a wiggy by day, natural by night? Let us know why you've been pulling a quick change and how you maintain your natural hair while wearing wigs.
The authentic self is the soul made visible." ~ Sarah Ban Breathnach
Award-winning actress Viola Davis legendarily shocked curlies and non curly headed girls alike when she revealed her beautiful, natural hair during this year's Oscars. It was a moment that seemly set Hollywood on fire, with several celebs whipping off their wigs, taking out weaves, and putting down flat irons to reveal their curly manes. Let's count them up. There's been Raven Symone, Tamera Mowry, Angela Simmons, and recently The Big O–Oprah, among the bunch.
This week, Miss Davis stunned us once more by showcasing her curly mane during the red carpet premiere of her new film, Won't Back Down. Like her film's title, Viola is unapologetic when it comes to her hair. On Anderson Live with Anderson Cooper, she discussed her natural hair and struggles with the Hollywood beauty beasts.
"For me, I felt like every time I put on a wig, I was apologizing for who I was, being a dark-skinned woman with very curly hair. I felt like I was hiding it," says Davis.
Her statements are sad but not new. Historically, in the African-American community, women are taught to hate their hair due to deep-rooted issues dating back to slavery. This negativity festers in families and/or community members. As Viola stated, "there's not enough time to explain the hair issues" … well, except here at My Curly Mane!
This history, which spans across different lands and cultures, may come as no surprise to you, but the shocker is that we've just gotten to the point where celebrities are also supporting the cause, allowing women to know that there is no shame in having naturally curly hair. The kinks, fluff, coils, poof, and all the other variations of our hair is amazing. It's also appreciated when these celebrities don't just jump on the bandwagon, but instead, they are willing to address their own issues and the pressures to maintain the images forced upon them. This is beyond just wearing magic hair and wigs for fun or a preferred style. This is about hating your natural hair and those of others and finally coming into self acceptance.
For Viola, she felt as if she wasn't being authentic by hiding her hair. It sounds as if there was a certain amount of shame associated with it, which many women face. Making this step towards self acceptance on a global platform like the Oscars or any red carpet takes a lot of chutzpah! For myself, I rode the roller coaster ride of hair acceptance before choosing the road less traveled. That path is always the hardest, whether it's about your hair or simply being authentic to your beliefs, just being yourself.
Do you recall a time when you weren't being your authentic self? Have you ever hid your hair in shame?
Get This Look
Viola's hair is tightly curly in one of my fave colors–red. If you have natural hair, you can mirror this look by doing a wash and go. Literally, wash and let your fro go … unless you need assistance through a few products and quick tricks. As always, you can apply a leave-in conditioner and styler to wet hair, twisting your curls into neat formations with your fingers. Once dry, you can leave as is, or gently separate and tug on your hair for more volume.

Approximately 6.1 million of you tuned in to watch this year's MTV Video Music Awards (VMAs) either to catch a glimpse of One Direction, laugh with Kevin Hart, listen to Pink rock out, or watch how the Chris Brown-Rihanna-Drake saga would unfold. However, do you know the true star of the show? Spotted! Two unique manes!
Our first curlie cat walked to the beat of her own drum. I'm not talking about the typical spirally locks that are highlighted in the media. Our natural haired lady took it waaay back to Hammer time! She, whose name I unfortunately don't know, was one of the night's models. She was tasked with escorting winners to and from the stage.
She immediately caught my eye when pop star Rihanna accepted her award. Ri Ri looked spectacular, and I was focused on her until … a leggy beauty handed her a VMA. The model's svelte, sexy frame was complemented by her sparkly dress and … high top fade!  Yes, this beauty took the afro to new heights … literally! Her look was signature Grace Jones. I wouldn't be surprised if experimental Rihanna also made a mental download of her hair and will mirror it as her next look.
Just as I was in awe of this feminine fade, out came yet another natural beauty onto the stage. Our second gal was spotted performing as a backup singer for country teen queen Taylor Swift. In fact, she wasn't in the background. She was performing side by side with the star for the majority of the performance, placing her full-on curly mane on display, on display, on display (okay, enough with The Real Housewives reference). She whipped her curls about, animating the song and easily drawing me in.
Did you see it?? Are you inspired to rock out with these looks? If you've always done braid-outs, follow our second curlie and try a wash and go (click here for my 10 steps). If you're looking for a funky new look, especially if you are big chopping, try our first gal's 'do. You can even take it to another level and add colors or designs! A bit too extreme for me, but still a pretty cool look indeed.
Have you tried a fade or similar unique look? Did you steal the show? Feel free to share your story below.
From TV to magazines, it's hard not to keep up with the Kardashians since they are just about everywhere, particularly the family's star, Kim. Recently, Kim K. publicized her experimental hair style in which she channeled Supreme du jour Diana Ross circa the 1970s. Donning big, curly hair and lots of makeup, Kim Kardashian struck a few diva-esk poses.
In describing the look, Kim says that she and her glam squad "went for a fun, crazy look." Let's listen to this again. It was a "fun, crazy look." Even celeb reporters have covered this story by highlighting Kim's "wild" look. Call me captain over analytical, but is it true that full, natural hair is also a crazy look? Let's rewind here and clarify.
I love Kim's makeup in the pics, which is for most purposes too dramatic for day wear but perfect for this shoot. I'm honing in on her hair, which I adore. That same 'do is quintessential Diana Ross back in her heyday, and she was herald for it. Today, as women are embracing their naturally curly hair once more, I have to pause and ask, "Is natural hair a wild, crazy look?"
Natural hair is big and can even reach the same lengths and volume in real life that Kim possessed with her magic hair. Does this mean that this same look is fun and crazy when it's for kicks and not as the actual look coming from your head? Is it only acceptable when being experimental?
I'm only drawing this correlation because of the many hair commercials that you and I have seen. How many times have you heard products—mousses, gels, sprays, serums, and chemical concoctions—aimed at "fixing frizz" and "taming wild hair?" This is of course followed by models of all ethnicities celebrating the results of their straightened locks instead of their "frizzy" curly hair. We even have a host of salons that cater to cuts that tame curly hair, helping to reduce the bulk.
This brings me back to my initial question. Is curly hair equivalent to wild hair? Hmmm. Perhaps, depending on your comfort with natural hair. As a naturally curly gal my whole life, I'm quick to say that my curly mane is … my hair. It is what it is, and I am who I am. Yes, it's big. As it flops and swirls in the wind, it can look a bit free spirited. However, it isn't something that necessarily needs taming or fixing. There's no need to beat it into submission through products or other methods … or is that exactly what us curly girls do on our quest for products that work for us?
Whether you consider it naturally wild or not, naturally curly manes can roar. Its beauty commands attention by nature. To gain it, the curls will often volumize itself. For those of you with quieter manes, there are techniques you can use to turn up the volume (see my post on using an afro pik).
If having naturally curly hair is living on the wild side, ladies it's time to channel your inner Miss Ross. Bend over, shake, fluff, or pic your mane. Go big or go home! 😉
I told myself I was done with it. I wouldn't watch it again. Super sweet Nigel Barker and The J's (Jay Manuel and J. Alexander) are gone, and I'm a bit exhausted by its predicable format and over the top antics. I've got the smize down pat and know how to look fiiiiierce (waves pointer finger in the air like a diva drag queen). Yet, when my DVR dutifully taped the first episode of America's Next Top Model Cycle 19, I tuned in. Why the 19th season? Spotted! There's a curlie on the scene.
Her name is Nastasia Scott, and she is representing East Stroudsburg University in what is known as Top Model's college and social media edition. The minute the camera panned in on Nastasia, I was drawn to her allure. It wasn't her catwalk or runway physique. It was all about her curly mane. Long, luscious, caramel-coated locks cascade from her head, reminiscent of Gabrielle Kniery from Cycle 14. Oh, and she worked it. In her photo shoots, Nastasia flipped her curls from side to side as she posed … and popped and locked it. Yes, she literally did. There goes that Top Model mayhem again.
I just wonder if during the makeover episode, Tyra will subject Nastasia to some dramatic overhaul involving a stylist's crafty cut aka the creative destruction of her hair for dramatic effect. In recent years, the show's makeovers have gotten better, with Tyra fessing up to her hairdressers' tragic work and even redoing competitors' hair. She's pulled back from the formulaic decisions to chop long locks, weave shorter 'dos, and straighten natural curls. Hopefully Nastasia can escape with some lowlights and her length and curls intact.
It's too early to decipher her personality, but she has potential to win and it would be the first time we've had a naturally curly winner in a while. Eva Pigford (Cycle 3) won the first title, but we've yet to see bountiful curls. Regardless, curlies Yaya Dacosta (Cycle 3), Bre Scullark (Cycle 5), and Nik Pace (Cycle 5) are naturally curly winners in my head and everlasting hair idols.
Much like American Idol, you can vote for your favorite model during the show … maybe I'll chime in. For now, let's keep an eye open for this curly girl and watch how this season unfolds together. Follow me on Twitter for updates and more musings, using #topcurly (as seen in the picture below).
@mycurlymane @cw_antm natural is the way to go!!

— Nastasia Scott (@NastasiaScott) October 13, 2012