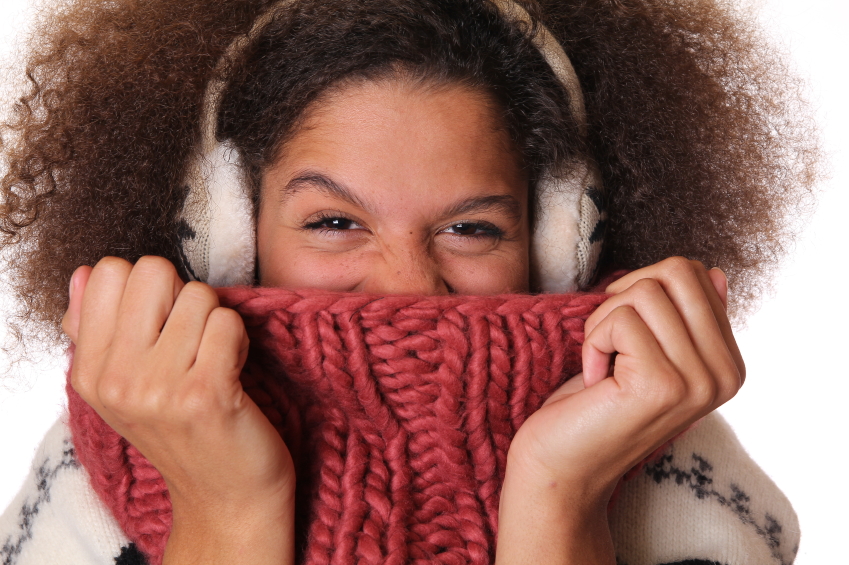 For the last week, boxes of tissues have become my best friend along with good ol' Robitussin and chicken noodle soup. Yes, I've been hit by a baaad cold … and thankfully not the flu! You too? This winter has been up and down, which is why you not only need to care for your body, but you also need to give added TLC to your curly mane.  During these colder months, your hair will be on an endless quest for moisture. Let me point you in the right direction (musters up strength to raise pointer finger and lead the charge)! Here are a couple of ways in which you can winter-proof your poof.
"I'm itchy and dry. I can't stop flaking," says Your Scalp.
If your scalp is suffering, apply tea tree oil directly onto it daily. You can also warm the oil before massaging it onto your scalp. According to the Mayo Clinic, tea tree oil "comes from the leaves of the Australian tea tree (Melaleuca alternifolia) and has been used for centuries as an antiseptic, antibiotic, and antifungal agent. It's now included in a number of shampoos found in natural foods stores."
According to WebMD, the Aboriginal people in Australia have used tea tree oil as a topical scalp treatment for centuries. Centuries?! Something tells me that they're onto something! Just be careful, as tea tree oil may cause allergic reactions.
Bonus: Got leftover oil? You can use it to treat toenail fungus. Yes, ladies. Let's get it together for the summer. 😉
In addition to tea tree oil, you should adjust your shampoo by either:
Replacing it with a moisturizing shampoo (if you aren't already using one)
Adding a bit of oil to your shampoo. I recommend adding jojoba, coconut, Vatika, and/or tea tree oil. Click here to read my post on the benefits of oils for natural hair and how to use them.
Cutting down or stop shampooing altogether. Instead, just use conditioner to wash your hair aka co-washing.
"I'm so thirsty; I may just break off and die," says Your Curly Mane.
Condition. Condition. Condition! I can't stress enough the importance of using conditioner during the winter. Traditional conditioner and leave-in conditioner will fortify your strands and prevent them from breaking. Your hair will need this more than ever, so use a conditioner/leave-in each time you wash your hair. Don't forget to apply extra conditioner to the ends of your hair to prevent them from splitting. These old timers are easily weakened by winter weather, so give 'em a little lovin'.
Seal The Deal. All of your conditioning will be in vain if you don't seal in your hair's moisture with oil. It's hard enough for sebum (natural oils from your scalp that moisturize your hair) to travel down your hair, so you'll need to add oils instead. Just note that if you do get second, third, fourth, etc. day hair, you may need to rehydrate your curls by spritzing with water/a water mix and sealing your strands yet again. Sealing will also help smooth your hair's cuticles, reducing frizz.
Try A Protective Style. This is the perfect season to try to perfect your braid-outs and twist-outs. Protective styles are just as they are called. They help keep strands and delicate ends protected at night or all day, depending on the style.
Top It Off With A Satin-lined Hat. Any hat will help protect your hair from harsh winds, but satin-lined hats will protect your hair, help retain moisture, and secure your style! It's a win-win all around! If you're seeking a satin-lined hat for your curly mane, check out my review of Threadmill hats.
"I'm thirsty and have flakes. What's a curl to do?" asks Your Curly Mane & Scalp.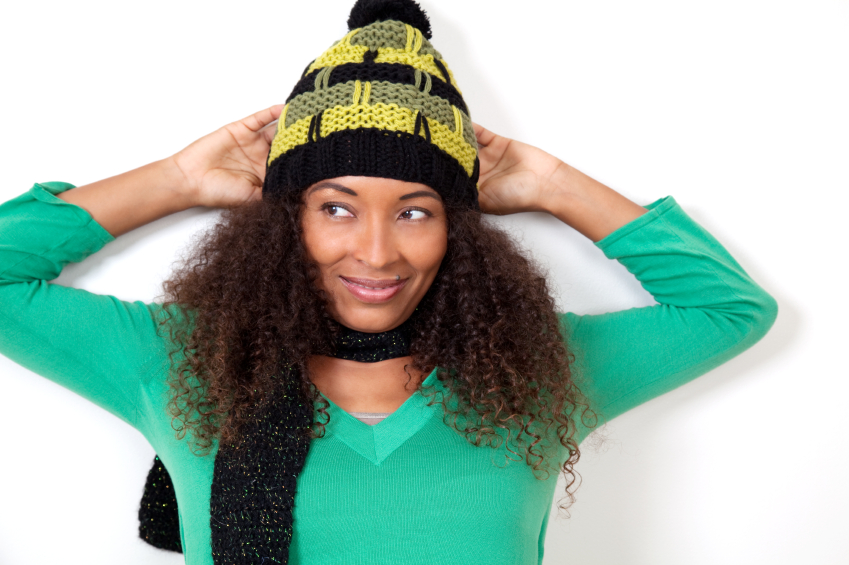 Get thee regular deep conditioning treatments! Your best bet is to make your own concoction that includes a combination of your favorite conditioner (nourishment) and oils (softens and protects) as a basis. I suggest:
Hello Hydration Conditioner
Vatika oil, coconut oil, jojoba oil, and olive oil
For an extra boost, add any of the following to your mix:
Honey – Retains moisture (It is a humectant) and adds shine
Eggs – Adds protein and nourishes your hair
Banana – Aids in hydration
Avocado – Truly deep conditions. "It's high in vitamins B and E, which work at the cellular level to protect and strengthen hair," according to LIVESTRONG.
Mayo (eggs, vinegar, and oil) – Moisturizes hair
Shea Butter – Moisturizes hair
Tapping into your inner mixtress, apply the deep conditioner to your hair and cover it with a plastic cap. Leave this on for at least 30 minutes. For greater hydration, sit under a hooded dryer or apply a heat cap for at least 30 minutes.
"I've found a thing or two, and now I'm passing it on to you," says My Curly Mane.
This winter, I've been wearing my hair in wash and gos the majority of the time … although I thought I would do more braid-outs. Although I'm doing more wash and gos, my hair is actually washed every 3-4 days. I'm also co-washing much more often. In addition, when I use a moisturizing shampoo, I only apply this to my scalp. This routine has been helping to keep my hair moisturized. So far. So good.
How are you winter-proofing your poof? Drop a tip or two below … and don't forget to bundle up!
© 2013 – 2016, mycurlymane.com. All rights reserved.

Copyright secured by Digiprove © 2013
Related posts: